UK offers Hong Kongers citizenship in response to China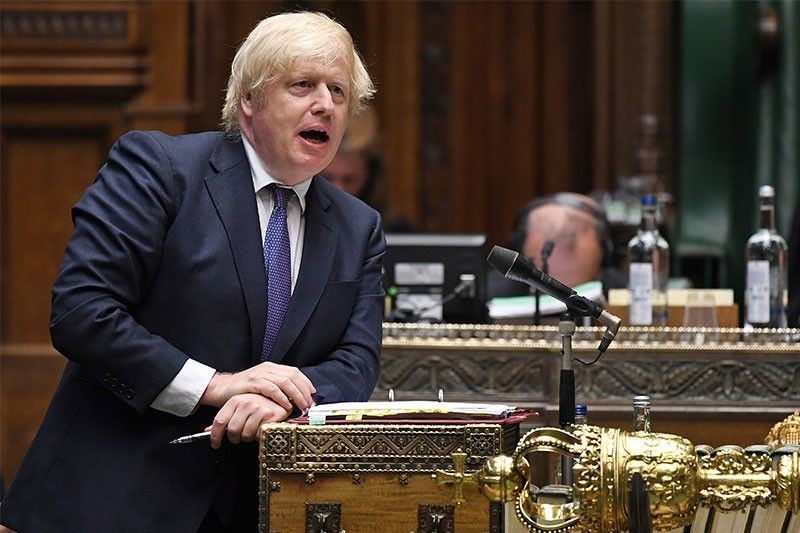 LONDON, United States — Britain on Wednesday extended Hong Kong residents a broader path to citizenship in response to China's sweeping new security law for the former UK territory.
Prime Minister Boris Johnson's announcement represents the most direct international response to legislation that has been roundly condemned by Western allies.
It comes during a London review of its entire range of relations with Beijing that includes a reassessment of the role China's Huawei is playing in the buildup of Britain's 5G data network.
"We stand for rules and obligations," Prime Minister Boris Johnson told parliament just hours after China made its first arrests in Hong Kong under the new legislation.
"The enactment and deposition of this national security law constitutes a clear and serious breach of the Sino-British Joint Declaration."
Johnson said London had warned Beijing that it would introduce a new route for those with British National Overseas status to move to the UK.
"And that is precisely what we will do now," he said.
About 300,000 Hong Kongers have BNO passports and another 2.6 million are eligible to apply.
Foreign Secretary Dominic Raab said Britain's offer also extended to dependents of those with BNO status but refused to be drawn about how many would apply.
Sky News and other media said Raab's office also summoned China's embassador Liu Xiaoming to express its deep concern.
'Deeply disturbing'
Hong Kong was under UK jurisdiction until Britain handed it to China in 1997 with a guarantee that Beijing would preserve the city's judicial and legislative autonomy for 50 years.
But critics say the new law — passed by Beijing's rubber-stamp parliament this week without its text being released to the public — tests the limits of the "One Country, Two Systems" principle that formally entered international law in 1984.
Britain's last Hong Kong governor called details of the legislation unveiled overnight "even worse than I expected".
"It is Orwellian stuff," Chris Patten told the BBC.
"It does go wider and further than anybody had feared."
Britain's response to China's legislation offers a much smoother pathway to UK citizenship for millions of Hong Kongers.
Raab said Hong Kongers with BNO status and their dependents would first have the right to work or study in Britain for five years.
They would then have the right to apply for settled status then possible citizenship.
He said there would be "no quotas" and described the entire system as "bespoke".
"This is a grave and deeply disturbing step," he said of the Chinese law.
"China through this national security legislation is not living up to its promises to the people of Hong Kong. We will live up to our promises to them," he told lawmakers.
Policy review
Britain had opened itself up to closer relations with China as it sought out trading partners after ending its decades-long membership in the European Union this year.
Johnson's government also irritated the US administration in January by allowing the private Chinese telecoms group Huawei to unroll Britain's speedy new data network.
But Britain is now studying ways it can cut Huawei out of its system entirely and build up an alliance of European and Asian providers that reduces China's dominance in the field.
British condemnation of the Chinese law has spanned the political divide and seen London's Asia-focused HSBC group come under political assault for openly backing it last month.
Raab did not mention the bank by name but noted: "The rights and the freedoms and our responsibilities in this country to the people of Hong Kong should not be sacrificed on the altar of bankers' bonuses".
HSBC offered support for the law after public pressure from a pro-Beijing figure in Hong Kong who pointed to the bank's reliance on business in China.
As It Happens
LATEST UPDATE: June 19, 2022 - 4:22pm
Millions march in Hong Kong in a powerful rebuke of an extradition law feared to expose them to China's capricious justice system.
June 19, 2022 - 4:22pm
Hong Kong, China | AFP | Sunday 6/19/2022 - 15:44 UTC+8 | 480 words
Beijing on Sunday appointed a new Hong Kong administration that includes four senior officials under US sanctions its incoming leader has decried as an attempt to "bully" China.
The United States hit 11 Hong Kong and Beijing officials with sanctions two years ago after a sweeping national security law was imposed to snuff out dissent in the semi-autonomous city following the massive, sometimes violent democracy protests of 2019.
Seven were members of the Hong Kong government, and four will continue in the new administration, including leader-in-waiting John Lee, security minister Chris Tang, mainland affairs minister Erick Tsang and newly appointed chief secretary for administration Eric Chan.
The other three sanctioned were retired police chief Steven Lo, outgoing city leader Carrie Lam and Secretary for Justice Teresa Cheng, who will be replaced.
Under the sanctions, Lam has said she was forced to receive her salary in cash due to banking restrictions.
Introducing his new cabinet to reporters Sunday, Lee said he "scoffed at the so-called sanctions" and paid them no attention.
"Some countries of bullies tried to intimidate (Hong Kong) officials with measures like sanctions, especially after their plots to sabotage our national security failed because of the measures we deployed," Lee said.
"This made us more determined in continuing to discharge our duties of defending national security."
Sunday's appointment of 26 principal officials comes less than two weeks before the new government assumes office on July 1, the 25th anniversary of Hong Kong's transfer from British to Chinese rule and halfway point of the "One Country, Two Systems" political model. — AFP
May 12, 2022 - 8:27am
An elderly Catholic cleric critical of Beijing was released on bail by Hong Kong authorities, local media reported late Wednesday, hours after he was arrested under the city's national security law.
Retired cardinal Joseph Zen was seen waving to reporters in a video posted on Twitter, as he left a police station in Chai Wan. He was released shortly before the White House issued a statement demanding he be freed.
Cantonese pop singer Denise Ho, who was also among the group of veteran democracy advocates arrested under the law, was similarly released on bail, local media said. — AFP
May 3, 2022 - 2:46pm
Hong Kong has plummeted down an international press freedom chart as authorities have wielded a draconian new security law to silence critical news outlets and jail journalists, a new report says on Tuesday.
In the last year alone it has plunged 68 places to 148th, sandwiching the international business hub between the Philippines and Turkey.
"It is the biggest downfall of the year, but it is fully deserved due to the consistent attacks on freedom of the press and the slow disappearance of the rule of law in Hong Kong," Cedric Alviani, head of RSF's Taiwan-based East Asia bureau, told AFP.
"In the past year we have seen a drastic, drastic move against journalists," he added. — AFP
April 27, 2022 - 8:24am
Heavy-handed government action, self-censorship and physical threats against journalists have left Hong Kong's media freedoms in a "dire" state, a UK-based campaign group says.
Hong Kong Watch urges Western countries to defend journalists in the former British territory, including by offering them visas to relocate and outlets for Cantonese-language programming overseas.
The governments of both Hong Kong and China were guilty of "dismantling media freedom in Hong Kong", in part through a sweeping National Security Law imposed by Beijing in 2020, the group says in a new report.
"The situation for media freedom in Hong Kong is dire," it says. — AFP/Jitendra Joshi
April 20, 2022 - 5:03pm
US video hosting service YouTube Wednesday suspends a channel promoting Hong Kong official John Lee's uncontested bid to be the city's next leader, saying the move was in compliance with sanctions against the ex-security chief.
Lee is expected to be appointed the business hub's new chief executive by a committee of 1,500 Beijing loyalists next month. He faces no rivals.
Parent company Google defends the decision to remove his channel, saying the move was in compliance with US sanctions, which ban American companies and individuals from providing services to targeted officials.
"After review and consistent with these policies, we terminated the Johnlee2022 YouTube channel," a company spokesperson says. — AFP