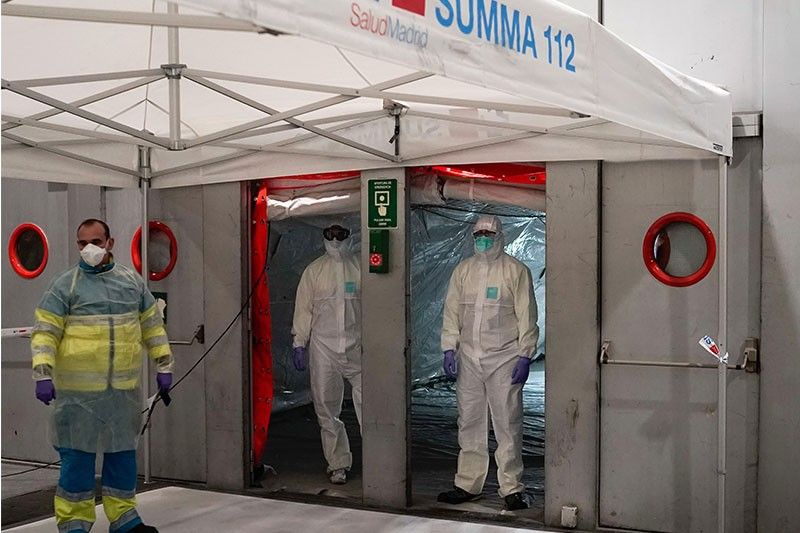 This handout picture made available by Madrid´s regional government, Comunidad de Madrid, shows a health worker preparing for the arrival of patients at the temporary hospital set up for coronavirus patients at a pavilion in Ifema convention and exhibition center in Madrid, on March 21, 2020. Spain announced 394 new deaths caused by the novel coronavirus, raising to 1,720 the official death toll in Europe's worst-hit country after Italy, a 30 percent increase over the previous day.
AFP/Comunidad de Madrid
Spain moves to extend state of emergency as virus deaths soar
Daniel Silva
(Agence France-Presse) - March 23, 2020 - 7:17am
MADRID, Spain — Spain's prime minister said Sunday he would ask parliament to extend a state of emergency until April 11 to try to curb the spread of coronavirus after the country recorded 394 new deaths from the disease.
A nationwide 15-day state of emergency was first announced on March 14 barring people from leaving home except for essential outings such as buying food or seeking medical care.
Sanchez said his cabinet would on Tuesday approve the request to extend the state of emergency for another 15 days, adding he was confident that the assembly would approve it.
"I know it is a drastic measure...but experts agree that it is an effective measure in the fight against coronavirus," he told a news conference after holding talks via video conference with the heads of Spain's regional governments.
The announcement comes after Spain reported 394 new deaths caused by the pandemic, raising to 1,720 the official death toll in Europe's worst-hit country after Italy, a 30 percent increase over the previous day.
The number of confirmed cases of the disease rose by 3,646, or 14.6 percent, to 28,572. Sanchez warned the outbreak would continue to expand in the coming days.
"We have yet to receive the impact of the strongest, most damaging wave, which will test our material and moral capacities to the limit, as well as our spirit as a society," he said during a televised address late on Saturday.
'Signficant problem'
The rise in infections is bringing the health care system in this nation of around 46 million people to the brink of collapse.
The hospitals are particularly stretched in the regions of Madrid and Barcelona, which account of half of all officially recorded infections of COVID-19.
"There will be stress and a problem in some places. The pressure on the system will be high," the health ministry's emergencies coordinator, Fernando Simon, said.
"This collapse which is being talked about could happen in some places but it will not be generalised."
Health care workers have for days complained that they are running short of equipment, such as masks.
The pandemic claimed the first life of a health care worker in Spain last week: a 52-year-old nurse in the Basque Country, northeast Spain.
Doctors, nurses and other health care workers accounted for over 10 percent of all confirmed cases of coronavirus, Simon said.
"This is a significant problem for our health care system," he told journalists.
To ease pressure on hospitals in the Madrid region, soldiers helped move patients to a makeshift field hospital over the weekend set up at a conference centre in the Spanish capital.
The facility will be fitted with 5,500 hospital beds, which would make it the biggest such coronavirus field hospital in Europe.
About 1,300 hospitals beds have so far been set up at the facility and officials plan to move over 300 patients there this weekend, the director of the field hospital, Antonio Zapatero, said in an interview with daily newspaper El Mundo.
A photo taken before the first patients arrived showed rows of empty beds covered in white sheets laid out on the concrete floor of the conference centre.
More masks
The Spanish government said Saturday it would distribute another 500,000 masks to healthcare workers, and 800,000 for patients.
It also said it had also bought more than 640,000 coronavirus tests.
Authorities have called up 52,000 extra workers to help the country's health service as it struggles to contain the virus, including 14,000 retired doctors and nurses.
Around 2,850 soldiers have been mobilised to disinfect airports and ports, and transport patients to less crowded hospitals.
Police said they were stepping up their reinforcing on the restrictions on movement.
Spain's national police force tweeted a video of two officers on horseback chasing a man riding his bicycle in Madrid along with the warning that it would continue to crack down against the "irresponsible minority" that did not follow the rules.
"We know what the stakes are," said the deputy head of the force, Jose Angel Gonzalez. "This week will be crucial."
As It Happens
LATEST UPDATE: November 29, 2020 - 4:10pm
Follow this page for updates on a mysterious pneumonia outbreak that has struck dozens of people in China.
November 29, 2020 - 4:10pm
The Department of Health reports an additional 2,076 COVID-19 cases in the Philippines, pushing the national caseload to 429,864.
The DOH also records 10,579 new recoveries, bringing the total of recovered patients to 398,624. With 40 new reported deaths, the country's death toll is now at 8,373.
With the latest figures, total active cases in the country stand at 22,867.
November 29, 2020 - 3:02pm
Around 9,000 runners — some wearing face masks — took part in the Shanghai International Marathon Sunday, Chinese media said, a rare mass event in a year when coronavirus laid waste to most such sport.
Prior to the race officials touted it as an opportunity to show how China — where the virus emerged late last year before unleashing a pandemic — is moving ahead despite the continuing global health crisis.
The prestigious New York, Berlin, Boston and Chicago marathons all fell victim to coronavirus this year, while London and Tokyo were open only to elite runners.
Bucking that trend, the Shanghai marathon went ahead under sunny skies following several days of rain, and with virus prevention measures in place to thwart infections. — AFP
November 28, 2020 - 5:18pm
More than 400,000 deaths from the novel coronavirus have been registered in Europe, according to an AFP tally compiled from official sources around 0800 GMT Saturday.
The second-worst hit global region after Latin America and the Caribbean, 400,649 people have died of Covid-19 in Europe among 17,606,370 confirmed cases. Of these, 36,147 occurred in the past week alone -- the continent's worst seven-day total since the pandemic began.
Britain accounted for almost two-thirds of the European deaths at 57,551 from almost 1.6 million infections, followed by Italy with 53,677 deaths and 1.5 million infections, France (51,914 deaths, 2.2 million cases), Spain (44,668 deaths, 1.6 million cases) and Russia (39,068 deaths, 2.2 million cases). — AFP
November 28, 2020 - 4:04pm
The Department of Health confirms 1,893 new cases of the coronavirus disease. Total cases now at 427,797.
Out of the confirmed cases, 31,402 are registered active. There are 79 additional fatalities and 474 new recoveries.
November 28, 2020 - 3:31pm
Parts of Europe will reopen stores on Saturday in time for the holiday season after progress in containing the coronavirus, but Los Angeles will halt nearly all gatherings with the pandemic surging across the United States.
Most countries hope to ease their virus rules for Christmas and New Year, allowing families a respite before bracing for what the world hopes is one last wave of restrictions until a clutch of promising new vaccines kick in.
Stores will lift their shutters in France on Saturday, while Poland's shopping centres will also reopen. — AFP