Australia, Philippines explore new areas of security cooperation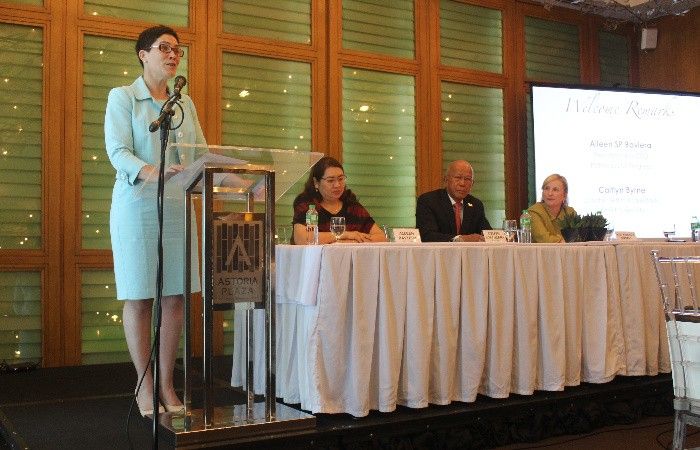 PASIG CITY, Philippines (As released) — The Asia Pacific Pathways to Progress Foundation Inc. and Griffith Asia Institute, with the support of the Australian Embassy in Manila and the Office of the Cabinet Secretary conducted the second Philippine-Australia Dialogue titled "Security Dimensions of Comprehensive Partnership."
The discussion convened academics and experts from the Philippines and Australia to discuss regional security trends, maritime security and cooperation, counterterrorism, cybersecurity challenges and implications of Australia's foreign policy white paper.
Defense Secretary Delfin Lorenzana delivered the keynote address.
In her remarks, Australian Ambassador to the Philippines Amanda Gorely said, "The depth and breadth of Australia-Philippine bilateral relationship reflect the complementarity of our national interest. We both want to maintain an open and inclusive and prosperous Indo-Pacific."
"Terrorism and transnational crime and the emerging threats of cybercrime are concerns for both states, so we are working together to address these," she added. "The international rules that support stability have been critical to security and economic development in our region, so it makes sense for us to stand together and promote them."
The overview session on the regional security architecture examined the resurgence of the Indo-Pacific and the Quad. Both concepts were assessed vis-à-vis regional institutions such as ASEAN and their potential as strategies in managing power relations.
The second session on maritime security highlighted the "(ir)relevance" of the Code of Conduct designed to govern the behavior of claimant states in the South China Sea to the geopolitics of major powers.
Meanwhile, a more inclusive and multi-sectoral approach to countering violent extremism by Australia and the Philippines was put forward during the plenary on counterterrorism.
The fourth session focused on cybersecurity, led by the Australian Strategy and Policy Institute, explored avenues for the promotion of an open, secure and robust cyberspace.
The direction of Australia's foreign policy and implications of the recently released white paper were discussed during the final session.
The dialogue also put forward a critical assessment of the current state of Philippine-Australia's bilateral cooperation, given the commitment of both parties to strengthening the rule of law, democratic values, and regional institutions.
"As we hold this dialogue, we aim not only to hold discussions on our bilateral relationship but also to identify concrete steps as to how our partnership can help both countries navigate the complexity of the current multipolar system," Aileen Baviera, president of APPFI noted during the dialogue, held at the Astoria Plaza in Ortigas.
Pathways to Progress is a Philippine-based non-profit, independent think tank that focuses on regional and international affairs. The organization currently has four programs: China, Regional Security Architecture, Maritime Development and Security, and Regional Integration and Connectivity.