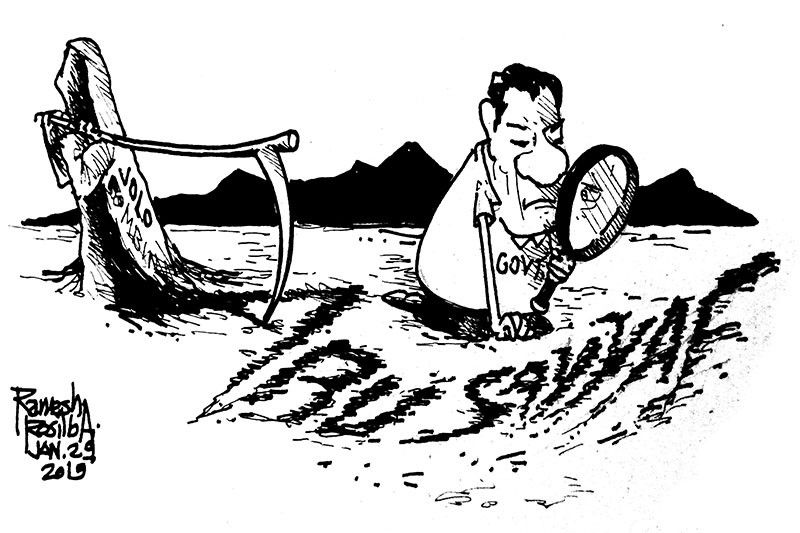 EDITORIAL - Another handiwork of the Abu Sayyaf
(The Freeman) - January 29, 2019 - 12:00am
In what can be considered one of the deadliest terror attacks in the country, terrorists detonated two bombs during a Mass inside a Roman Catholic cathedral in Jolo town in Sulu province early Sunday morning, killing at least 27 people, including soldiers and policemen, and wounding scores of others.
All fingers are now pointing to the Abu Sayyaf bandits as the culprits. The authorities cannot think of another group, aside from the famous terrorist group, as responsible for the gruesome incident because Sulu is its bailiwick.
Besides, the Abu Sayyaf has been responsible for most of the deadly bomb blasts and other attacks in the country, especially in Mindanao, that has already killed hundreds of innocent people.
Many have thought that the Abu Sayyaf bandits have been badly crippled following the government's relentless offensives against them in Basilan and Sulu that authorities claimed greatly reduced their numbers.
However, with the recent twin bombings in Jolo, it's hard to disregard the bandits as no longer a threat despite losing many leaders and members to persistent military assaults. The terrorists may now have no clear leadership, but it seems they are still capable of pulling off many surprises.
As investigation focuses into how the Abu Sayyaf managed to sneak into the church and plant explosive devices undetected, the authorities must probe lapses in security that enabled the terrorists to launch such attacks.
They should also start looking into how the military campaign against the bandits is going on. As many see it, following the death of their charismatic leaders, it seems the authorities' drive against the terrorists has slackened. They may have underestimated the Abu Sayyaf, branding it as a group of just a few outlaws hiding in the jungles of Basilan and Sulu.
But with Sunday's deadly bomb attacks, the government should have more reason to intensify its campaign against the bandits. Filipinos cannot afford just another ghastly assault by the terrorists on peace-loving civilians in Mindanao.