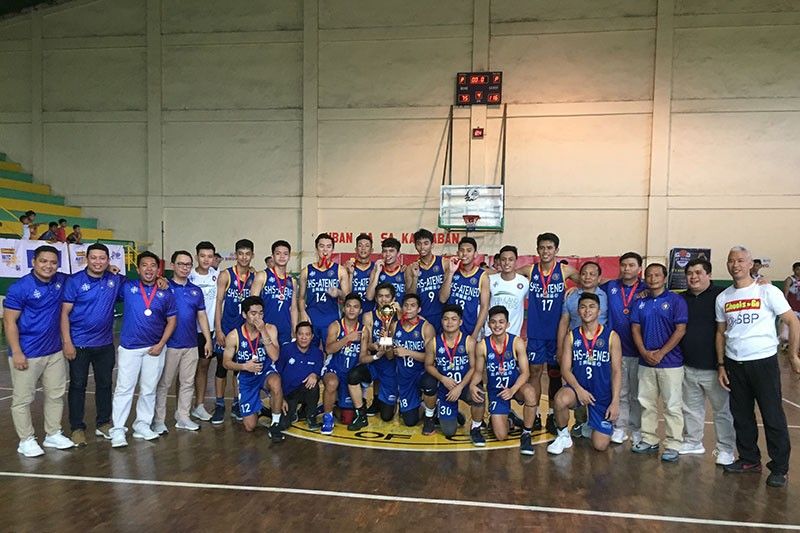 The players and coaches of Sacred Heart School-Ateneo de Cebu celebrate after bagging the championship in the Chooks to Go NBTC Cebu City Qualifier at the Cebu City Sports Institute yesterday.
Magis Eagles reign supreme
CEBU, Philippines — Dominating. Saving their best for last, Sacred Heart School-Ateneo de Cebu dominated from start to end and leaned on a huge third period uprising for a smashing 116-75 win over Southwestern University-PHINMA to bag the championship of the Chooks to Go NBTC Cebu City Qualifier at the Cebu City Sports Institute yesterday.
The Magis Eagles banked on momentum from their semifinal win by jumping to a 20-5 lead early to set the tone for the rest of the game. The Baby Cobras recovered to slash the lead at 34-24 by the end of the first period. SWU-PHINMA continued to rally slicing the lead to 47-40 in the second period before the Magis Eagles settled down and built a 54-42 halftime lead, setting the stage for what was to come in the third period.
Determined to deny the Baby Cobras another come from behind win, the Magis Eagles went on a 16-0 tear to build a 70-42 lead to start the third period. They never looked back from there. Not helping SWU-PHINMA's cause was when leader Kendall Limana went down with cramps in the third period. The Magis Eagles built an 88-58 lead by the end of the third period enroute to building their biggest lead of 49 points in the fourth period.
Defense was the name of the game for Coach Francis Auquico as the Magis Eagles threw five different defenders at Limana, SWU-PHINMA's heart and soul. The interior defense also stood tall with eight blocked shots against the big men of SWU-PHINMA.
It was another balanced attack for the Magis Eagles with every player scoring for the team. Mike Boniel, who was later named MVP of the tournament, had a game-high 23 points, five rebounds, five assists and four steals. Four others scored in double digits with Ariel Dinglasan delivering 16 points and five rebounds.
John Edward Aguilar had 12 points. Joey Villamayor had 11 points, eight rebounds and four blocked shots, while Tracy Dadang made 10 points, grabbed seven rebounds and added three blocked shots. Dezeo Villanueva led the Baby Cobras with 21 points while Limana had 14 before cramping up.
SHS-Ateneo de Cebu won its eighth NBTC Cebu championship and will proceed to the NBTC national finals in Manila along with the Baby Cobras March 21-27. It was an irony of sorts as the Baby Cobras were the ones who denied the Magis Eagles of a championship last year, beating them in the semifinals before winning the 2019 championship. Both teams will now represent Cebu in the national finals.