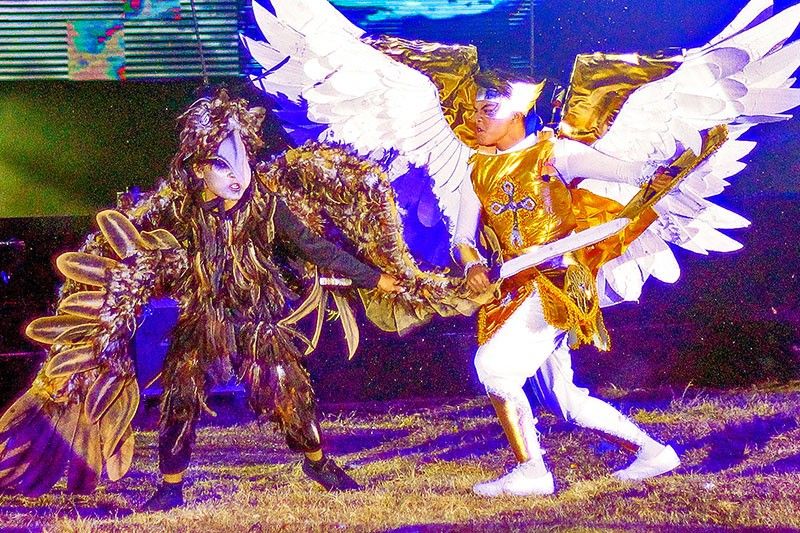 An epic battle between good and evil is portrayed by these actors during the 131st staging of "Sugat Kabanhawan Festival" in Minglanilla, Cebu.
Aldo Nelbert Banaynal
Minglanilla spends P4.8M for Sugat 2018
CEBU, Philippines — The municipal government of Minglanilla spent P4.8 million for this year's staging of the "Sugat Kabanhawan Festival."
Municipal administrator Concordio Mejias said the amount was bigger compared to last year's P3.5 million allocation. With enough budget, Sugat Kabanhawan artistic director and choreographer Marvey Cano said they were able to pull off a spectacular presentation.
Cano said that yesterday's Sugat presentation has leveled up compared to the previous years.
"Although the same ra ang story line, daghan mi og gipuno, naa nay mga props men ug naay aerial acrobats," he said.
The presentation, involving over 700 participants, lasted over an hour.
Around 200 children portrayed as angels and were levitated 30 feet above the ground. Cano said the preparations started immediately after the Sinulog.
He said the presentation was made possible because of the full support from the local government and the Minglanilla parish priests.
Mayor Elanito Peña described yesterday's presentation as the "best so far" comparing it to the past years.
"Ilang show lahi sa sa una. Sa tanan sugat kani maayo kayo," Peña said. (FREEMAN)