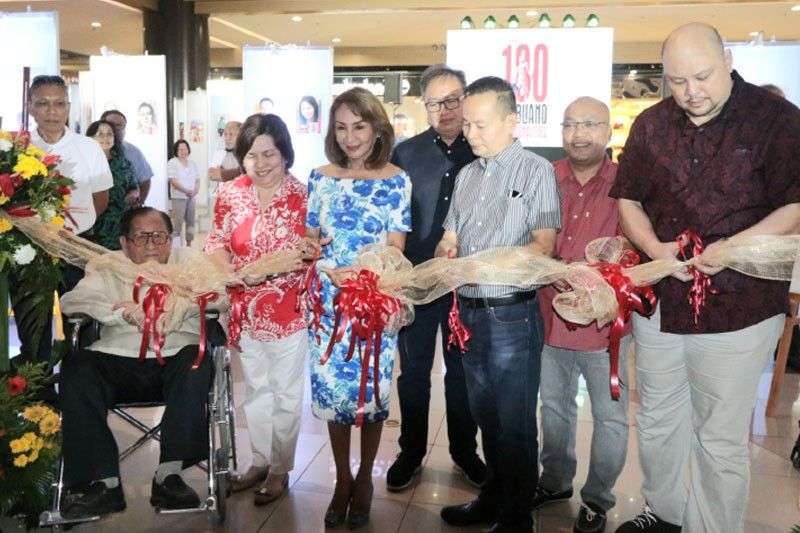 (L-R) Former governor Pablo Garcia (seated), SM Prime Holdings vice president Marissa Fernan, Governor Gwendolyn Garcia, The FREEMAN editor-in-chief Archie Modequillo, general manager Melandro Mendoza, and vice chairman John Vicente Gullas during the ribbon cutting ceremony for the Top 100 Cebuano Personalities exhibit at the SM City Cebu Northwing yesterday. The event is part of the paper's 100th anniversary celebration.
Joy Torrejos
The freeman centenary: Exhibit honors 100 Cebuanos
CEBU, Philippines — The Freeman, Cebu's longest running news media company, capped its centennial anniversary celebration with the launch of the 100 Cebuano Personalities exhibit at the Northwing of SM City Cebu Saturday morning.
The exhibit runs until February 13, Thursday.
The personalities honored in the exhibit graced the pages of The Freeman for the past 100 years and were chosen for their contribution to Cebu's massive development and recognition in the national and international stage. They represent countless others whose individual contributions to the growth of Cebu are as significant and worthy.
Governor Gwendolyn Garcia, one of those honored in the exhibit, said: "The Freeman, you are truly the Cebu's newspaper and we are proud that you now celebrate 100 years as you continue to espouse the ideals of true journalism – fair and fearless. I am deeply honored of being chosen as one of Top 100 Cebuano personalities that the Freeman so fit to honor."
Garcia's father, former Cebu governor and House deputy speaker Pablo Garcia, said he is honored to be recognized alongside his late wife, Esperanza, who founded the Cebu CFI Community Cooperative in 1969. He also congratulated his fellow honorees and The Freeman's reaching a milestone anniversary.
"I also congratulate my fellow honorees and to The Freeman for its success... now it is one of the leading newspapers in the country... congratulations, The Freeman, for your success in the next 100 years," Pablo said.
As the longest running local chronicle of public events, The Freeman has been witness to Cebu's transformation from a modest community to a bustling metropolis.
Founded in 1919 by Don Paulino Gullas, The Freeman holds the distinction of being the third oldest newspaper in the country and the longest running newspaper in the Visayas and Mindanao.
Headlining the launch of the exhibit were The Freeman Chairman Chairman Jose Gullas and wife Nena, Vice Chairman Johnvic Gullas, General Manager Melandro Mendoza, and Editor-in-chief Archie Modequillo.
SM Prime Holdings Vice President Marissa Fernan, daughter of honoree Marcelo Fernan, was among those who cut the ribbon to open the exhibit.
Other distinguished guests present were House Deputy Speaker Pablo John Garcia, Cebu representatives Raul del Mar and Duke Frasco, Cebu City Vice Mayor Michael Rama, Liloan Mayor Christina Frasco, Barili Mayor Marlon Garcia, Cebu City Councilor Dondon Hontiveros, Mandaue City Treasurer and IBP Cebu City Chapter President Regal Oliva, and former GSIS President Winston Garcia.
The exhibit launch brought The Freeman's year-long centennial anniversary celebration to a close – highlights of which would include the Anniversary Gala on February 22, 2019 and a homecoming fellowship with past and present employees of the paper on July 18, 2019. JMO (FREEMAN)