How CONQuest 2023 turned into a nightmare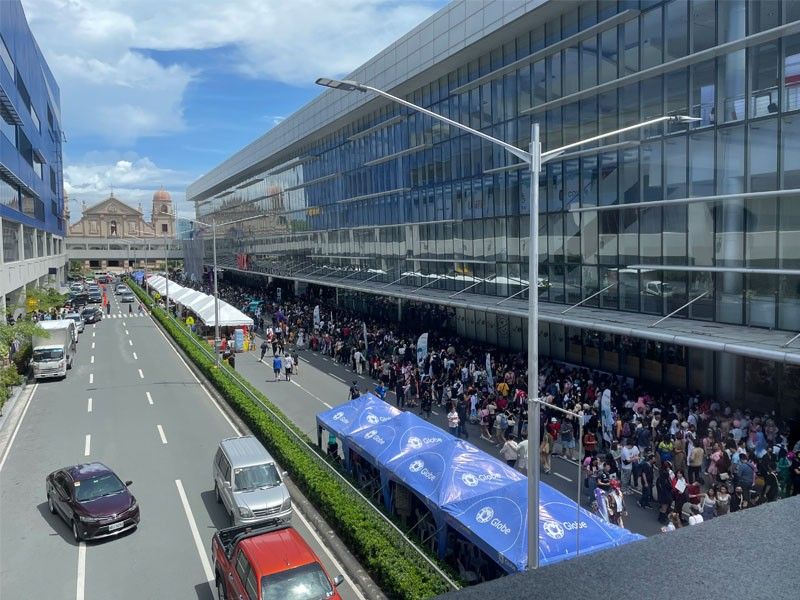 MANILA, Philippines — What should have been a momentous weekend for campus esports organization AcadArena as well as gaming, music and pop culture enthusiasts turned into a nightmare as problems with communication, logistics and overall organization plagued CONQuest 2023, preventing many attendees from actually setting foot into SMX Convention Centre.
CONQuest Festival was first established in 2017 as a high school project in Iloilo City. Since then, it has grown exponentially from its humble origins of just 700 attendees to 33,000 Filipinos who attended the the first festival in Manila last year.
With the success of last year's festival, organizers immediately began planning this year's CONQuest, wanting it to be bigger and to cater to more fans.
From a two-day, one-venue event, CONQuest 2023 became a three-day, five-venue festival with the number of attendees expected to be twice as many as last year's numbers (a target of 60 000 attendees).
Organizers certainly hit their target number of attendees, but the premium convention experience they promised was far from what was felt by everyone concerned.
#PilaCon
Day 1 of CONQuest seemed to have been a calm before the storm. Everything appeared to be on the right track with only the MeetZone, the lottery's meet-and-greet lottery, having a few hiccups. It spelled a busy yet momentous weekend for the Philippine convention scene.
But it would actually go downhill from there.
Day 2 opened with the Seashell Lane, the street in front of SMX Convention Centre, housing a endless line of people who had been there as early as 6 a.m. for the door opening at ten. By lunch time, guards had stopped letting people in as the convention center was overflowing with people. Even the escalators ceased operations as the second floor of SMX was already at overcapacity.
Those who were planning to line up for MeetZone tickets were surprised that the first come, first serve basis for ticket distributions became a random lottery. Free panels became events one should score a panel stub first at the North Entrance of Conrad Hotel when none were required during Day One. The changes to the panels were announced too late or just mentioned on the festival's FAQs, with most people being informed about it due to other congoers commenting on Facebook posts.
As the pictures of the long lines went viral on Saturday, organizers released statements that Day 2 will extend until 9 p.m. and that there will be refunds or free Day Three passes distributed to those who weren't allowed entry. They also ensured that Day 3 will not see the same mistake.
Except that it turned out to be the festival weekend's worst.
In the early hours of Sunday, CONQuest announced that doors would open an hour early, and that the festival would close after 12 hours. Given the hour of the announcement, when the doors did open only a select few booths and merchants were open even though lines had already snaked around the SMX Convention Center, reaching Ocean Drive.
People were waiting at MOA Atrium for the MeetZone as early as 2 a.m. while panel hopefuls were being shooed away at the Conrad Hotel North Entrance as they were blocking the way of hotel guests. By 10 a.m. MeetZone tickets were all gone and panel stubs that were initially said to be given out 30 minutes before each panel were all gone by lunchtime, even for the last panel of the day scheduled at 5 p.m.
The lines at the SMX Convention Center reached a waiting time between three to five hours with most people opting to just go home. But even if they managed to go inside, the situation wasn't any better. The sheer volume of attendees made everything crammed and movement from each of the halls were close to impossible. If one did move from one floor to the other, or had a bite to eat outside, returning to the event halls would mean another round of waiting in lines as there was no designated reentry point.
Merchants of the Quest Market had their fair share of experiences as well. One merchant had their tablet stolen while another witnessed a cosplayer stealing from their booth. A few merchants were scammed by customers showing they've scanned the QR code for e-wallet payment, only to not hit send and instead take their items and leave without actually paying.
What went wrong?
What happened in CONQuest 2023 could really be summarized by the lack of two things: foresight and communication.
Many took to Twitter to complain about organizers overselling tickets and not taking into consideration the capacity of the SMX Convention Centre. Though this might be the case, CONQuest 2023 boasted of five venues for their three-day festival. It wasn't overselling per se but the foresight to think that most congoers would prefer to stay at one particular venue.
"The organizers overlooked the fact that most people would want to be in SMX despite the multiple venues, considering that the main stage, the guest booths, the quest market are in SMX. Limited lang din kasi pwede gawin in other venues and hindi spread out yung activities masyado," congoer Samantha Flores told Philstar.com.
Another congoer, Mago Maog, added that with many people lining up outside, those who were able to enter SMX opted to stay inside rather than go to other venues lest they have to wait in line again.
"Wala naman magagawa sa ibang location, sa SMX yung main event tsaka don yung may pinaka maraming pwedeng gawin. People would prefer to enter and stay there rather than the other venues," she added.
Flores and Maog along with their friends attended CONQuest 2022 and named a few differences. Unlike last year, signages were not placed in strategic areas making people miss panels and meet and greets. There was no baggage counter and this year's resting area was the floor instead of an entire room with actual chairs unlike last year.
Cosplayer Victoria Agsaway experienced rude volunteers, being dismissed and snapped at by both staff and security. She saw others getting yelled at and noted that medic stalls outside SMX were not manned.
She narrated, "One of my friends went as Viper and was left to wait in line in the heat in full cosplay. People were even worried about her in line because they feared she'd pass out."
Congoer Julia Sangalang, who waited in line for hours on Sunday, witnessed two people fainting with no immediate action given.
"It was very hot waiting in line. I saw two people who fainted and hindi sila nabigyan ng immediate medical attention by any medics in the area, nor the volunteers and staff. Ang nag first aid pa is yung mga other congoers." shared Sangalang.
Another congoer, Askia Gonzales, noted that miscommunication played a part in the mishandling of CONQuest over the weekend.
"There were miscommunications sa mga staff and security since rami din nagrereklamo, which led to ugly experiences all around. They closed the food stalls as early as 2 p.m. on Day Three which surprised many people when initially it was announced that it was until 4pm. Yung cut-off time for re-entry sabi 6pm but people were not allowed entry as early as 5pm." Gonzales told Philstar.com.
On Twitter, many complained that most volunteers they approached had no clue what to do, where other events were happening, or even how to get to the meet and greets or panels.
The miscommunication would continue with the guests themselves.
Voice actor Sean Chiplock took to Twitter to share his dismay over reports of fans being turned away from the guests booths because volunteers said they had to buy something at the guests booths before they could interact with the guests themselves. The voice actor said that he did not give such an instruction and that he was welcome for any of his fans to just drop by his booth for any interaction.
Excuse me??? I was NOT made aware of this nor did I give that kind of instruction at any point.

Obviously I prefer proof over only verbal claims but if anyone experienced this I need you to know that has NEVER been a rule of mine, stateside or otherwise. https://t.co/5k6fXsV0uR

— Sean Chiplock ???? JAFAX (Grand Rapids, MI) (@VAsonicmega) June 5, 2023
Most fans confirmed on Twitter that they were turned away by volunteers as they were just bringing gifts and not purchasing anything, even though there weren't any lines at any of the booths. Most of the guests shared their disappointment with the turn of events, with most saying that was never the rule and fans were supposed to be welcome to their booths, regardless if they were buying anything or just wanted to come and say hi.
i am completely distraught over finding out fans were turned away, told to leave, told I would be unavailable entirely or only for a fee. So many of you worked so hard to come out to see us just to be denied even a simple interaction

— Laura Stahl (@laura_stahl) June 6, 2023
What's next for CONQuest?
AcadArena co-founder and CONQuest organizer Justin Banusing also took to Twitter to apologize for what happened during the three-day festival.
"I know you've been looking forward to this event all-year and it sucked that not everyone who wanted to experience CQ was able to do so. Worse is that I hyped it up a LOT – and hype means nothing when not all attendees can enjoy it." said Banusing.
The AcadArena co-founder deactivated his social media accounts over the weekend after his tweets criticizing a convention last April resurfaced.
Fumbles of another local con in the Philippines are making people question if coming to events are even worth it.

Don't worry, come to #CONQuest2023 and we'll show you what a real premium event is like ????

— Justin ???????? CONQuest 2023 (@PopiSSB) April 3, 2023
In the tweets reshared by angry congoers who were unable to attend CONQuest after lining up for hours, Banusing mentioned how the lack of innovation in the Philippine convention scene was what prompted him to start CONQuest back in 2017. He also invited fans to come to CONQuest to experience "what a real premium event is like".
Over the weekend, Banusing admitted how he got too proud after the success of CONQuest 2022, it's first in Manila and that he was no better than other organizers he had previously called out.
He adds, "Linecon became my con. I was in over my head to think I could deliver an experience at this magnitude in the second year that CONQuest is in Manila. There is no excuse and I took all your good faith in me and wasted it."
Banusing concluded with a promise for refunds and hopes to earn people's trust once more.
"I cannot refund the time and effort that you guys committed for this event, but ticket refunds will happen. This is the very least I can do to start earning back whatever trust you have in me," Banusing vowed.