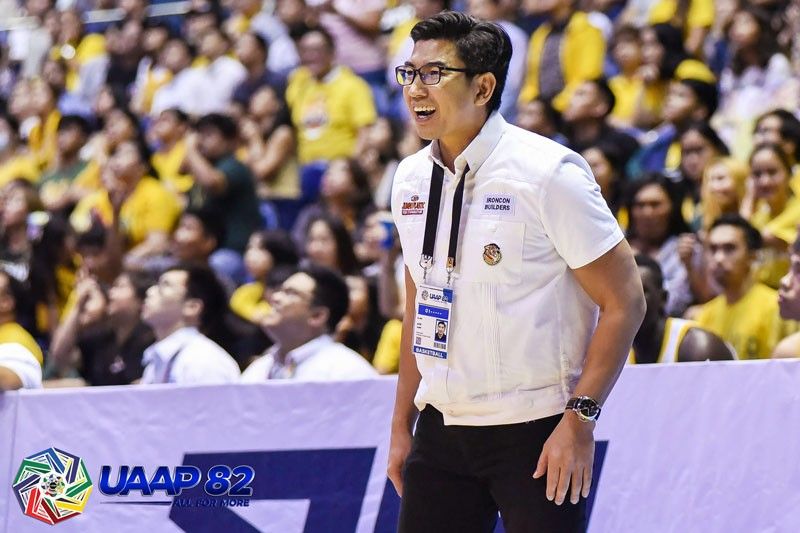 Maroons, Tigers square off
MANILA,Philippines — In-form Santo Tomas fights for dear life while well-rested UP shoots for a quick finals return when they tangle in the second phase of the stepladder semis in the 82nd UAAP men's basketball tournament today at the Smart-Araneta Coliseum.
The Tigers, who fell at the bottom of the playoff staircase after the double-round elims, bumped off third-seeded FEU earlier this week with a huge 81-71 win to set up a gigantic duel with the Maroons.
The road to the top for Santo Tomas, however, is only about to get tougher as it seeks to fight another day against UP, which is enjoying a hefty twice-to-beat advantage as the No. 2 seed.
Today's lone match is set at 4 p.m.
Santo Tomas actually got the better of UP in the elims, scoring a 2-0 sweep paired with a morale-boosting knockout win against the Tams to equip itself with enough confidence as it hopes to drag the Maroons to a sudden death for the right to challenge unbeaten Ateneo in the best-of-three finals.
But coach Aldin Ayo is not keen on treating the past as the basis of their fate today, ordering his wards to not look ahead and simply anticipate a whole different UP squad eager to get back at them and punch a return ticket to the finals.
"We're going to take it one game at a time. We just have to think of this game first and not the possible second game. That's the only way. Our focus is the game at hand and who's our opponent in front and that is UP," said Ayo.
"Now, some of you will say that we're 2-0 against UP (in the elims) but they are a different team right now and this is the Final Four. Every team will give their all and UP of course is going to pour it all," he added.
The Maroons indeed are locked and loaded to land some measure vengeance on the Tigers coming from a 10-day break after ending their elims campaign with a tough 86-64 loss to outright finalist Ateneo.
As painful as that loss was for the Maroons, they are still grateful enough to hold a win-once bonus against the conditioned Tigers in this stepladder semis.
"We're just fortunate that even if we're lacking a lot, at least we're still No. 2 right? We're happy to be in this position," said UP coach Bo Perasol, hoping to tow UP to its second straight finals appearance.
Complacency owing to the said incentive, however, should have no place in their camp as added by Perasol especially against a very formidable Santo Tomas squad they have yet to beat this season.
"I told them that we have to honor our position by preparing really hard because while it is true that we're in this position, it's not a sure thing that we're going to the finals," he said. "We've never won against UST so it's going to be really tough for us."