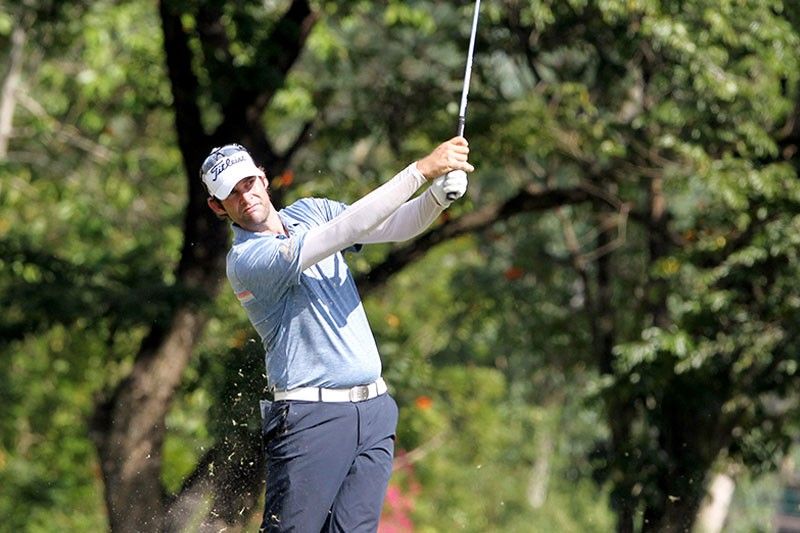 Keoninh, Stewart forge ahead as Alido stumbles
TARLAC, Philippines — Aussie Tim Stewart and Lexus Keoninh of the United States virtually slugged it out shot-for-shot and putt-for-putt in separate flights with the former taking the day-long battle in the heat and light wind until he stumbled with a late bogey on Luisita's signature hole, dropping to joint lead instead halfway through the ICTSI Azucarera de Tarlac Open here yesterday.
The duo flourished in tough conditions in one of the late flights with Stewart banking on big drives to produce seven birdies against two bogeys for a 67 and Keoninh flaunting superb iron play that set up a number of birdie chances for a bogey-free 65 for identical 10-under 134s.
"I hit it close and made a lot of putts," said Keoninh, who has had a number of cracks at a championship on both the Philippine Golf Tour and PGT Asia but just couldn't pull it off in the end.
Two flights behind, Stewart had held sway with his own birdie-binge, seven in all against a lone bogey after 15 holes. But the long-hitting shotmaker, who placed second to Angelo Que in PGT Asia Manila Southwoods last July, bogeyed the treacherous water-laced par-3 No. 17 and settled for a five-under card.
Despite his late mishap, the 6-6 Stewart said he stayed relaxed and focused all day and remained hopeful of finally breaking it into the winner's podium on Saturday and match compatriot David Gleeson's feat here in the ICTSI Luisita Championship in 2017.
Keoninh and Stewart stood three strokes ahead of PGT Cebu leg titlist Dutch Guido Van der Valk and reigning Philippine Open champion Clyde Mondilla, who assembled identical 137s after a 68 and 70, respectively, not a big cushion on a tough, challenging course and over a slew of aces all primed up for an assault in the last two days of the $100,000 event serving as the sixth leg of the third season of the region's emerging circuit put up by ICTSI.
Mondilla, whose game took a downswing after nailing his first Phl Open crown last April, failed to match his blistering opening 67 but scrambled just good enough for five birdies against two bogeys to stay within striking distance of the joint leaders.
As first round leader Ira Alido floundered with a disastrous backside start of 41 and limped with a 76 after a bogey-free 66, diminutive Rupert Zaragosa sneaked into the title picture with a 70 for joint fifth with Rufino Bayron, who also carded a two-under card, and American Brett Munson, who closed out with three straight birdies at the front to save a 72, for 139s.