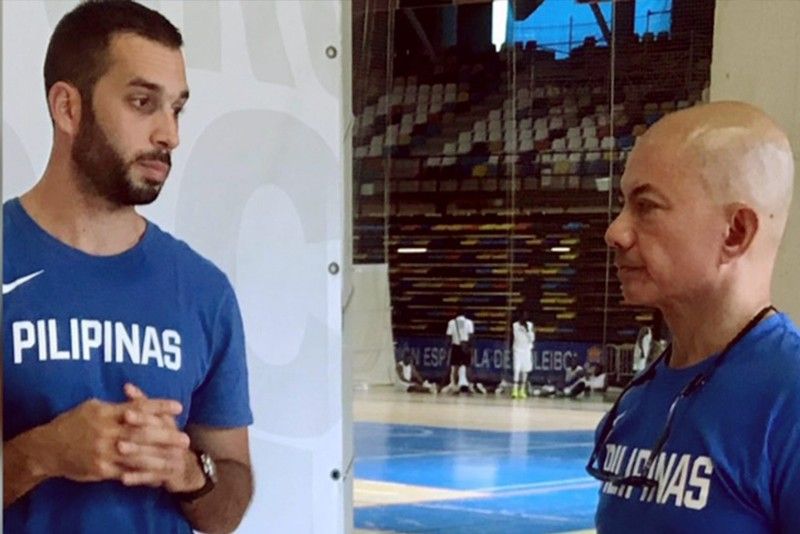 Coach Yeng Guiao, right, with Spanish trainer Jaime Capella.
Spanish trainer joins Gilas staff
MANILA, Philippines — Spanish trainer and physiotherapist Jaime Capella is set to arrive here Monday to join the Gilas staff in preparing the team for the FIBA World Cup in China on Aug. 31-Sept. 15. Gilas head coach Yeng Guiao said yesterday Capella was enlisted to work with Andray Blatche and the other players to get them in better shape.
"Jaime is a strength and conditioning expert and also very helpful in his injury prevention knowledge," said Guiao. "He has good rapport with the players and is well respected by them because of his knowledge and professionalism."
Capella was with Gilas during the national team's recent Spanish tour. He attended to Gabe Norwood who went down with a groin strain and sat out the pocket tournament in Malaga. Guiao said Capella was endorsed by the Spanish basketball federation and the SBP's contacts in Spain. Gilas assistant coach Caloy Garcia said Capella was "a huge help" for the team in Spain.
Guiao said Blatche is now 70-75 percent fit. "We have two weeks to prime him up," he said. "We're flying Jaime in to help Dray and the team get in better shape. No more tune-ups before we play Adelaide. Our first full practice is Monday with the San Miguel Beer and TNT players."
San Miguel's June Mar Fajardo and TNT's Troy Rosario and R. R. Pogoy are expected to attend the Gilas practice on Monday. San Miguel's Marcio Lassiter is undergoing therapy for an MCL sprain but hopes to be ready for the World Cup. Guiao said San Miguel's Christian Standhardinger will be excused from practice "for now." Standhardinger was listed in Gilas' 19-man pool submitted to FIBA with Stanley Pringle and Jordan Clarkson. Standhardinger, Pringle and Clarkson are eligible to play for Gilas in a FIBA-sanctioned tournament only as naturalized imports despite their Filipino heritage because they were born overseas and received their Philippine passports after turning 16.
In the Philippine page on FIBA's World Cup website, the Gilas roster excludes Standhardinger and Clarkson. The lineup has 17 players – Japeth Aguilar, Raymond Almazan, Mark Barroca, Beau Belga, Blatche, Robert Bolick, Paul Lee, Poy Erram, Fajardo, Lassiter, Norwood, C. J Perez, Pogoy, Pringle, Kiefer Ravena, Rosario and Matthew Wright. Ravena's FIBA suspension ends Aug. 24 so he'll play in Gilas' second friendly with the visiting Australian club Adelaide 36ers at the closed-door Meralco Gym the next day. Guiao and SBP special assistant to the president Ryan Gregorio both confirmed Ravena's participation in the second Adelaide friendly. Gilas will play the 36ers on Aug. 23 and 25.
"Stanley and Christian need not participate in the practices for now," said Guiao. "We have enough warm bodies to conduct practices. Spain was a really good experience. It was definitely high-level competition and a great bonding exercise."
Garcia took the opportunity to reunite with family in Malaga where his late father was from. He met up with relatives from both his mother and father sides. Among the relatives he visited were the parents of Fil-Spanish football players Angel and Juani Guirado who are Garcia's first cousins. "The last time I was in Spain was 30 years ago," said Garcia whose Spanish relatives watched the Gilas games in Malaga.