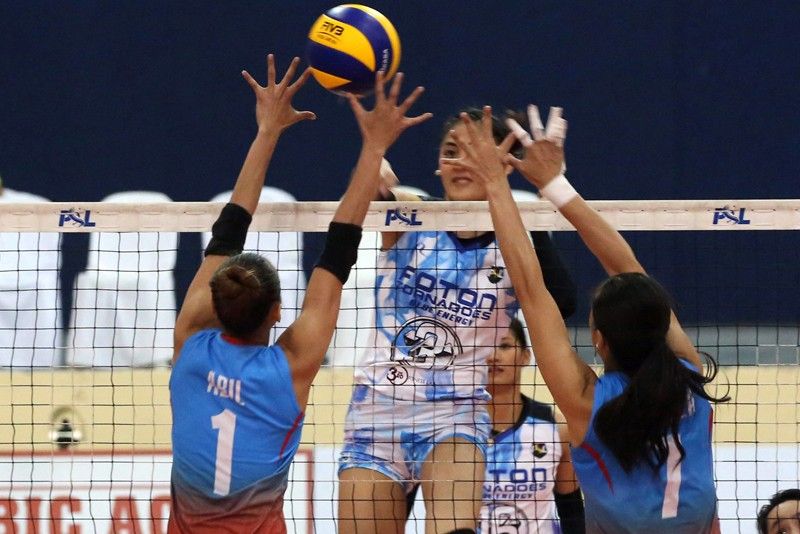 Foton's Jaja Santiago attacks the net defense of Judith Abil and Elayne Remulla of Marinerang Pilipina.
Ernie Pen?aredondo
Tornadoes blast Lady Skippers
MANILA, Philippines — Foton rolled past listless Marinerang Pilipina, 25-15, 29-27, 25-14, yesterday to head into the Philippine Superliga All-Filipino Conference knockout quarterfinals on a high.
The Tornadoes blasted their opponents in a road showdown at the Malolos Sports and Convention Center in Bulacan and finished the elims with an 8-6 win-loss record.
Foton gained a crack at No. 3 seeding in the playoffs
After seeing her 31-point explosion go down the drain in a five-set loss to Petron over the weekend, Dindin Santiago-Manabat made sure to translate her output to a win this time, tallying 16 points on 13 attacks, one block and two service aces.
"We're ready for the quarterfinals. I think we've already bonded and perfected our teamwork after two rounds. We're ready to fight," said Manabat.
Her sister Jaja Santiago also came through with 16 markers built on 14 kills and two blocks while Carmina Aganon and Elaine Kasilag provided help with nine and eight points, respectively.
UAAP sensation Eya Laure, who was activated by coach Aaron Velez in place of injured Maika Ortiz, had a quiet debut with just two points including her first PSL point off a block in the second set that gave them a 20-17 spread.
Foton got off to a rousing start with a 25-15 domination of the Lady Skippers in the opening set.