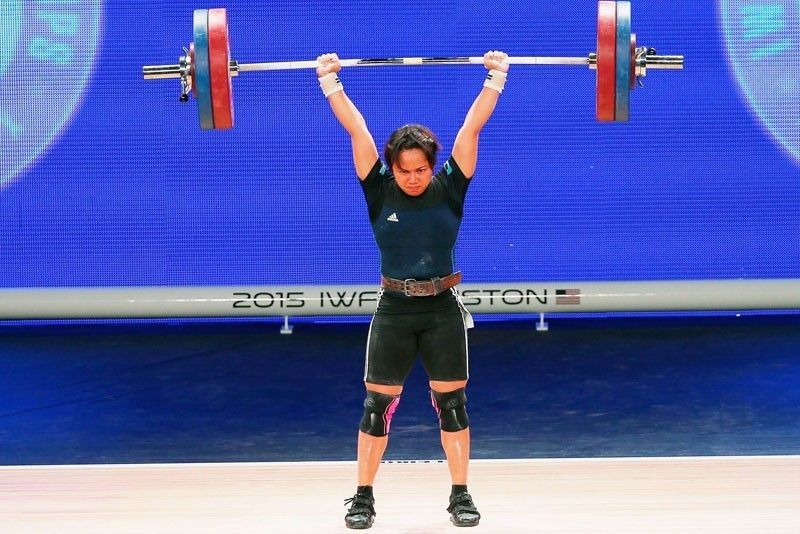 Hidilyn Diaz in file photo.
Hidilyn Diaz bags 3 silvers in asian conclave
Olmin Leyba
(The Philippine Star) - April 24, 2019 - 12:00am
MANILA, Philippines — Taking one of the first steps in her bid for a return trip to the Olympics, top Filipina weightlifter Hidilyn Diaz took runner-up honors amid the gold rush and record-breaking spree of host China in the AWF Asian Weightlifting Championships Monday night in Ningbo, China.
The two-time Olympian and silver medalist in the 2016 Summer Games lifted 94kg in snatch and 115kg in clean and jerk for a total lift of 209kg to secure three silver medals in the new Olympic weight class of 55kg won by Chinese national champ and new world record holder Liao Qiuyun.
After submitting 96kg in snatch, Qiuyun followed it with a 128kg effort in the jerk to shatter by one kilo the world standard set by Thai Sukanya Srisurat in the 2018 Worlds in Ashgabat en route to a runaway 224kg total and three god medals.
Uzbekistan's Muattar Nabieva grabbed the bronze medals with her 91-113-204 performance.
Diaz, who won the Asian Games gold at the old 53kg class, scored 913.79 Robi points with this showing, which should boost her stock in the International Weighlifting Federation's qualification system for Tokyo 2020. Under the new rules, qualification for the next Olympiad will be based on performances in six events over an 18-month period.
"I'm not quite there yet and still have much to improve," said the 28-year-old Filipina.
Diaz's cousin, Mary Flor Diaz, also shone in the Continental meet as she landed a podium finish in the 45kg category with 69-89-158 behind winner Vuong Thi Huyen of Vietnam (76-92-168) and second-placer Jhilli Dalabehera of India (71-91-162).
Chinese Olympic champion Shi Zhiyong swept the mints in the men's 73Kg play, spiking his feat with new world standards of 168kg in snatch and 362kg in total, even as compatriot Chen Lijun romped off with record-setting lifts of 154kg (snatch), 185kg (jerk), and 339kg (total) in topping the men's 67kg division.