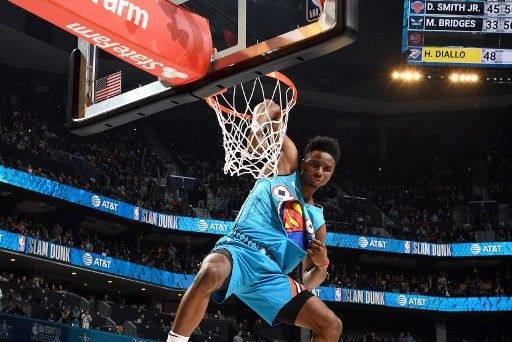 Hamidou Diallo of the Oklahoma City Thunder dunks the ball during the 2019 AT&T Slam Dunk Contest as part of the State Farm All-Star Saturday Night on February 16, 2019 at the Spectrum Center in Charlotte, North Carolina.
Andrew D. Bernstein/NBAE/Getty Images/AFP
OKC's Hamidou Diallo is NBA 'Sultan of Slam'
MANILA, Philippines – Move over Shaquille O'Neal and Dwight Howard, there's a new Superman in town.
Oklahoma City's Hamidou Diallo is the 2019 NBA Slam Dunk champion, besting returning contestant Dennis Smith Jr. in the finals with a two-handed flush over rapper Quavo in the championship round.
The newly minted slam dunk champion over O'Neal en route to a Vince Carter honey dip dunk for a perfect 50-point routine that sent him to the finals, eliminating Charlotte's own Miles
But Diallo's title-clinching dunk wasn't the best highlight of his night.
Bridges and Atlanta Hawks' Josh Collins.
???? SUPERMAN ALERT! ????

Hamidou Diallo leaps over @SHAQ and finishes with the HONEY DIP DUNK for a 5?0?! ????????#ATTSlamDunk #StateFarmSaturday @NBAonTNT pic.twitter.com/izASQbFDYC

— NBA (@NBA) February 17, 2019
#ATTSlamDunk champion Hamidou Diallo RISES over @SHAQ in #PhantomCam! #StateFarmSaturday pic.twitter.com/U2oAezayC6

— NBA (@NBA) February 17, 2019
Diallo ripped his jersey after the dunk to reveal a Superman shirt underneath, an ode to Howard's Superman dunk in 2008.