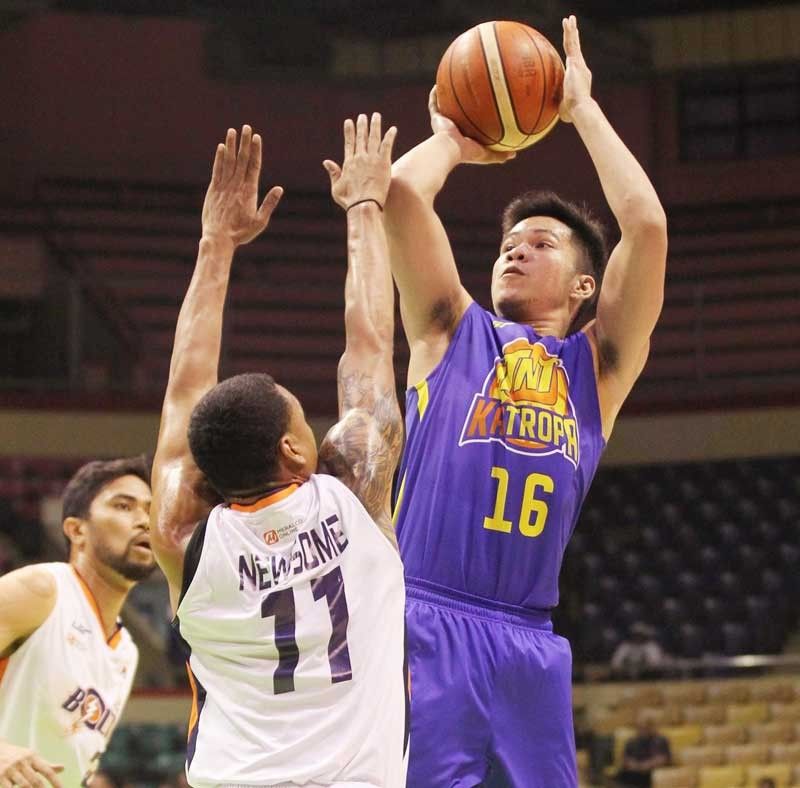 RR Pogoy of TNT KaTropa fires a shot over Chris Newsome of Meralco Bolts in their PBA game last night at the Cuneta Astrodome.
Jun Mendoza
Bolts streak past Texters
MANILA, Philippines — Meralco pulled off the biggest comeback win in PBA Season 44 thus far, making a huge turnaround from a 21-point deficit in the first half en route to a mind-boggling 88-77 victory over TNT KaTropa at the Cuneta Astrodome in Pasay City last night.
Chris Newsome, Baser Amer and Jared Dillinger were the lead lights as the Bolts worked on an amazing 32-point turnaround to gain a share of fourth place with the Columbian Dyip and the San Miguel Beermen at 2-2 while sending the KaTropa down to seventh at 2-3.
From 21 points down at 9-30, the Bolts turned things around and led by as many as 19, 79-60, before settling for the 11-point triumph.
It's their biggest come-from-behind win since overcoming a 22-point deficit in a 105-98 triumph over Barako Bull in the 2014 Commissioner's Cup.
"Starting slow is nothing new for our team. But we showed our resilience, and the turnaround win speaks a lot about our character," said Newsome, who led the team with 20 points, nine rebounds and five assists in 34 minutes of action.
"I didn't play well in our earlier games and I knew I had to play better and be aggressive on the floor. I left everything on the floor in this game," Newsome said on his sterling performance.
Newsome said all the members of the Meralco team are determined to come out and battle with the best of the lot.
"Everybody knows that we struggle in this conference and we want to prove that we're a decent squad without an import. Consistency is gonna be crucial for us," the former Ateneo stalwart said.
The Bolts got into the game then zoomed away as they succeeded in getting the KaTropa to play their rhythm.
They slowed down TNT's up-tempo game and went on to limit the KaTropa to their lowest output this conference.
In the nightcap, Mike Digregorio exploded for seven three-pointers and a total of 27 points while Allein Maliksi erupted for 23 markers, including two treys, as Blackwater snapped out of the rut and whipped Rain or Shine, 111-99.
Averaging only 95.5 points a game on a 28.6-percent clip, the Elite showed marked improvement on offense curiously on the very entry of PBA legend Bogs Adornado as their shooting coach.
The Elite broke into the win-column in their third game in the season.
The scores:
First Game
Meralco 88 – Newsome 20, Amer 17, Dillinger 16, De Ocampo 11, Salva 11, Hodge 5, Canaleta 5, Caram 3, Pinto 0, Hugnatan 0, Tolomia 0, Jackson 0.
TNT 77 – Castro 20, Pogoy 15, Trollano 8, Taha 8, Reyes 7, Semerad 7, Heruela 6, Rosario 5, Williams 1, Carey 0, Miranda 0.
Quarterscores: 9-22, 30-39, 63-58, 88-77
Second Game
Blackwater 111 – Digregorio 27, Maliksi 23, Javier 16, Tratter 12, Belo 9, Desiderio 6, Sena 6, Sumang 4, Cortez 4, Palma 4, Alolino 0, Jose 0.
Rain or Shine 99 – Yap 20, Ahanmisi 18, Nambatac 15, Mocon 13, Daquioag 7, Ponferada 7, Torres 7, Belga 4, Maiquez 3, Borboran 3, Almazan 2, Norwood 0.
Quarterscores: 27-26, 46-53, 87-79, 111-99