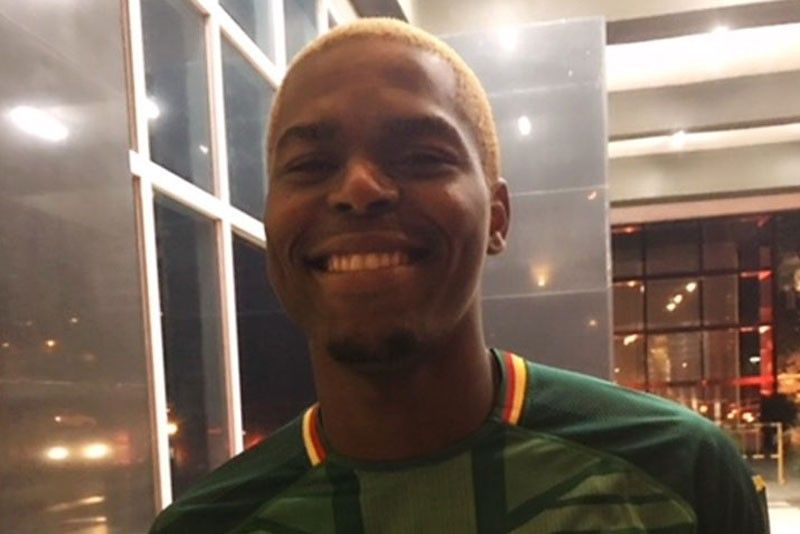 UAAP MVP Mbala hopes to play as PBA import
MANILA, Philippines — Former two-time UAAP MVP Ben Mbala hopes to someday play in the PBA as an import. For six years, the Cameroon star lived in the Philippines which he considers his second home and one of his dreams is to reconnect with the Filipino fans close to his heart.
Mbala's other dreams are to make it to the NBA, play for Cameroon in the FIBA World Cup and finish his Business Management studies to earn a degree at La Salle. Breaking into the NBA is a challenge but at the moment, three Cameroonians – Philadelphia's Joel Embiid, the Los Angeles Clippers' Luc Mbab a Moute and Toronto's Pascal Siakam – are employed in the league so there is a path to follow. Mbala is leaving his NBA dream up to Swiss agent Stefano Lips to realize.
Seeing action in the World Cup could happen next year. Mbala is Cameroon's leading scorer, averaging 16.2 points, in the FIBA World Cup Africa Qualifiers and the national team is now tied with Egypt for third place with identical 5-4 records in their second round group. If the Qualifiers were to end today, Cameroon would book a ticket to the World Cup. As for completing his studies, Mbala has a year to go. He's inquired about taking on-line courses but he's also considering the option of taking summer classes at La Salle during the offseason.
Mbala, who was recently in Manila, said he would've played another year for La Salle in the UAAP but it seemed like the UAAP Board was ready to block his return. "I wouldn't be eligible because of the rule that you could only play up to seven years after high school graduation," he said. "But when the K-to-12 law was passed, the rule became academic. I heard the UAAP Board would keep the seven-year rule for one more season just to stop me from playing one last year. It was so unfair. I had to sit out three years to play for La Salle because of the UAAP Board. This was painful."
Mbala said he sought La Salle patron San Miguel Corp. chairman Eduardo Cojuangco's advice on what to do. "Boss Danding gave me his blessings to pursue other options," he said. "If I waited six months for the UAAP Board to decide whether or not to keep the seven-year rule and I would be disqualified anyway, there were opportunities I could lose. So I turned pro." Curiously, a few days after Mbala announced his decision to join Fuerza Regia Monterrey in the Mexican pro league, word came out that the UAAP Board would rescind the seven-year rule.
Mbala cut his teeth in the pro circuit with Fuerza and Chorale de Roanne in the French league. "It was a learning experience," he said. "I wasn't happy in Mexico because the veterans kept trying to put me down. I didn't care and I went out to play my game. I remember playing against (Phoenix PBA import) Eugene Phelps in Mexico and holding my own. From Mexico, I went to France. We made it to the finals and I was offered a renewal of my contract. In France, they made me a role player but I wanted to grow. So I accepted an offer from the Seoul Samsung Thunder to play in Korea this season."
In the Korean league, each team is allowed two imports, one with a height limit of 6-6 3/4 and the other, 6-1 1/4. Mbala's import partner is 6-0 Glenn Cosey of Eastern Kentucky. The Korean league runs from October to March and Mbala's contract is guaranteed for four months. His salary is reportedly three times more than in Mexico.
Since the start of the year, Mbala has traveled the world playing the game he loves. He's played in Mexico, France, Tunisia, Japan and Macau and visited Brazil, Italy and Spain. Mbala also made time to go home to Cameroon and reunite with family, something he hadn't done in two years.
As for his playing ability, Mbala has clearly advanced to the next level. At the Terrific 12 tournament in Macau a few days ago, he had 26 points and 12 rebounds for Samsung in an 88-74 semifinal loss to the Guangzhou Long Lions. "I think I'll be competitive as an import in the PBA," he said. "If I pass the height limit of 6-5, I could play both in the Commissioner's Cup and Governors Cup like Justin Brownlee. I miss playing in the Philippines, I miss the fans, I miss my friends."