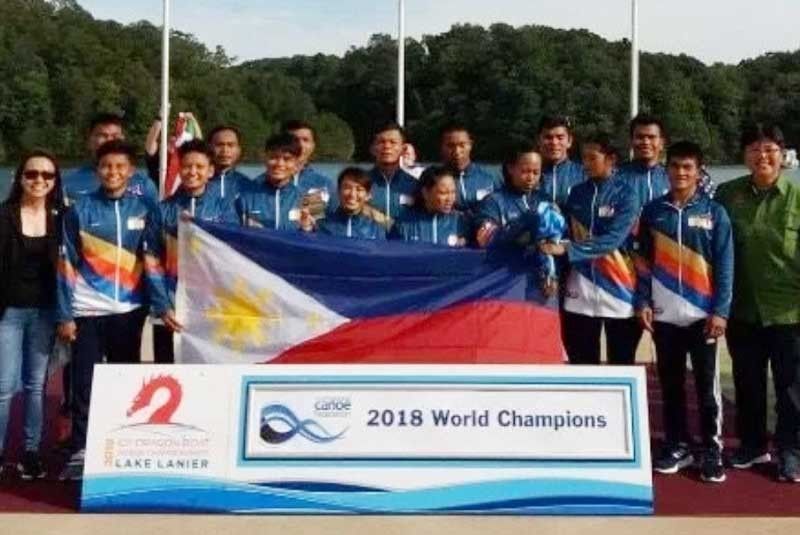 Members of the 10-seater senior mixed team during the awarding ceremony.
Pinoy paddlers bag 2 golds in world tilt
(The Philippine Star) - September 15, 2018 - 12:00am
GAINESVILLE, Georgia – The Philippines made its presence felt early as it captured two gold medals in record-setting fashion in the opener of the ICF World Dragon Boat Championships at the Lake Lanier Olympic Park here Thursday.
The national paddlers from the Philippine Canoe Kayak Dragonboat Federation ruled the 10-seater senior mixed 500-meter event, defeating race favorites Hungary and host the United States in emphatic fashion.
With drummer Patricia Bustamante and steerer Maribeth Caranto at the helm, the Filipinos clocked two minutes, 7.5 seconds to improve on their bronze-medal finish in the same event during the 2016 world championships in Moscow.
The Hungarians timed 2:11.36, nipping the Americans (2:11.86) for the silver in the biennial meet featuring the best 16 countries in the world of dragonboat racing.
"They really wanted to prove something out there and they never lost focus despite the strong opposition,'' said PCKDF president Jonne Go.
The Filipinos nailed their second gold medal later, dominating the 20-seater senior mixed 500m race again over Hungary and the Czech Republic. They timed 1:52.58, beating their previous race-winning clocking by three seconds two years ago, also in Moscow. The Hungarians clocked 1:55.09 and the Czech Republic placed third (1:55.14).
"We never doubted the team's ability to win. Once again, they showed the world that we Filipinos are world-class in this sport,'' said Go For Gold's Jeremy Go, who helped bankroll the participation of the PCKDF with the Philippine Sports Commission.
Head coach Len Escollante said the Philippines guns for a third gold Saturday when the national paddlers, led by Hermie Macaranas and Ojay Fuentes, vie in the 10-seater men's 200 finals. Joining them again are Mark Frias, Reymart Nevado, John Paul Selencio and Oliver Manaig.
Women paddlers Raquel Almencion, Rosalyn Esguerra, Rhea Rhoa and Christine Talledo completed the cast in the small boat mixed category along with Bustamante and Caranto.