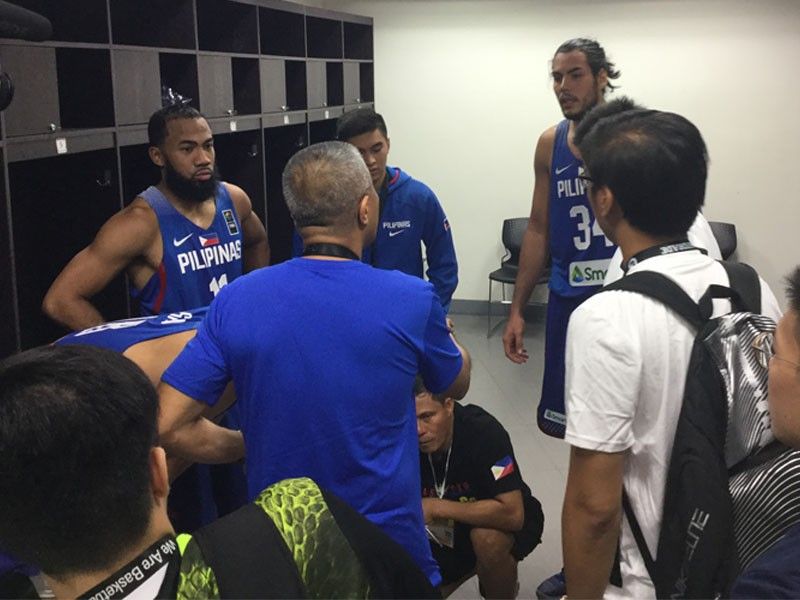 The Philippine men's 3x3 basketball team huddle in the locker room for a post-game discussion.
Rick Olivares
Post-mortem: Gilas' FIBA 3x3 World Cup campaign
MANILA, Philippines – You would think that after a jarring — no, devastating loss — the last thing a team would do is to immediately go back to the game tape. Whether as a means to prepare for a non-bearing match, to understand what just transpired or self-flagellation, the Philippine men's 3x3 team immediately watched the 20-19 loss to Canada inside their locker room.
Christian Standhardinger, who Canadian Michael Linklater ditched with a quick first step for the game winner, pounded his two fists on his head.
"Why can't we win this stupid game?" the Filipino-German blurted out to no one in particular.
At the far end of the room, the Kyrgystan team sat in silence. They had yet to vacate the expansive room following their ouster by Serbia two matches earlier. They felt the Filipinos.
Shakirzhan Kuranbaev, their team's version of Linklater and Gilas Pilipinas' own Stanley Pringle Jr. — he of the lightning-quick first step and the heart of a lion — nodded quietly as the Filipinos voiced their dismay.
Samahang Basketbol ng Pilipinas President Al Panlilio joined the team inside.
"We need to get better," he said to no one particular.
Philippine 3x3 coach Ronnie Magsanoc nodded in agreement. "What we need to do is to create a separate national team program for 3x3. It's going to be a challenge but we have to look into this."
The room fell silent as the game viewing continued.
"Puro kanan," noted Magsanoc of the Canadian's penchant for driving one way.
"We still had two fouls to give," said Pringle Jr. "Just like the Cavs." Pringle referred to the Game One gaffe where the Cavaliers' coaches failed to call for time before the fatal play that led to an overtime loss, which ultimately cost them the NBA Finals.
And it was the same for the Philippines, which would go on to beat Russia. But the 2-2 record wasn't enough to send them to the quarterfinals.
After the opening day win over six-seeded Brazil, Standhardinger was euphoric: "Hey, I feel incredible. Let's get another win."
Unfortunately, the Philippines was put on the ropes by Mongolia with a 17-21 loss. After Standhardinger scored on a lay-up to put the Philippines two points behind, 17-19, the ball swung out to Mongolia's Tserenbaatar Enkhtaivan, who shot a triple over token resistance by Pringle for the win.
Said the Mongolian through an interpreter, "I wanted to show them (the Filipinos) that we (the Mongolians) can also be good at basketball. And I wanted to get back at Pringle (whose triple over Enkhtaivan ignited the late Philippine charge).
After that loss, Pringle Jr. apologized to his teammates inside the locker room. "My bad, fellas," he humbly said. "I should have not let him take that shot."
The Filipinos earned back a measure of respect when they dumped Russia, 19-12, to end their maiden FIBA 3x3 World Cup stint.
The Filipinos were in a better if not jocular mood after the strong finish. Standhardinger, whose wit, WWE-like broadsides (that reminds one of Rudy Hatfield in his prime) and open-mindedness makes him one of the most quotable athletes, was in his eloquent best.
"As frustrating the loss to Mongolia and Canada is, let's put this in perspective, we beat the fifth-ranked team in the world in Brazil and we beat the third-ranked team in the world in Russia. And this is our first tournament. If this is not clear for everybody about how much promise we have as a team for the next tournament if we have more practices," he explained.
"In crunch time against, we were up two against Canada. It was just experience (that got them the win). In five-on-five, we know what we're going to do and that is to give the ball to our best ball handler and contributor, sprint, and screen with shooters in the corner. 3x3 is different. What are we going to do there? That's what we have to learn. Our coach did a good job of preparing us. We showed great promise here."
In the team's final huddle of the tournament, Magsanoc said, "Enough basketball."
Pringle Jr. wondered, "What we going to say, coach?"
"The Lord's Prayer, of course."
And this… is how we roll.