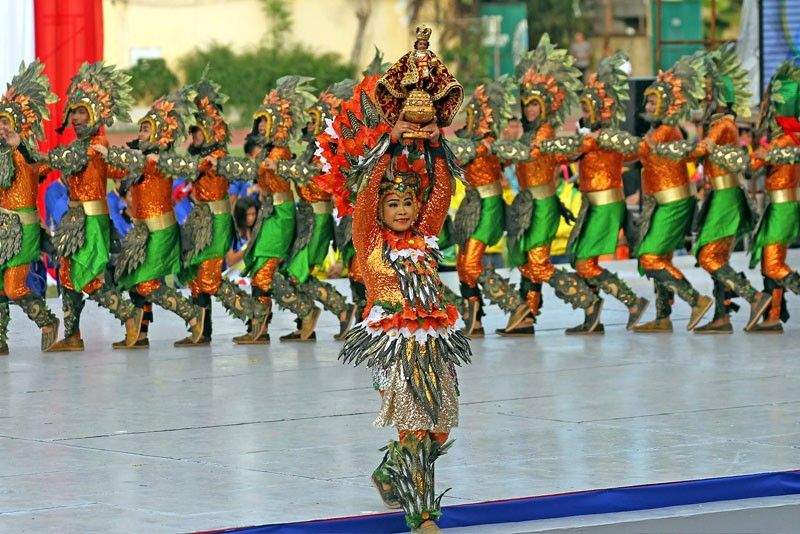 Students and dancers from different dance clubs perform during the opening ceremony of the Philippine National Games held at Cebu City Sports Center.
Jun Mendoza
Duterte opens Philippine National Games; 43 golds up today
Joey Villar
(The Philippine Star) - May 20, 2018 - 12:00am
CEBU CITY, Philippines — President Duterte officially declared the Phl National Games open last night while encouraging participants to serve the country by inspiring younger generations to excel in their respective sporting fields.
"I'm proud to say that the spirit of the Filipino athletes is alive in all of us today (yesterday). I know the efforts of the Phl Sports Commission and its partners for successfully organizing this event," said Duterte, who had to rush from a launching of an oil-producing company in nearby Alegria town.
"May this occasion serve as a platform to promote patriotism within our athletic community," he added.
PSC chair William "Butch" Ramirez, for his part, thanked the President as well as all the people who supported the staging of this weeklong event that serves as the national championships of the country's top sports associations.
"I am most especially grateful for the President's support, not only to the PSC and the PNG but to sports in general," said Ramirez. "We are lucky to have the nation's chief showing his support and recognition to the role sports play in nation-building."
Action officially starts today with at least 43 gold medals at stake in various fronts including 23 in centerpiece athletics in the Philippine National Games at the Cebu City Sports Center here.
The first gold will come from women's 10,000 meters at the break of dawn followed by six more in men's and women's shot put, women's high jump, and boys' and men's 3000m steeplechase in the morning events at the track.
In the afternoon, 17 gold medals will be disputed in 110m hurdles for boys and men, 100m for girls, boys, men and women, pole vault for boys, discus throw for boys and girls, 400m hurdles for boys, girls, men and women, 5000m for girls and boys, long jump for men and 2000m steeplechase for girls.
Right beside the oval is the pool where tankers will battle for eight mints – 200m individual medley, 100m, 1500m and 800m freestyle and 50m backstroke for men and women.
Over in Naga, which is about an hour and half from the main hub, weightlifting is staking eight.
The standard event of chess will likewise unfold today with Woman Grandmaster Janelle Mae Frayna leading the women's division and GMs John Paul Gomez and Joey Antonio spearheading the men's side at the Robinsons Galleria Cebu.
Phl Sports commissioner Ramon Fernandez said he expects participants to give it their all as they battle for a possible spot in the national teams.