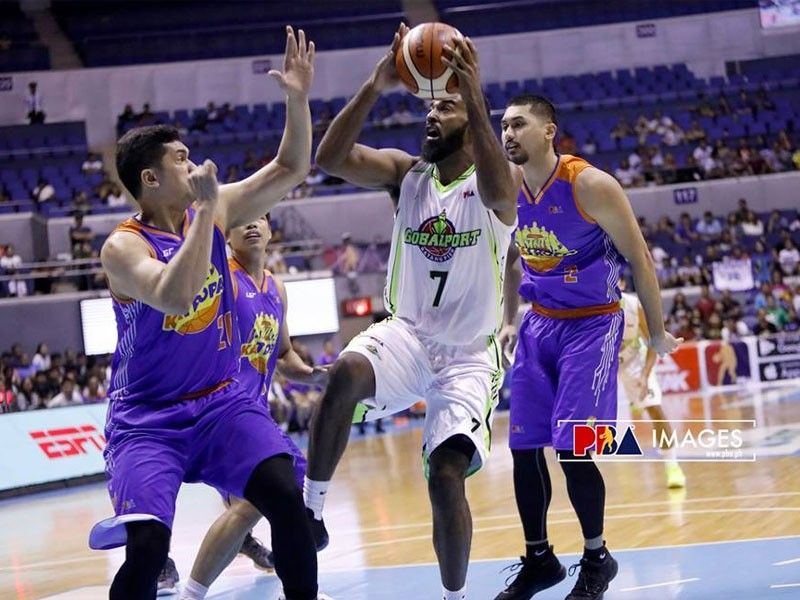 Moala Tautuaa will serve his suspension in their game against Meralco in the third play date of the tourney Friday night at the Smart Araneta Coliseum.
PBA Images
GlobalPort's Tautuaa banned 1 game, fined P35K for flagrant fouls
MANILA, Philippines – GlobalPort new acquisition Moala Tautuaa drew a game suspension plus a fine of P35,000 in a heavy sanction suffered for his flagrant infractions in their game against his former team TNT KaTropa on opening day of the PBA Commissioner's Cup Sunday.
GlobalPort import Malcolm White, TNT forward Don Trollano, Blackwater gunner Allein Maliksi and GlobalPort center Joseph Gabayni were slapped fines of P5,000 each for their own flagrant fouls in a pair of emotional, rugged games that set in motion the mid-season tourney.
Terrence Romeo was also summoned by the Commissioner's Office but requested that his appearance be moved Friday because of an emergency that he needed to attend to Thursday.
Tautuaa will serve his suspension in their game against Meralco in the third play date of the tourney Friday night at the Smart Araneta Coliseum.
Tautuaa was penalized the most, meted a fine of P5,000 for his flagrant foul penalty 1, P20,000 for flagrant foul penalty 2 and P10,000 for the unpleasant remarks he uttered caught on video as he was leaving the playing court.
He was tossed out of the game after his second infraction where he kicked TNT import Jeremy Tyler on the chest while he's hanging on the rim after executing a two-handed jam.
"He was hitting his head in our meeting. He was sorry for what he has done," said PBA commissioner Willie Marcial.
"I reminded all the players that appeared in the office that it's okay for me that they be physical in the game. But I don't want them to hurt their co-players," Marcial also said. "I reminded them it's their livelihood."
The Batang Pier bear the brunt of Tautuaa's suspension as they tangle with Meralco and hulking import Arinze Onuaku at 4:30 p.m.
Alaska Milk and Rain or Shine, two teams swept away in the best-of-three quarterfinals last conference, take on each other to start their campaigns in the tourney at 7 p.m.
The Aces and the Elasto Painters bring in new faces as their imports in the mid-season tourney where both had struggling performances last year.
Alaska parades young 6-foot-9 power forward Antonio Campbell while Rain or Shine introduces former ABL Best Import awardee Reggie Johnson.
Both teams are raring to plunge back into action after an early exit in the last Philippine Cup, with the Aces ousted by the NLEX Road Warriors and the Elasto Painters booted out by the Barangay Ginebra Kings in their respective quarterfinals matchup.
Both lacking an inside presence, the Aces and the Elasto Painters hope they would solve their problem with their acquisitions of Campbell and Johnson.
At 23, Campbell is bringing with him the exuberance of a young player. He's a Mid-Atlantic Conference Player of the Year and AP Honorable Mention All-American with University of Ohio in 2016. Left undrafted in the NBA draft last year, Campbell brought his stuff to the Lakeland Magic in the NBA G-League.
The Elasto Painters, meanwhile, will come out with Johnson who is a more experienced player in terms of overseas play. A product of University of Miami, Johnson led the Westports Malaysia Dragons to the ABL championship in 2016.