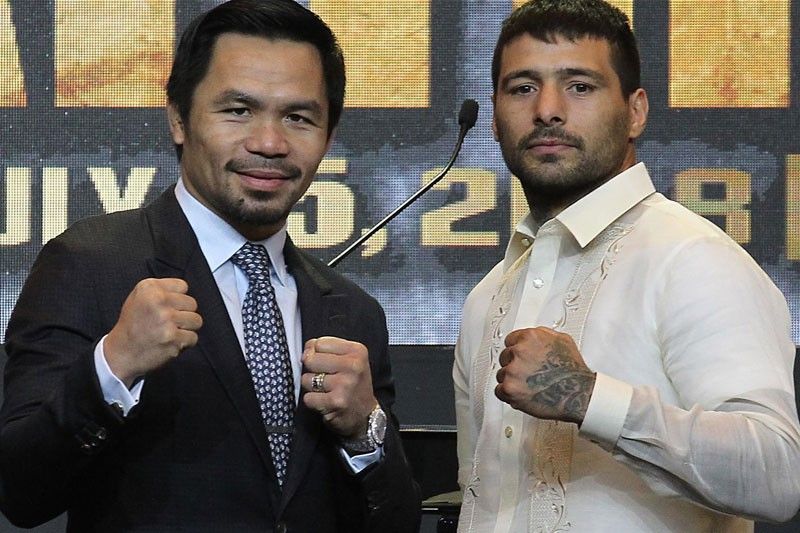 "Definitely in the last three to four previous fights," Koncz told Filipino reporters.
File
Pacquiao, Matthysse offered rich purse?
Abac Cordero
(The Philippine Star) - April 20, 2018 - 12:00am
MANILA, Philippines — Manny Pacquiao's longtime adviser, Mike Koncz, said Pacquiao is bound to earn more than what he did for his three previous fights against Tim Bradley, Jessie Vargas and Jeff Horn when he clashes with WBA titlist Lucas Matthysse on July 15 in Kuala Lumpur.
"Definitely in the last three to four previous fights," Koncz told Filipino reporters.
No exact amount was mentioned but based on knowledge, Pacquiao earned $20 million for his third fight with Bradley and $4 million against Vargas in 2016 then $10 million against Horn in 2017.
Pacquiao has not fought since losing his WBO welterweight crown to the Australian in July last year.
But it doesn't mean that he has lost his market value.
Koncz said the offer they received from the Malaysian investors was "tremendous" and very hard to refuse.
"The way it's structured…," said the Canadian advisor.
The camp of Lucas Matthysse was also tight-lipped about the purse, but Golden Boy Promotions president Eric Gomez said it should be the biggest ever for the Argentine.
"We won't discuss. But it's good. It's very good," said Gomez, who gave one more reason why they can't talk figures.
"He (Matthysse) lives in a dangerous area so we don't want to talk," said the Golden Boy executive.
Koncz can't even divulge who composes the investors group that managed to bring Pacquiao to the Malaysian capital, which has never staged a fight of this magnitude since a Muhammad Ali fight 43 years ago.
"I don't want to say something that I may not be authorized to say. But the Malaysian investors group, I'm not sure what they are. But it's not a mystery. It's real," he said.
"The whole objective is to show the investors that we are capable and we're real and we can return the money back. Then if they're happy we'll do it again," said Koncz.
Without looking past Matthysse, who loves knocking out his opponents inside the ring, Pacquiao is eyeing a lucrative match with Vasyl Lomachenko before the year ends.
"That fight can generate a million buys in pay-per-view I believe," said Koncz, adding that if and when it happens, Kuala Lumpur will remain an option.
But Pacquiao must first get past Matthysse.
"If we can't be successful here and have a good showing how can we convince Lomachenko to fight us?" Koncz told reporters.
Related video: