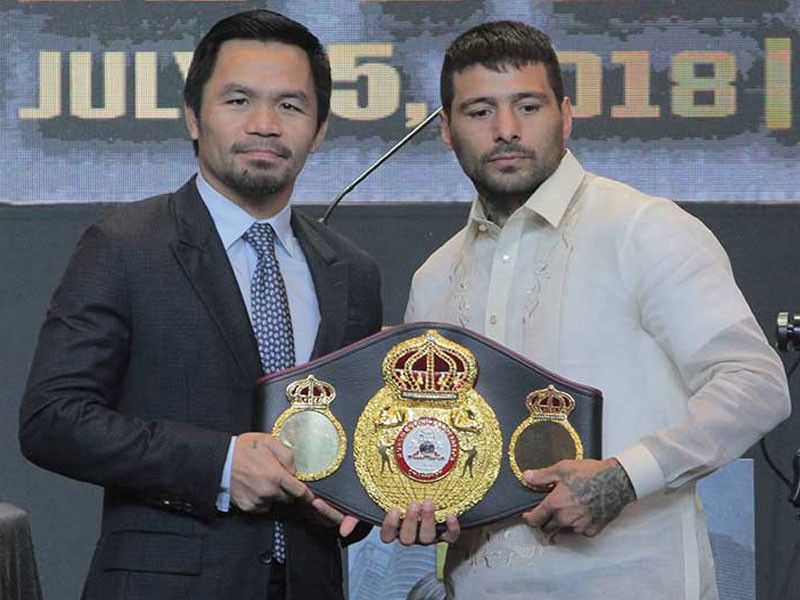 Manny Pacquiao and WBA welterweight champion Lucas Matthysse pose with the latter's title belt during Wednesday's press conference.
Philstar.com/Efigenio Toledo IV
MANILA, Philippines – Inside the packed ballroom of the City of Dreams, the camp of WBA welterweight champion Lucas Matthysse on Wednesday declared that Manny Pacquiao's days inside the ring are numbered.
"This is Matthysse's time. Manny Pacquiao's time is over," said the Argentine champion's manager, Mario Arano.
Matthysse endured more than 30 hours of flying time from his home in Chubut, Argentina to Los Angeles, and then to Manila. He and his small entourage flew in at 6 a.m.
With very little rest, he faced the audience, which included top diplomats from Mexico, Panama, Colombia, Brazil and Argentina, and delivered the strong message.
"This is my time," said the heavily-tattooed fighter with 36 knockouts in 39 wins. He arrived for the press conference in Barong, which he said was bought at a nearby mall.
There's reason for Matthysse to think so.
"Since the Juan Manuel Marquez knockout (in 2012), Manny Pacquiao was never the same fighter again. He's not in his prime anymore," said the 35-year-old.
Pacquiao, he said, has done a lot in boxing, and has achieved a feat that will be very difficult to match or surpass — winning world titles in eight weight classes.
"Manny has won so many titles. I only have one. I'm not going to give it up. I will die if I have do," he said.
Pacquiao's eyes lit up hearing those words during the lavish press conference drumming up the July 15 showdown in Kuala Lumpur, Malaysia.
A member of the local press asked Pacquiao over the microphone what his thoughts were.
"My time is not over yet," he said, drawing loud cheers from his rabid supporters by the stage.
"I want to prove that Manny Pacquiao is not done with boxing yet. I will not predict the fight but I will do my best," added Pacquiao.
Prompted to react, the Filipino senator said he will try to go for the knockout, something he hasn't achieved in nearly a decade.
"If I have the chance to finish it right away I will finish it," he said.
Matthysse said a few days ago he will knock Pacquiao out and sent him to retirement.
The superstar, who will turn 40 in December, has not fought since July last year, when he flew to Brisbane and yielded his WBO welterweight crown to a former school teacher.
But Pacquiao said he still has it in him.
"I'm not done yet. But whatever happens, I will accept it. I think we will win in Kuala Lumpur," he said.
Pacquiao has bigger plans for this year, and that includes an explosive matchup with Ukrainian pound-for-pound king Vasyl Lomachenko.
If he gets past Matthysse, he wants that fight to happen in November.
"My plan is to fight here in Manila. Maybe against Lomachenko or anybody but here in Manila," he said.
Related video: