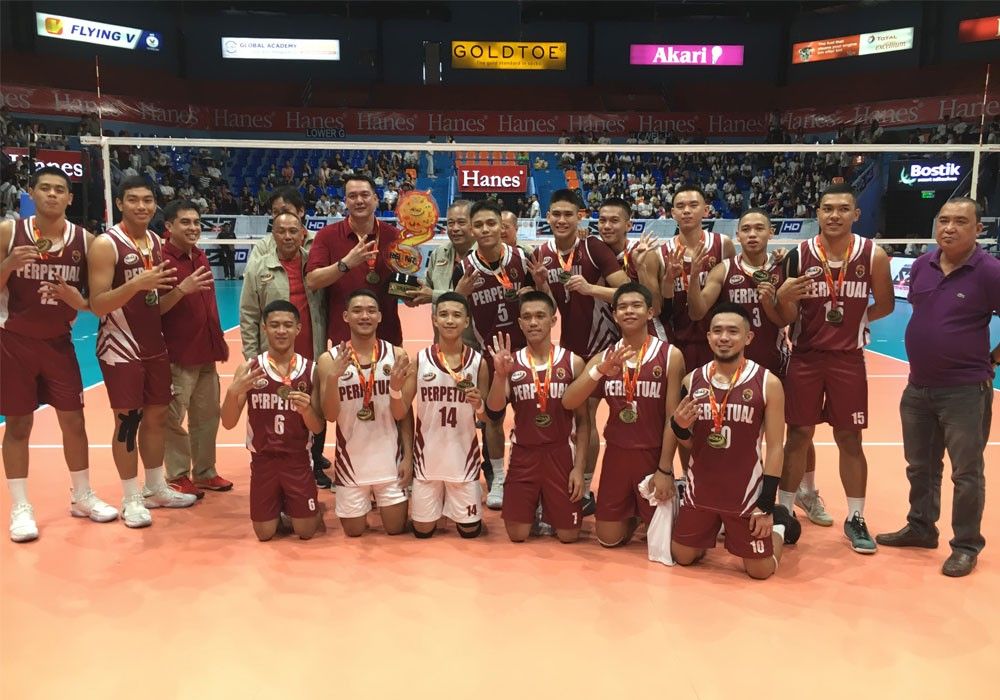 The Perpetual Junior Altas pose after their NCAA Season 93 title conquest Thursday
Junior Altas complete NCAA volleyball four-peat
Joey Villar
(The Philippine Star) - February 22, 2018 - 3:44pm
MANILA, Philippines — Perpetual Help overpowered Letran with its relentless attacking game to hammer out a 25-17, 25-17, 25-17 victory Thursday and complete a four-peat feat in the juniors' division of the 93rd NCAA volleyball tournament at the Filoil Flying V Center in San Juan City.
Ivan Encila and Noel Michael Kampton led the pounding with 16 and 15 points, respectively, while the Jody Margaux Severo, season MVP Kirth Patrick Rosos and Kharyll Rhpy Parce combined for 24 hits to lift the Junior Altas to their fourth title in row and 11th overall.
Unlike in Game One Monday when it met resistance in a 25-16, 25-15, 20-25,25-20 victory, the Las Pinas-based school left Letran with no room to breathe as it unloaded 47 attack points as against the latter's 30 while playing rock solid net defense with nine blocks.
When it was over, the Junior Altas were in jubilation as they finally reaped the fruits of their hard labor.
"We're so happy because all the stress we felt, the hard work we did and the sacrifices we did the whole year led to this championship," said Perpetual Help coach Sandy Rieta.
The championship will be parting gift to the team's nine graduating players including Encila setter Gabriel EJ Casana, liberos Carlo Isidro and Vince Patrick Lorenzo and Severo, who was named Final MVP.
After receiving his second Finals MVP trophy, Severo, who won it two seasons ago, shed tears of joy.
"It was his last year, that's why he was so emotional," said Rieta of Severo.
With nine players out, Rieta said he will have no choice to build around Rosos and Kampton, who are both Grade 10 and have two more seasons to play.
"That's my objective this summer, to find ways to make up for the nine players we will be losing this year," said Rieta.