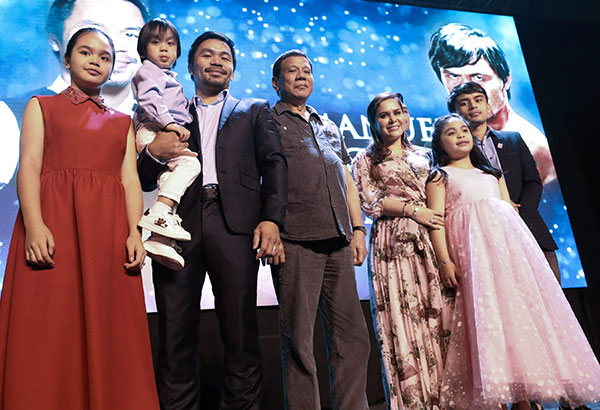 President Duterte poses with Sen. Manny Pacquiao and his wife Jinkee and children during the Filipino icon's 39th birthday celebration at the KCC Convention and Events Center in Gen. Santos City last Dec. 17. Malacañang photo
Du30 KO blow: Manny in '22
(The Philippine Star) - December 18, 2017 - 4:00pm
During champ's 39th birthday bash
DAVAO City, Philippines — President Duterte is urging senator and former international boxing champion Manny Pacquiao to give the presidency a run in the 2022 general elections.
Duterte has long been a fan and a supporter of Pacquiao in all his bouts even if the boxer did not support the former Davao City mayor in the May 2016 elections.
Pacquiao was then supporting former Makati City Mayor Jejomar Binay which Duterte said he perfectly understood as there were political commitments that the senator had to honor then.
But when Duterte won, Pacquiao emerged as one of the staunch supporters of the President.
"Sabi ko sa kanya one time noong kami lang dalawa nag-usap, gusto kita gawing president. Alam ko kaya mo (One time in a private talk, I told him I want him to be President and said he could do it)," said Duterte before hundreds of guests during the 39th birthday celebration of Pacquiao at the KCCC Mall in Gen. Santos City Sunday night.
At the same time, Duterte lauded Pacquiao for the honor he has given the nation with his boxing feats that has made him a global icon of the sport.
"You have brought so much pride and joy to our country for being a world champion in the field of boxing. The determination you have shown and the humility you embodied in the midst of glorious triumphs are worthy of emulation by our countrymen," the President said.
Duterte also praised Pacquiao as an elected government official.
"As a senator, you have demonstrated the qualities of a true leader – someone who believes that in order to make the Philippines a better country, we have to keep our people on top of our priorities. I am glad that you are with me in this mission," Duterte said.