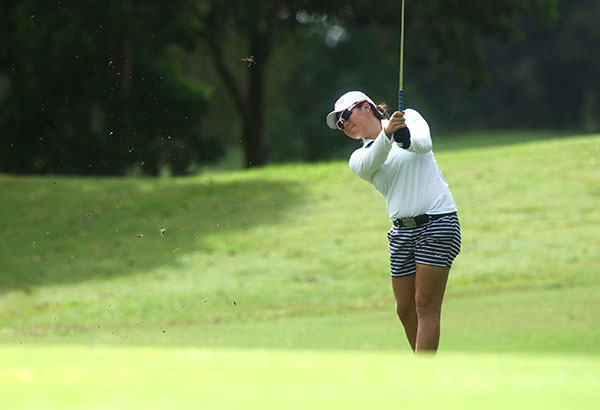 Hot starting Pauline leads by 4-shot
(The Philippine Star) - November 21, 2017 - 4:00pm
TAGAYTAY, Philippines — Pauline del Rosario fired an eagle-aided four-under 68, storming to a four-stroke lead over a late-charging Chihiro Ikeda at the start of the ICTSI Splendido Ladies Classic at Taal Splendido Golf Club here yesterday.
Making up for her third place finish at Forest Hills Challenge ruled by Ikeda two weeks ago, Del Rosario put on a strong start with three birdies in the first eight holes then rebounded from a three-putt miscue on No. 9 with a spectacular eagle from 40 feet on the par-5 10th to string a 34-34 card.
"I really prepared hard for this after Forest Hills, where I relaxed a bit coming off a long break," said Del Rosario, who came in the Antipolo leg brimming with confidence following a seven-shot romp at Pradera Verde and a brilliant come-from-behind win in Taiwan LPGA last August.
Ikeda, who edged Thai Wannasiri Sirisampant in sudden death to snap a year-long title spell in Antipolo, actually groped for form with a horrible 40 frontnine card. But the former SEA Games gold medalist bounced back coming home, birdying three of the first four holes at the back then negating a bogey on No. 16 with closing back-to-back birdies.
She salvaged a 72 although her four-under 32 windup should augur well for her drive for a second straight championship in the country's premier ladies circuit sponsored by ICTSI and organized by Pilipinas Golf Tournaments, Inc.
Cyna Rodriguez joins Del Rosario and Ikeda in today's (second round) featured flight although the former three-time Ladies Philippine Golf Tour Order of Merit winner stood six shots off the leader with a two-over 74.
She actually opened with a birdie on the par-5 second but struggled the rest of the way, dropping strokes on Nos. 7 and 8 before bogeying the par-3 12th.
Ranged against veteran campaigners, Del Rosario expects an uphill battle but hopes to make the most of her big cushion heading to the last 36 holes of the P750,000 event backed by Custom Clubmakers, BDO, Meralco, Sharp, KZG, PLDT, Champion, Summit Mineral Water and K&G Golf.
"I'll just try to play the same as today (yesterday) and hope to make the most of my birdie chances," said Del Rosario, who hit a 260-yard drive on No. 10, hacked a 5-iron from 160 yards and drilled in the putt from 40 feet out. "Cyna and Chihiro are seasoned players so I will just try to limit a couple of mistakes on the course."
Chonlada Chayanun blew a one-under card after three holes with three bogeys in the next six then closed out with a two bogey-one birdie stint at the back to emerge the best-placed Thai at fourth with a 75.