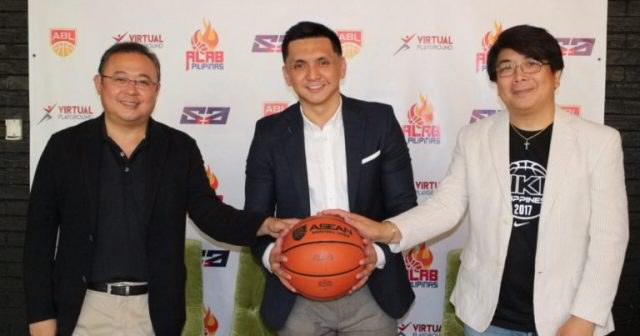 Jimmy Alapag (middle), Tanduay-Alab Pilipinas' new head coach. | Alab Pilipinas Photo
Alapag ecstatic to get coaching career going with Alab Pilipinas in ABL
MANILA, Philippines — The more things change, the more they stay the same.

That couldn't be truer for Jimmy Alapag, who now will coach Tanduay-Alab Pilipinas in the new Asean Basketball League season.

"I'm excited," the legendary cager said. "It's parang a new type of preparation. I'm not going to the game bringing my gym bag, my shoes, my jersey and my towel. So again, I'm excited for tomorrow — I'm excited for the fans."

Alapag and Alab opens their bid to improve their third place finish in the league against defending champion Hong Kong Eastern, who will be reinforced with first overall pick and many-time Gilas slotman Christian Standhardinger on Sunday night's showpiece at the Mall of Asia Arena.

And while Alapag admits there are many differences between coaching and playing, the former Gilas Pilipinas point guard said that the approach is still the same.

"I think the difference is when you're going to the game as a player going into the game, your focus is making shots, making defense, making right assists, leading your team to win," he offered.

"When you're a coach, 'yung isip mo is how can I help prepare my team as best as possible. And of course, your perspective in the game as a coach is much broader kasi you can see much more as opposed to when you're playing the game," he candidly chared.

"You're focused on 'OK, do I have to pass this to Jayson (Castro, a fellow Gilas trooper)? To Ranidel (de Ocampo, his former TNT teammate)? Or Cliff Hodge (a brother-in-arms in Meralco)?"

"So [that way,] it's different — in terms of perspective," he noted. "But the approach? It's still the same."

Alapag will try to lead Ray Parks Jr., the local Most Valuable Player, into greater heights when the Alab's season tips off at 8 p.m.