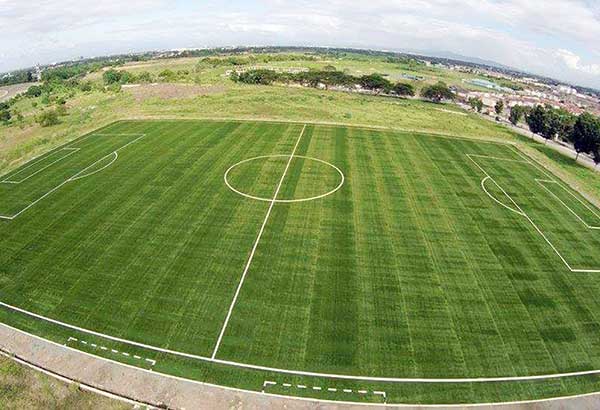 Aerial view of MJC-PFF's artificial pitch
MJC opens FIFA football turf at SLLBP
(The Philippine Star) - September 9, 2017 - 4:00pm
MANILA, Philippines — Manila Jockey Club, Inc. (MJC), one of Asia's oldest, and the Philippine Football Federation (PFF) yesterday hosted the inauguration and turnover ceremonies of the FIFA Football Turf Project 7 at the San Lazaro Leisure & Business Park (SLLBP) in Carmona, Cavite.
The FIFA Football Turf Project inauguration along with the PFF House of Football and National Football Center groundbreaking ceremonies coincide with Manila Jockey Club's 150th Anniversary celebration this year.
Its partnership with the PFF pays tribute to its heritage as one of the earliest football clubs in the country. In the early 1900s, MJC had its own football club formed after the Philippine-American War which competed with local teams such as the Manila Sporting Club, Paris Club, Sandow Athletic Club and the Bohemian Sporting Club.
The Manila Jockey Club was established in 1867. It is one of the oldest existing racing clubs in the Asia Pacific region. Manila Jockey Club, Inc. (MJCI), as a business entity, was formally incorporated in 1937.
MJCI operates the San Lazaro Leisure Park (SLLP) in Carmona, Cavite, featuring world-class horse racing, gaming, and hospitality facilities.
MJCI's broadcast outfit, the San Lazaro Broadcasting Network (SLBN), transmits live horse races, eight days a month to over 300,000 horseracing fans at Off-Track Betting (OTB) stations every race day. Through partnerships with the Philippines' leading cable-television and satellite-television providers, SLBN broadcasts Manila Jockey Club races to the entire country. Each race day's uninterrupted coverage also provides analyses, dividends, news and special features on horseracing and other major sporting events.