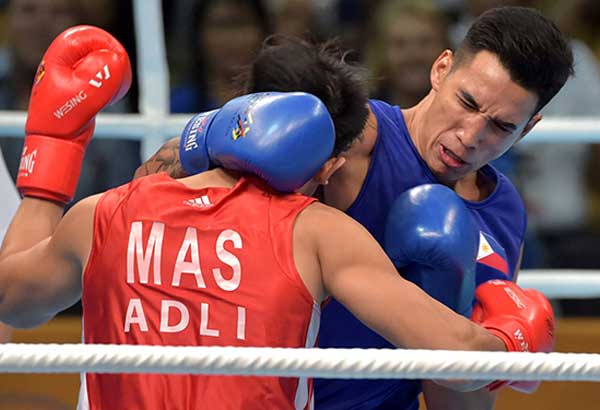 The Philippines' John Tupas Marvin (right) blasts away at Adli Hafidz binti Mohamad Fauzi during the boxing light heavyweight (81 kg) final in the 29th SEA Games. AFP
How ABAP discovered Marvelous Marvin
Gerry Carpio
(The Philippine Star) - August 25, 2017 - 4:00pm
KUALA LUMPUR – When Ed Picson, executive director of the boxing association, received an email in April from a Fil-British who was inquiring about the possibility of joining the national team, he did not give the message much thought.
The boxing association is not so keen on the heavy divisions because the association could not work out a separate training program for this category. The heavyweight boxers who joined the SEAG in the past were last-minute recruits who were required to box safely enough to avoid injury because they would win the bronze anyway. The bronze is almost in the bag even before the games are held because there are, at most, only four countries participating. The losers in the first round are automatic bronze winners and the winners gold-silver medal winners.
After the retirement of the last two light heavyweights in the late 80s, the boxing association concentrated on the lighter classes, where it enjoyed great successes until the present.
For this year, however, the Malaysian organizers decided to scrap the women's competitions because the sight of Muslim women showing some skin in public is against Muslim practice.
The men's competition was also limited to six events, minus the lightweight and welterweight, giving Picson, who oversees the national boxing program, little room for its growing pool of elite boxers.
But it could compete in the light heavyweight, if it wanted.
John Tupas Marvin, who learned of the inclusion of his division in the Southeast Asian Games, got the help of his mom, Teresita, from Lubao, Pampanga where she stays also with her British husband for 25 years, about the possibility of joining the team to Malaysia.
He emailed some videos of his bouts in tournaments he had competed in, some of them in the British Army where boxing is one of the sports.
Knowing a bronze is a big possibility for the Philippines in this division even if seven boxers are entered this year, he convinced boxing chief Ricky Vargas to give the London-based Marvin a two-way ticket and give him a tryout here for the national team.
Since there was no competition for the division during the National Open, Marvin had to spar with the next heavier national boxer – middleweight Eumir Felix Marcial – who was already seeded into the national team.