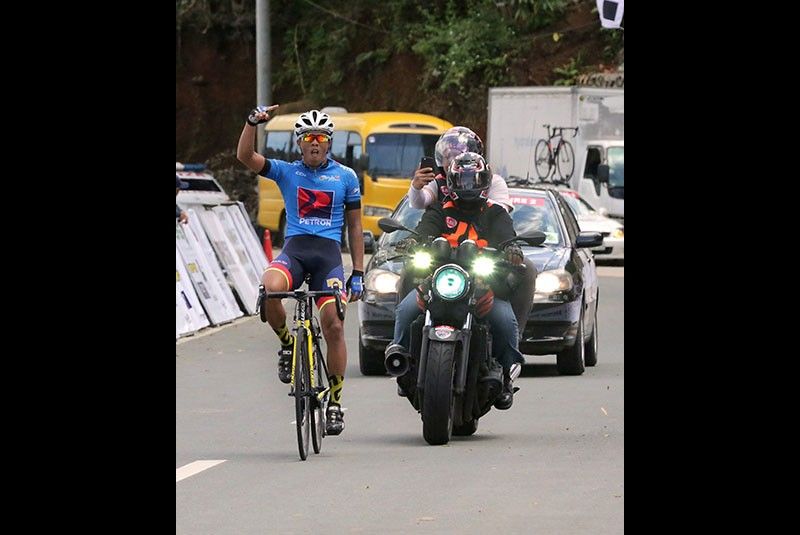 A lap winner Rudy Roque celebrates at the finish line during the Stage 11 of Ronda Pilipinas 2017.
ERNIE PEÑAREDONDO
Roque strikes anew, trims Morales lead
Joey Villar
(The Philippine Star) - February 22, 2017 - 12:00am
ANTIPOLO, Philippines – Rudy Roque recalled his fierce form in the mountains to top the Calamba-Antipolo Stage 11 and keep his title bid going in the LBC Ronda Pilipinas 2017 at the Hinulugang Taktak Road here yesterday.
The 25-year-old Roque displayed his superb climbing skills, leaving the pack in the winding road heading to Antipolo en route to ruling the 140-km stage in three hours, 57 minutes, 39 seconds for his second lap triumph after topping the kickoff leg in Vigan, Ilocos Sur.
But Navy-Standard Insurance teammate Jan Paul Morales came in second in 3:59:43 to stay on top of the heap with Go for Gold's Ronnel Hualda checking in at third with the same time.
Still, Roque's second win pulled him within two minutes behind Morales, who pooled an aggregate time of 37:28:11 as against Roque's 37:25:56 total.
The latter, however, said he was more concerned firming up his hold of No. 2 and keep third running Cris Joven of Kinetix Lab-Army at bay than pressing his title bid at this stage.
"The real goal is put a distance between me and Joven," said Roque. "If my position at second is safe, then I'll probably start thinking of chasing Jan Paul (Morales)."
Joven stayed at No. 3 but fell 11 minutes behind Roque with a total clocking of 37:37:03.
Meanwhile, the inroads of fatigue seemed to have crept in for Morales after piling up four stage victories and three second place finishes.
"I was feeling it in the mountains so I just paced myself. I'm still happy that a fellow Navyman had won the stage," said Morales, who topped Stage Two in Vigan, Ilocos Sur, Stage Three in Subic, Stage Eight in Daet, Camarines Norte and Stage Nine in Unisan, Quezon.
There were no major shakeup although Go for Gold's Bryant Sepnio improved from No. 6 to No. 4 with 37:41:33 while RC Cola-NCR's Lionel Dimaano leapt from No. 8 to No. 5 with 37:46:05.
Ilocos Sur's Ryan Serapio and Navy's Daniel Ven Carino and skipper Lloyd Reynante also barged into the Top 10 at Nos. 6, 7 and 8 with 37:47:16, 37:48:28 and 37:48:43, respectively.
Navy's Ronald Lomotos and Kinetix Lab-Army's Reynaldo Navarro pooled 37:48:45 and 37:49:49 for ninth and 10th, respectively.
Meanwhile, Ronda will take an eight-day break and will resume on March 2 with Stage 12 in Guimaras and Stages 13 and 14 on March 3 and 4 in Iloilo City.