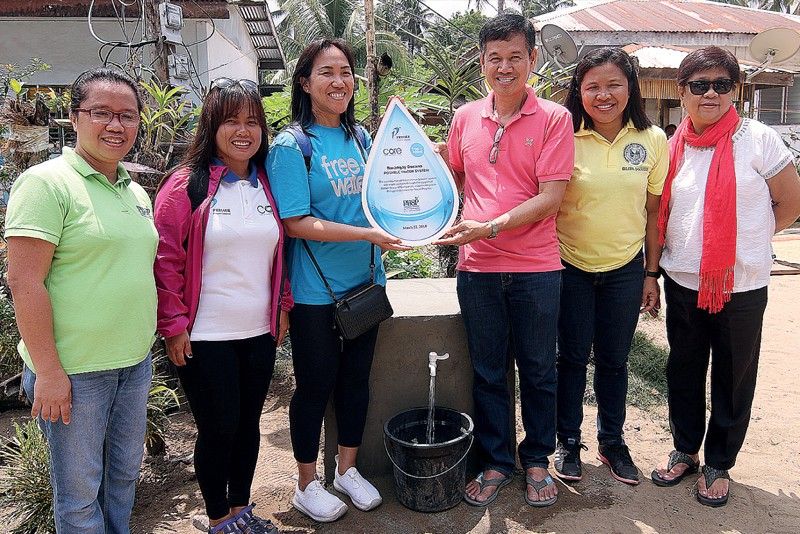 From left: Juliet Labayan, PBSP-Senior Program Officer for Environment Luzon; Kristine Villaflor, Primer Group Corporate Affairs Manager; Leslie Santos AVP-Regional Brand Management; Brgy Chairman Aracel Bacolod of Brgy Bucana Zone 3; Municipal Mayor, Honorable Nieves Rosento; Municipal Vice Mayor, Honorable Leonor Corral.
CORE and Freewaters team up to bring clean water to El Nido, Palawan
(The Philippine Star) - April 16, 2018 - 12:00am
MANILA, Philippines — The Primer Group of Companies through its advocacy arm, Center for Outdoor Recreation and Expedition (CORE), alongside California footwear brand Freewaters, turned over a water system to Barangay Bucana in El Nido, Palawan last March 22, the same day that the World Water Day is observed globally.
In the town of El Nido, Palawan lies a barangay that is in dire need of improvement when it comes to their access to clean water. As of January 2017, the locale is already home to more than a thousand residents with around 270 families. So, one can only imagine how those numbers have gone up in over a year. Sadly, these locals are devoid of a sustainable option for one of their most basic needs.
Residents of Barangay Bucana try to survive daily by way of an existing water filtration system, but the catch is that they have to cough up P30-45 for every gallon. While the said amount isn't an astronomical figure, a medium-sized family in a remote area where the livelihood options aren't aplenty would possibly need more or less five gallons in less than a week just to satisfy their drinking needs. However, clean water isn't just required to quench thirst. It is also being used to prepare food and maintain one's hygiene. Imagine the money that locals spend to satisfy one of their basic and most important needs. "Ito ay isang malungkot na realidad dito. Habang-buhay kaming magpapasalamat na napili kaming benipisyaryo ng programang ito. Ang kalakhan ng pagtutulungan para dito ay napakalaki para sa aming mga residente. (It's a sad reality here. We will be forever thankful to have been identified as a beneficiary of this program. The magnitude of this collaboration is overwhelming for us residents)," Barangay Bucana Zone 3's chairman, Aracel Bacolod, stated.
As such, CORE and Freewaters established a partnership with the municipal and local governments of El Nido, Palawan and a non-government organization in the Philippine Business for Social Progress (PBSP) to address this challenge within the community. This project is also in line with Freewaters' thrust to provide clean drinking water across the globe and in Primer Group's direction for corporate social responsibility. "Water is a basic necessity and we can't emphasize further how important water is to everyone. While others are fortunate enough to have distilled water at an instant, there are those whose daily access is an absolute struggle," Kristine Villaflor, the Primer Group's CORE Program Manager remarked.
This isn't the first rodeo for Freewaters in this particular challenge area. Back in 2016, the brand distributed 22 water filtration systems to Dipontian, Casiguran Aurora Province. The location was brimming with the potential to become a surfing haven, but tragedy struck the place and a typhoon had left its waters contaminated.
The water system recently turned over to Barangay Bucana aims to provide the initial step for potable tap water to the people within the area. The local government and non-government agency involved will also work hand in hand with the enhancement, monitoring and evaluation of the project. Juliet Labayan, Project Coordinator for PBSP, had this to say about the initiative: "We're grateful to have a part in this worthwhile program. It's sustainable and it empowers the community. Those factors are very close to what we embrace in our advocacies." Furthermore, a number of capable residents will be given ample training so that they can maintain the filtration systems themselves.
The Primer Group of Companies will continue to look after the said community through periodic reports courtesy of the local entities. Leslie Santos, Freewaters Regional Brand Manager said that "Lessons from the previous run were carried through and improvements were implemented in our water project with the establishment of Barangay Bucana's water system".
This is a meticulously-planned strategy geared to improve the living condition in these remote communities while empowering the locals with the necessary tools and knowledge. Mayor Nieves Rosento of the Municipality of El Nido commented that "We will work together with all the partners and we will do our part in ensuring that this project will go on for a very long time."
* * *
About Freewaters
Freewaters is a brand driven by combining modern design and amazing comfort that will have you walking on clouds regardless if you are cruising through town or explore beyond the pavement.
Surrounded by the progressive culture and beautiful landscapes of California, Freewaters designs for those who roam, explore and consider themselves global citizens.
From day one, each pair of Freewaters has supported clean drinking water projects in communities of need with 1% of sales going directly to fund clean drinking water projects worldwide.
Freewaters is exclusively distributed in the Philippines by the Primer Group of Companies – Asia's next retail giant. For more information, visit www.freewaters.com. Like our Facebook page at Freewaters Philippines
About Primer Group of Companies
Established in the Philippines in 1985, the Primer Group of Companies aims to be the leader in delivering superior customer experience, and accomplishes this through the retail and distribution of the world's top and premium consumer brands in outdoor, travel, footwear, fashion, action sports, wellness and urban lifestyle. It has also established a solid ground in the industrial products and services landscape offering green solutions, with companies in full-scale printing, air-conditioning, building efficiency and energy management system, and digital and creative graphic design services.
The company is aggressively expanding to become the leader in the global distribution and innovation of premium goods and services. Its retail authority alone has grown to over 150 premium brands, with around 450 free-standing stores worldwide. Headquartered in Manila, Philippines, the Primer Group employs over 3,000; and has presence in Hong Kong, Indonesia, Japan, Malaysia, Singapore, Taiwan, Thailand, Vietnam, Australia, Europe, Middle East and Africa.
For more information, please visit www.primergrp.com .
To connect with the Primer Group via Facebook, visit www.facebook.com/PrimerGroup, via Instagram, visit https://www.instagram.com/primergroup and via Twitter, visit https://twitter.com/primergroup
Related video: