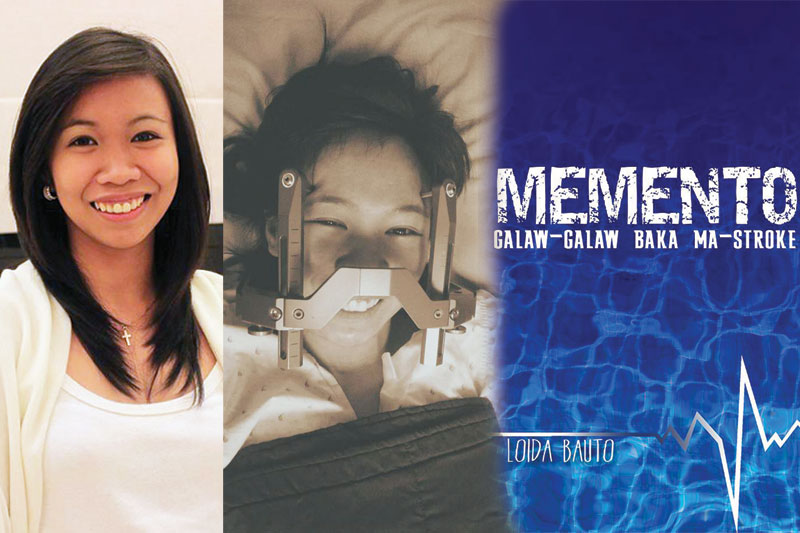 A debilitating condition called AVM, or arteriovenous malformation, nearly ended Loida's life in 2013, but she has fought on. She has written a book called 'Memento' to thank those who stand by her and as a call for donations in her continued fight against her disability.

Loida Bauto: A saga of courage and hope
MANILA, Philippines — It's as though the cameras capturing scenes from her life story would not stop grinding.
Graduating at the top of her class at the University of Santo Tomas, she later placed fourth in the 2012 Interior Designer's Licensure exams. It was the perfect start to a very promising, bright future.
Loida Concepcion Bauto had her life figured out until August 2013. Five months into her first job, she passed out and woke up in the intensive care unit of a hospital. Days after, she was told that she had an Arteriovenous Malformation in her brain, or AVM, a tangle of abnormal and poorly formed blood vessels, which have a higher rate of bleeding than normal vessels. Her first confinement lasted 50 days.
"When I was still confined, what happened to me was not sinking in. I was so positive then that everything would go back to normal. But I was wrong. Months turned into years. I got depressed. I screamed. I shouted. I cried a lot. I always ask God, "Why did You let this to happen? Why are my prayers not answered," she shared.
Eventually, she accepted her fate – and the sacrifices it entailed, including the painful realization that she probably would never be able to work and achieve her dreams.
"In the middle of 2016, that was the only time I fully accepted this life and stopped complaining. I can now say, 'Eh ano naman kung hindi ako nakakalakad? (So what if I am unable to walk)'? If I have to be tied to the wheelchair, so be it."
She had two major strokes in August 2013, and an open-skull surgery in September of the same year.
After all the procedures, she was brought to the hospital again and was diagnosed with "tracheal stenosis," or an abnormal closing of the airway. She then had to undergo another major surgery.
"My hospitalizations, procedures, and laboratory tests amounting to P3 million have taken a toll on our family. It led us to suffer bankruptcy and poverty. All our properties are lost. The family business is bankrupt. My parents are separated, my younger sibling had to stop studying in college, and we take shelter in my grandmother's house in the province now," she shared.
For Loida, the entire experience taught her to be more connected to God.
"The greatest of these lessons is that pain, suffering, and sickness are the Lord's instruments in purging us of our sins, of teaching and correcting us, of pruning and molding our characters, and making us dependent only on Him," she said.
While she may have been through the worst, Loida has not lacked in the love and support of family, her closest friends, and the kindness even of people she has never met.
She wrote a book, entitled "Memento," where she talks about her sickness and the experiences and lessons it brought to her life. The book is partly an act of gratitude for the people who never deserted her, and also a means to raise funds for more medical expenses ahead on account of her condition.
"Last December and early this year, I started to have headaches that go on for days. I had a consultation with my neurologists and they require me to undergo an angiogram. However, I lack the amount needed for the test," she shared. The four-vessel cerebral angiogram would cost P70,000 to P80,000 in hospitals.
"After almost five years in and out of the hospital, here I am again seeking your help and support," she wrote in her Facebook page.
To buy her book or to send donations, please contact John Edward Bauto, Loida's brother, at +639081557234.