The Seasons Residences brings Japanese architecture to the Philippines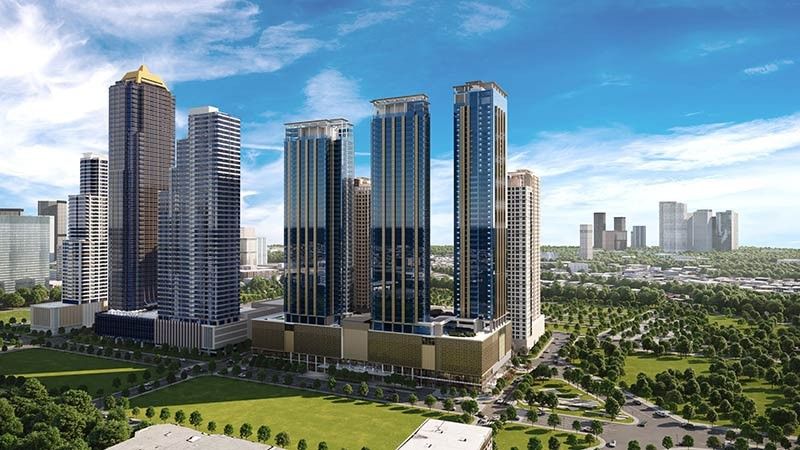 MANILA, Philippines — Japanese architecture is revered around the world for its clean, simple lines and the respect it pays to nature and its surrounding environs. Characterized by its use of wood, natural materials, neutral colors alongside high-tech innovations, a modern Japanese home balances functionality and aesthetics in its design.
This distinct ingenuity and artistry are just a few of the many reasons real estate developer Federal Land Inc. partnered with two of Japan's most trusted firms to deliver a slice of Japanese living in the Philippines.
Set to rise within Federal Land's master-planned community Grand Central Park in Bonifacio Global City, The Seasons Residences is a mixed-use development featuring upscale residences and the first MITSUKOSHI, a four-level mall, in the country.
It is a joint venture between Federal Land Inc., Philippines' premier property developer, Nomura Real Estate Development Co. Ltd., Japan's leader in residential developments, and Isetan Mitsukoshi Holdings Ltd., the largest department store group in Japan.
Inspired by the four seasons of Japan—Haru (Spring), Natsu (Summer), Aki (Autumn) and Fuyu (Winter)—The Seasons Residences marries Filipino hospitality with Japanese efficiency to provide its residents with an unparalleled living experience unique to The Seasons Residences.
A touch of Japan in the Philippines
Bringing a touch of the famed Japanese architecture to the Philippines means creating spaces where both cultures could converge naturally. Federal Land tapped the second largest architectural firm in the world, Nikken Sekkei, to create the masterplan and conceptual design that thoughtfully fuses Japanese culture into the Filipino setting.
As an offshore consultant for The Seasons Residences, Nikken Sekkei was guided by local consultant, Casas+Architects, to bring its vision of providing the residents a convenient, ecological, stylish and safe lifestyle to the Filipino market.
In doing so, The Season Residences imbibes a distinctly Japanese identity while still staying true to Filipino core values, especially in terms of simplicity, functionality, elegance and resilience.
Meanwhile, the podium façade concept is from Torafu Architects in collaboration with Asao Tokolo, Tokyo 2020 Olympic Games Emblem designer. The Seasons Residences podium façade is adorned with a hemp leaf or asanoha pattern.
The cultural significance of hemp in both Japan and the Philippines dates back centuries, with the material being widely used daily due to its strength and durability. The hemp pattern is a traditional motif used in cloth, embroidery, and divine rituals in Japan. In the Philippines, hemp is sourced from abaca leaves to produce native fabrics, ropes, hats and other products.
Working with Japanese partners are elite groups of Filipino architects and engineers. Arch. Carmelo Casas of Casas+Architects spearheads the construction process as the Project Architect. Engr. Raul Manlapig of Ove Arup & Partners Hong Kong Ltd. provides structural, wind and seismic engineering services.
The joint venture also tapped DCCD Engineering Corporation to manage the design and implementation of the mechanical, electrical, plumbing and fire protection plans.
Upholding Japanese standards for a premium living experience
Staying true to the Japanese tradition of excellence and innovation, Nikken Sekkei incorporated ingenious Japanese innovations to elevate known standards of comfort, convenience and functionality for discerning homeowners.
The development features a glass façade curtain wall system with double glazed low emissivity glass. This reduces heat transfer without minimizing the amount of light that passes through, providing residents with uninterrupted views of the city, as well as a lesser need for lighting and cooling systems.
The four towers of the development are of varying heights. The tower nearest is Grand Hyatt Manila with the highest peak and The Seasons Residences towers gradually increase in height creating a spiral line to define a unique skyline.
The towers are also equipped with Viscoelastic Coupling Dampers, a cutting-edge vibration control technology that can withstand earthquakes and high winds common to the Philippines and Japan. Meanwhile, card-controlled security zones protect residents from unsavory elements.
Inside, each unit features elements of Japanese living carefully laid out to create a haven for rest and relaxation. For convenience and comfort at home, the units are equipped with unique Japanese storage systems, a space-saving kitchen sink, a rangehood with Japanese oil filter technology, air-washing tiles and a sunken slab or a below-floor drainage system for easier pipe maintenance.
The development also has eco-friendly solutions like water-efficient Japanese-branded shower toilets in all units and motion sensor lighting in common areas.
The amenities in The Seasons Residences, which are also inspired by Japan's four seasons, are designed to fulfill various functions. A modern gym and landscaped gardens evoke the fresh beginnings of spring, while the swimming pool, playground and karaoke room call to mind the fun of summer.
Autumn inspires creativity, so a music room, reading lounge and business center are provided to capture just that. Lastly, The Seasons Residences offers a spa and wellness room reminiscent of Japanese winters.
Another unique amenity offering in The Seasons Residences is The Guest House. Patterned after traditional Japanese homes, The Guest House is a four-bedroom space available for lease to relatives and friends of residents so they too can experience Japanese living at The Seasons Residences.
A Japanese legacy finds a home in the Philippines
The Seasons Residences will also house a centuries-old fixture in Japan's retail scene.
The first MITSUKOSHI in the Philippines finds its home at the podium of the development. This premium commercial space showcases Japanese design elements in a casual but elegant setting, designed by Tokyo-based interior design company Nomura Co. Ltd. Renowned for its "space creation" and "space visualization" philosophies, Nomura incorporated distinct Japanese spatial characteristics into the commercial area.
The four-story mall is anchored by a modern beauty house featuring natural and organic cosmetic brands, as well as MITSUKOSHI's signature depachika, a haven of top-shelf Japanese food and related products located at the basement level.
The mall offers a wide range of new lifestyle experiences through well-curated product selection and world-renowned Japanese hospitality called omotenashi.
An elevated lifestyle with everything within reach
The Seasons Residences rises next to Grand Hyatt Manila within Grand Central Park, a masterplanned community developed by Federal Land in Bonifacio Global City.
The development is conveniently and strategically located in Bonifacio Global City along 8th Avenue. As such, The Seasons Residences is in close proximity to St. Luke's Medical Center, Philippine Stock Exchange, embassies, corporate offices, international schools, parks and places of worship.
Convenient mobility options are accessible to all residents via major infrastructure developments such as the BGC-Ortigas Road Link, Metro Manila Subway System, BGC-NAIA Bus Rapid Transit System and the Skytrain monorail link from BGC to Guadalupe, Makati City.
All in all, The Seasons Residences is a product of innovation and collaboration by some of the most renowned firms in the Philippines and the rest of the world. Specifically designed to merge the Japanese lifestyle with Filipino core values, the building stands for elegant simplicity and impeccable functionality that still feels familiar to the Filipino homeowner.
Own a piece of Japan at the heart of BGC.
To know more about The Seasons Residences Aki Tower, visit www.theseasonsresidences.ph or call (632) 8359 6756 to schedule a private viewing in the showroom located at 7th Avenue corner 34th Street, Grand Central Park, BGC.