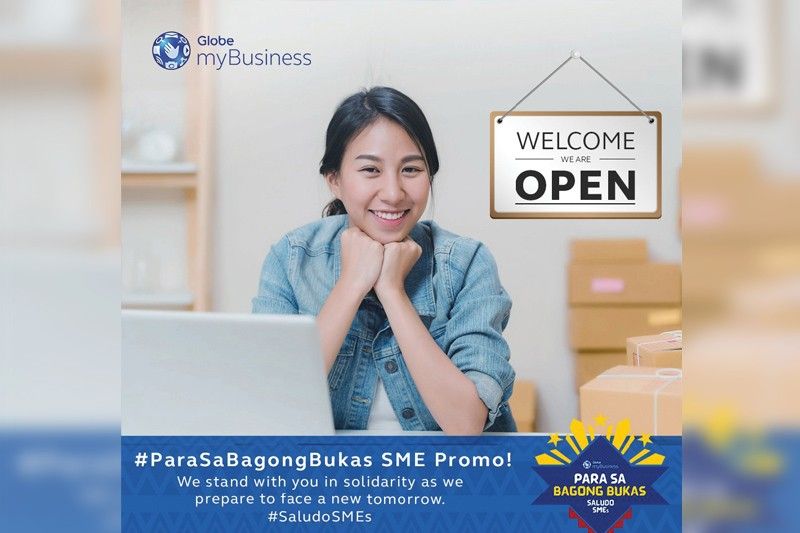 Saludo SME is Globe's homegrown initiative to assist local SMEs, especially those who are new to online efforts and will likely need the most help in brand-building.
Photo Release
Saludo SMEs: How Globe myBusiness heralds a digital future
MANILA, Philippines — The COVID-19 pandemic is putting small and medium enterprises (SMEs) to the test. From food businesses, retailers, family-owned shops and home-based enterprises, all are facing an existential threat. The three-month lockdowns in Metro Manila and most parts of the country have closed down most establishments, stymied consumer demand and dampened economic activity. While social distancing and self-isolation have been severe blows to all businesses, SMEs that rely on in-person transactions have had it particularly hard.
To help local SMEs bounce back from the economic effects of this pandemic, Globe myBusiness has launched Saludo SMEs, a multi-pronged approach to re-energize local SMEs and help them establish their own online presence, complete with a 360-campaign, digital promos, customer engagements, and digital events.
In 2019, Globe myBusiness launched Saludo SMEs campaign to give SMEs a helping hand in their own digital shift. A pandemic is threatening the livelihood of many, and local SMEs need support now more than ever. More than a salute to the tireless efforts and resilient spirit of Filipino entrepreneurs, Saludo SME is Globe's homegrown initiative to assist local SMEs, especially those who are new to online efforts and will likely need the most help in brand-building.
Empowering SMEs with exclusive saludo offers
In line with this effort, Globe myBusiness is rolling out several exclusive Saludo SMEs offers that are available until July 31, 2020. SMEs may choose from any of the following:
Saludo SMEs Postpaid Broadband Plans - For as low as P1899 per month, business owners can get a speed of up to 50 mbps, a significant upgrade from the current speed of 20 Mbps. These plans come with unlimited data allocations, including a complimentary modem and a landline with free calls to Globe and TM.
Premium Plans – Starting at P2,999, business owners can have speeds of 15 mbps, up from the current speed of 10 mbps, with daily data allocation of 50GB. Premium Plans subscribers also get the added benefit of having access to myBusiness Expert, a dedicated support that handles account, network, billing and service queries.
True Unli Mobile Plans – Starting at ThePLAN Plus 999, business owners can enjoy unlimited calls and texts to all networks, unlimited landline, and 8GB of mobile data. This will ensure uninterrupted communication and connection to suppliers and clients. All new mobile plans come with Facebook Ad Creator Credits worth P1000 so that SMEs can better promote their business on Facebook.
Kicking off toward a new tomorrow
To help SMEs conquer challenges in the "new normal" world, the Saludo SMEs campaign kicked off with the Para sa Bagong Bukas: Business Consultation Caravan last June 25, in partnership with Entrepreneurs' Organization (EO) Philippines. Launched via Facebook Live on Globe myBusiness' Facebook Page, the event featured messages of advice and inspiration from Globe Telecom President and Chief Executive Officer (CEO) Ernest Cu and Ayala Corporation Chairman and CEO Jaime Augusto Zobel de Ayala.
A key highlight of the event was the special reveal of an inspirational video sung by Broadway legend and international Filipino pride Lea Salonga that gives homage to the unwavering entrepreneurial spirit of local SMEs.To catch a glimpse of the inspirational video, visit https://www.facebook.com/globemybusiness/.
Equipped and ready for e-commerce
Globe myBusinessSaludo SME Para sa Bagong Bukas welcomes SMEs to a new tomorrow or to open anew. Geared toward providing the best products and services for your business, the campaign presents SMEs with the chance to empower their businesses with:
Mobile prepaid and postpaid plans for company staff, employees, and clients
High-speed wired and wireless broadband Internet services and;
Web, email, and online development tools.
These SME-focused solutions are bound to give added value to one's growing enterprise, helping SMEs meet the demands of an ever-changing digital environment and the "new normal" way of doing business.
To help support SMEs, the public can join the #ParaSaBagongBukas SME promo and nominate their chosen local SME via the link https://bit.ly/ParaSaBagongBukasPromo. Entry senders can get a chance to win a P5,000 e-gift certificates for themselves and the nominated SME, and P50,000 worth of SME grants. Promo ends July 31.
For more information about SME-centered products and business solutions, call the Globe myBusiness hotline 121 or visit the official Facebook page of Globe myBusiness at https://www.facebook.com/globemybusiness/.