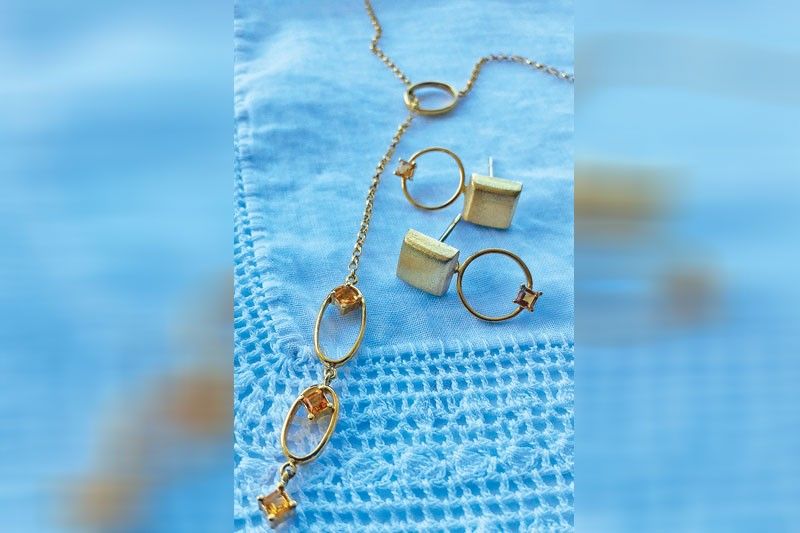 SHINING, SHIMMERING: Earrings and a ring featuring rutilated quartz from the Kara collection, Cacay's favorite (above left). Citrine lariat necklace from the Artemis collection (above). Pearls are featured in the Kandinsky collection (left).
Adding a touch of whimsy and romance to an ordinary day is the sparkle that cousins Amanda LuYm and Cacay Moras offer with their passion project, jewelry line All That Glitters.
Creative head and designer Amanda, who is also a trustee of Ballet Philippines, often draws inspiration from literature and different female characters, with collections named after Greek goddess Artemis, Egyptian goddess Isis and Themyscira (home of the Amazons), among others – making it fitting for the Juliets of Ballet Philippines to model the collection here.
"All That Glitters began when Amanda and I found that our lives were finally in sync with each other's again after many years of life and way too much 'adulting' happening to both of us at different times," says Cacay.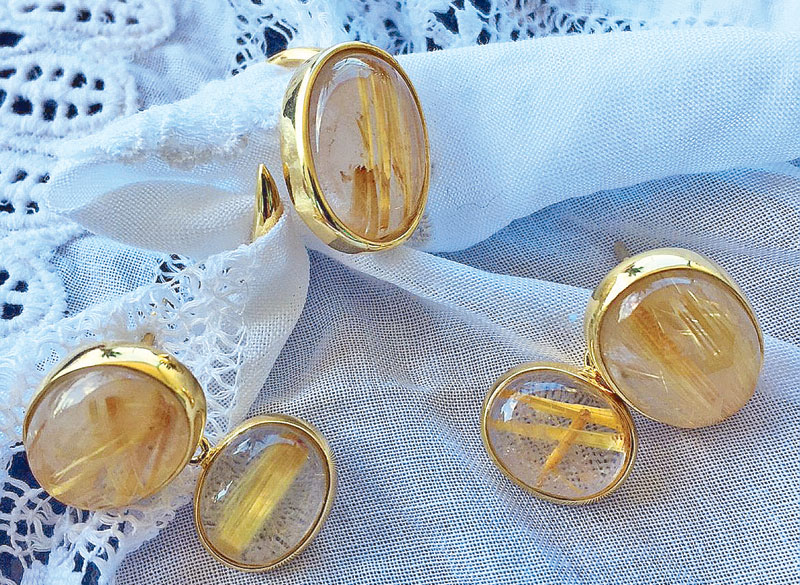 As the two reconnected, Cacay shares, they also rediscovered their love for travel. "This is why the All That Glitters collections revolve mainly around pieces you can take everywhere with you, without worrying as much about losing them, yet still maintaining that quality-craftsmanship look of fine jewelry that demi-fine lines to make our pieces easily accessible to our customer." At the same time, All That Glitters does not skimp on quality. "We still try to use the best possible gemstones we can and really focus on unique designs, where the wearer really feels that they have something special."
Amanda, the daughter of one of Cebu's most influential couples Douglas and Annabelle Luym, says that one of her earliest fashion influences was her mother. "She would also design some of her jewelry to make the pieces more in keeping with her personal style."
Amanda adds, she has been designing since she was a child. "I studied and trained as a fine artist, and then I went into photography and worked in the editorial world so design was always something that I dabbled in and now I do full time," she says.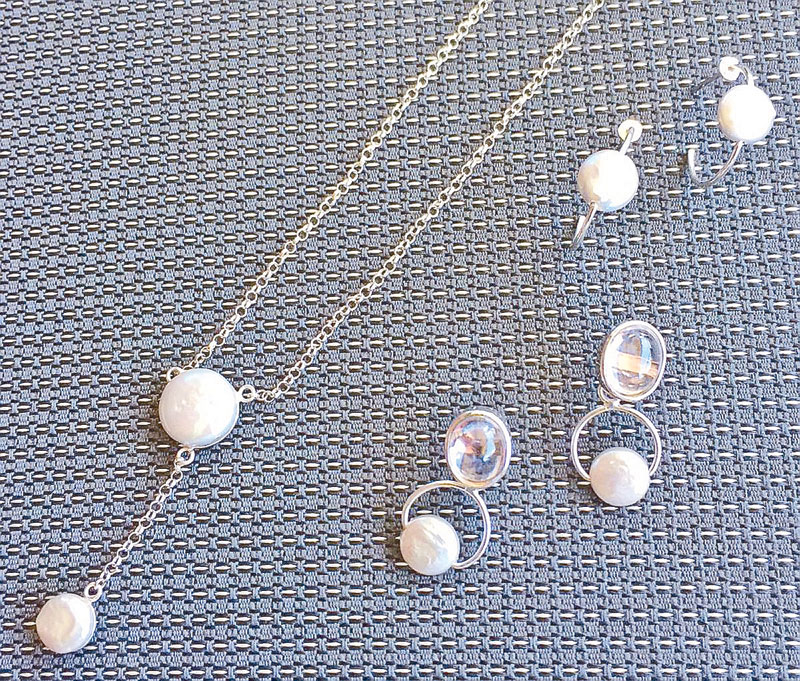 She is also influenced by pop culture. Amanda shares, "I'm influenced by my 'heavy diet' of graphic novels, movies and cultural trips that I take. I can't create in a vacuum, I need lots of stimuli, and my point of entry into this world is always through my imagination. I love narratives that make me feel something and those feelings translate into my work."
Both among the most fashionable ladies in Cebu, Amanda and Cacay's sense of style shines through their jewelry line. The delicate pieces are a pop of color and unique style. "Aesthetically, the collections stay very modern and clean. The love sweeping lines that fall along unusual compositions, and I strive to translate this into my work as much as I can," says Amanda.
With a timeless beauty to her designs, Amanda says she veers away from anything trendy. "I dislike creating things that are already out there, so if I find people are producing a particular trend and I see it repeating in many forms, I shift the collection far away from that."
THE GLITTERATI : Pieces featuring black and green agate and moonstone make up the Isis collection. Pink and orange sapphires shine in the unique ring from the Themysira collection. All That Glitters' Amanda Luy and Cacay Moras.
Always fashion forward, Amanda says, "I personally love ear climbers and unique design statements that the wearer can manipulate in different ways and I'm exploring that now for our new collections."
On her personal favorites in the All That Glitters collection, Cacay says, "We have several collections that we update regularly depending on popularity but I have to say that one of my favorites is Kara. Kara is comprised of rutilated quartzes in silver dipped in yellow gold. A rutilated quartz is basically a transparent quartz with unique golden yellow hair-like inclusions... These inclusions give it a beautifully unique appearance that evokes feelings of happiness, romance and a sense of elegance. It's also been said that this stone can promote clarity and strength.
Amanda says, "Our pieces are not the ones you leave in the safe and wear only on very special occasions, but the ones you take on a trip or just because."
Indeed, all that glitters is not gold… Sometimes it's sparkling quartz and colorful gems that let the wearer turn an ordinary day into a special one.