Globe Cordillera Challenge 5: Braving the trails, saving the forests
MANILA, Philippines - It was a 65-kilometer long trail and the majority of the 679 bikers did not expect such a grueling, wheel-busting, nerve-wracking ride which lasted from dawn until way into the night.
The biking event, the fifth year of the Globe Cordillera Challenge hosted by Globe Business and its partner-beneficiary Cordillera Conservation Trust (CCT), started fairly easy, giving the cyclists a chance to commune with nature as they passed through lush vegetation and breath-taking views of Tublay. But the bikers were met half-way by a 30-degree uphill and downhill incline that was the downfall of many, literally and figuratively. Their strength, skill, stamina and courage were put to the test as they navigated the extremely difficult and dangerous trail.
But for the 420 who overcame the obstacles and successfully made it to the finish line in Kapangan, the experience was one for the books. Not only did they pass the test but they were also rewarded with the awe-inspiring beauty of the Benguet rice terraces and some hidden rivers which only few people are aware of.
Many bikers also experienced the world-famous Filipino hospitality. Giovanni Flaviano, a Davao-based journalist and a newbie in mountain biking, was among the first 200 finishers and gave a first-hand account of how the people of Benguet were willing to help in any way they can.
"I personally witnessed how a vegetable farmer volunteered to help an exhausted biker saying, 'ako na tutulak sa bike mo (I'll push your bike)' until the biker fully recovered to take over his saddle. Another Manila rider narrated to me that while going uphill, a local took pity on their exhausted group and cooked vegetable broth, kamote and several kilos of rice. The group then passed the hat to pay for the meal. To their amazement, the local politely and relentlessly declined. Even I can testify to the locals' kindness. During the race, I reached this remote basketball court where a teenage mechanic was fixing bikes. I didn't have a single cent to pay him yet not only did he fix my brakes but also tightened the wheel hub locks for free," Giovanni said.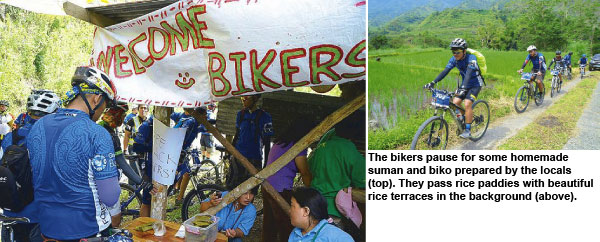 But what made Globe Cordillera Challenge 5 more meaningful is the advocacy behind the event. With the P1.8 million raised from donations from bikers, corporations, concerned individuals and counterpart funding from Globe, an additional 45 seedling nurseries can be put up this year in remote communities of Benguet and Ifugao. This will bring to 100 the total number of seedling nurseries set up since the project started three years ago.
"The Cordillera mountain range has been suffering from degradation which, if not addressed immediately, may pose a threat to the water supply of the Northern Tagalog region since it is a major watershed where major river systems originate. Cutting of trees also threatens biodiversity and even the lives of people living in the area, as landslides and floods already washed away many homes in the past. We want to prevent such things from happening so we are not only encouraging individuals but also corporations to do their share for the environment. For Globe Business, supporting the environment is an integral part of doing business, that is why we continue to invest in its protection and preservation," said Nikko Acosta, Globe SVP for Enterprise Group.
The situation prompted Globe and its CCT to focus on reforestation when it started the partnership five years ago. From tree-planting activities, it evolved into a seedling nursery program under CCT's Roots & Shoots to generate saplings as well as educate the communities, particularly the youth, on the importance of caring for the environment.
From the initial 21 seedling nurseries in 2012, Roots & Shoots added 34 more in 2013, which were placed in some of the most remote schools in the Cordillera region, surrounding ecological areas around Mt. Pulag, Mt. Amuyao and Mt. Ugo.
Globe Cordillera Challenge 5 is supported primarily by Holcim Philippines, Nonpareil International Freight Cargo Services, Inc., Ximex Delivery Express, Inc., DotPH, Berghaus Limited, Coca Cola Philippines, Global Criterion Solutions, and Spyder Philippines. Other sponsors are Canto Restaurant, Café Maleng-ag, Cordillera Coffee, Eye Worx Optical Baguio, Gift Launcher, Hill Station, Messy Bessy and Cordillera Heirloom Coffee.