The smart way to fill your K-pop cravings is at SM Cinema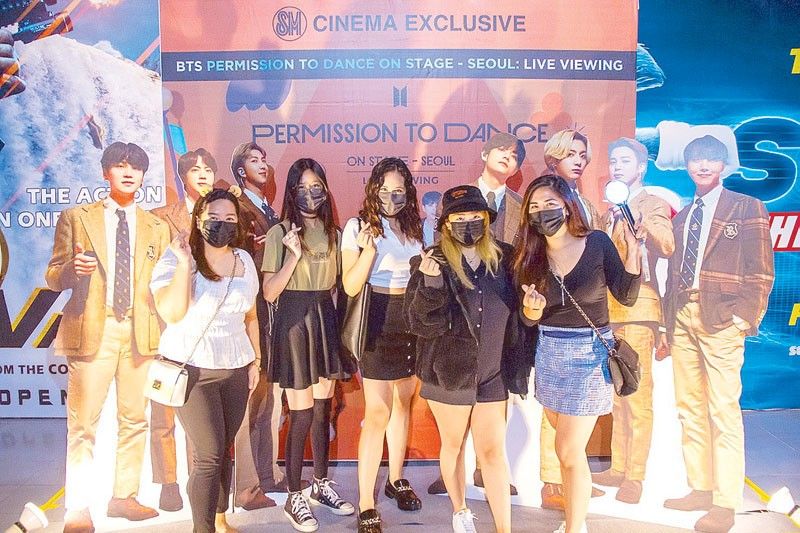 They call it Hallyu, or the Korean wave.
Korean pop culture is huge worldwide and has become a major driver of global culture, seen in everything from Netflix Korean dramas to Korean skincare products, making the "glass skin" complexion very sought after. And at the heart of Hallyu is the ever-growing popularity of K-pop — short for Korean pop music.
With its global success, there is this underlying, almost "behind-the-scenes" movement that connects people worldwide through their love of Korean pop music. Tickets for their some K-pop concerts sell out in minutes and prices on the black market are exorbitant just days leading into the show.
A smarter way not to miss the bandwagon as it actually happens is made possible by SM Cinema, which is now at the forefront of K-pop in the Philippines. With a partnership with Smart Communications, "armies" can watch their favorite K-Pop bands in real time as they perform live anywhere in the world. Select SM Cinemas and Director's Clubs exclusively feature some of Hallyu's most sought-after films that will surely tickle the fancy of fanatics in the Philippines.
Recently, SM Cinema exclusively showed the "Permission to Dance" concert of the world's biggest K-pop boy band, BTS, as well as the world premiere of Power of Love: The Movie from another K-pop sensation, Seventeen.
SM Cinema commits to making sure that Filipino fans won't miss any movies and live concerts from their K-pop Idols. Vice president of Corporate Marketing – SM Cinema Ruby Reyes says, "Hallyu culture is here to stay. Be it in music, drama and to a certain extent, fashion, be assured that SM Cinema will be the major hub for the K-pop fans in the Philippines."
* * *
For more information and updates on upcoming shows, follow SM Cinema on Facebook and @sm_cinema on Instagram.
A new line from Nespresso's world explorations
I just love Nespresso's World Explorations pods. Nespresso captures the essence of a city in their coffee pods. I have tried most of them and so far, none have disappointed. Following the limited-edition Miami Espresso blend earlier this year, Nespresso adds three new permanent espresso variants.
Rio De Janeiro Espresso reflects the city's deeply rooted heritage of growing and drinking coffee. Brazil is the world's largest coffee producer, so expect a wide variety of coffee tastes blended perfectly. Herbal, spicy, pleasantly bitter, and velvety with a hint of walnut and sandalwood, this blend will surely give you a glimpse into the Brazilian way of life.
The Paris Espresso (my favorite in this batch) will transport you to a Parisian café with its lightly roasted Arabica with a touch of dark-roasted Robusta, delivering a balanced coffee with light bitterness, cereal biscuit notes, pleasant acidity, and a hint of citrus.
The Istanbul Espresso is a thick and velvety espresso full of wild aromatics and a balance of bitter roasted and fruity notes, with a touch of acidity and an almond finish.
Travel the world through Nespresso World Explorations. These three variants are available in local boutiques, pop-up stores, and online at www.nespresso.ph.
* * *
Nespresso boutiques are located in Power Plant Mall, The Podium Mall, and Robinsons Magnolia, while pop-up stores are located in Greenbelt 5, One Bonifacio High Street Mall, Shangri-La Mall, Trinoma, Alabang Town Center, SM Mall of Asia, and SM Aura.
Queen will rock you this October
GMG Productions and Selladoor Worldwide present the global phenomenon that is We Will Rock You coming to Manila this October! This brand-new production is directed and choreographed by Olivier Award nominee Nick Winston.
GMG Productions CEO and We Will Rock You producer Carlos Candal say, "The original production has been seen by over 16 million people worldwide. We can't think of a better title to come back with after such a long intermission — and there is no better place to launch the show than the Philippines. We know Filipino audiences love Queen and Queen music."
The show will be staged in the newly built Samsung Performing Arts Theater in Circuit Makati.
We Will Rock You follows two revolutionaries as they try to save rock 'n' roll in a post-apocalyptic world. This international production features 24 of Queen's biggest hits, including Killer Queen, Under Pressure, We Are the Champions, Radio Ga Ga, I Want to Break Free, Bohemian Rhapsody, Another One Bites the Dust and, of course, We Will Rock You.
GMG Productions is also announcing a special for Tuesday performances. The Three-Price-Tuesdays offers theatergoers a single price per level of the brand-new Samsung Performing Arts Theater.
Get your tickets at ticketworld.com.ph or call 8891-9999.
* * *
Follow me on Instagram @pepperteehankee.