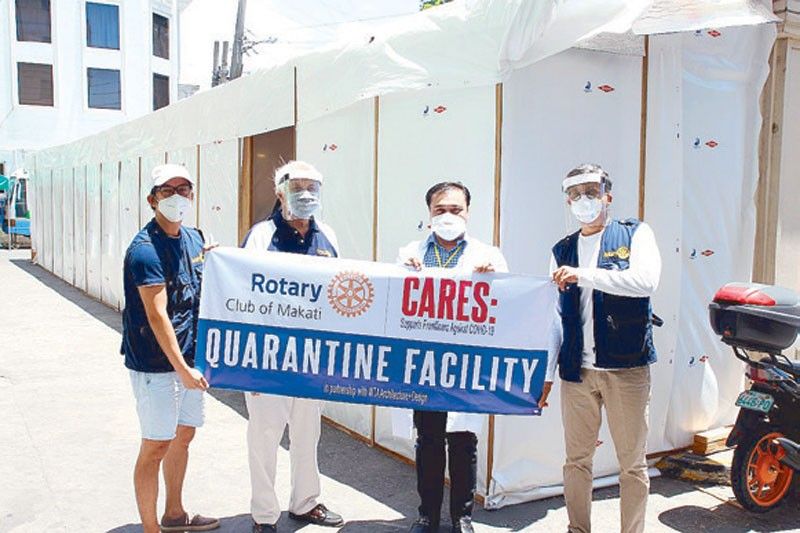 Emergency quarantine facility (EQF) donation to Ospital ng Parañaque. (From left) Rotary Club of Makati (RCMak) chief of staff Ronnel Dotaro and president Bimbo Mills with Ospital ng Parañaque's Dr. Jeff Pagsisihan and RCMak VP Eddie Galvez.
It is often said that crisis is also an opportunity, and this COVID-19 pandemic is no exception. It is an opportunity in the sense that it also brings out the best in people, their altruistic side, to be able to respond to the needs of others.
When a Metro Manila-wide community quarantine was imposed last March 12, the Rotary Club of Makati (RCMak) lost no time in coming up with immediate action to respond to the call and the needs of the time.
In response to the situation, RCMak president Bimbo Mills quickly created a committee composed of vice president and director Eddie Galvez, director Louie Aseoche, director Chris Ferareza, director Philip Soliven, and Medical/Surgical Missions chair Dr. Andrew Prieto. RCMak was no stranger to this kind of undertaking having done so for the past 54 years.
The quick-response COVID-19 effort was dubbed "RCMak Cares," and it provided needed assistance in three ways: food for those who had nothing or no time to eat; PPEs for frontliners, and emergency quarantine facilities for suspected as well as recovering patients who cannot be accommodated in hospitals.
RCMak Cares' work started on March 14 and by the first week of May, the club had already delivered food to 4,400 families and 820 frontliners, equipped 4,000 frontliners with PPEs, and built nine air-conditioned emergency quarantine facilities (EQFs) in Metro Manila that can accommodate 140 patients. By May 6, the club had already provided care amounting to P14.5 million.
RCMak Cares had built nine EQFs at the Philippine Army Headquarters in Taguig City, Ospital ng Muntinlupa, Pasig Children's Hospital, Caloocan Medical Center, San Juan PNP Gym, Ospital ng Parañaque, Capitol Medical Center in Quezon City, Ospital ng Makati, and the Mandaluyong Medical Center. It had also allocated P350,000 for the construction of an ECF tent at the Bicol Regional Training and Teaching Hospital in Albay.
RCMak Cares donated PPEs to 4,000 frontliners at the Mandaluyong Medical Center, Our Lady of Lourdes Hospital, Capitol Medical Center, Ospital ng Muntinlupa, Philippine General Hospital, Pasig Children's Hospital, Ospital ng Parañaque, Medical City, MCU Hospital, Ospital ng Maynila, Metropolitan Hospital, Cavite Medical Center, Jose Lingad Hospital, Pampanga, Ospital ng Guiguinto in Bulacan, and Gonzales General Hospital, Nueva Ecija.
PPEs were distributed to frontliners at security checkpoints of the Philippine Army in Taguig City and the Philippine National Police (PNP) in San Juan City, as well as to frontliners in Makati City, Pasig City, South Luzon Expressway, Quirino Memorial, PNP General Hospital, and Unihealth Southwoods. With the Rotary Club Makati Business District, 400 PPEs were given to San Juan de Dios Hospital and the National Center for Mental Health.
RCMak Cares started its food drive with the delivery of food boxes to 100 frontliners at the Philippine General Hospital and the Philippine Heart Center last March 16 before the start of the Luzon-wide Enhanced Community Quarantine.
Two major food donations followed suit. These were the P1-million donation to ABS-CBN's Pantawid ng Pag-ibig program, and the P1-million worth of food packs given to the Office of the Vice President's program for marginalized communities.
Grocery packs were delivered to beneficiaries in Quezon City, the Department of Health, the Research Institute for Tropical Medicine; the Philippine Genome Center in UP Diliman and Manila Health Tek in Marikina. Groceries were also sent to the Club's adopted RCC community in Guadalupe Viejo, Makati, to Caritas Manila's Sanlakbay Rehab Program; and to St. Jerome Emiliani Parish, Alabang.
Food packs were given to the PNP headquarters in Makati, the PNP-Beata in Pandacan, Manila and to the PNP in Pasig City. Sacks of rice were given to 300 families at Rotary Homes, in partnership with past district governor Sid Garcia's Smiling Visionary Presidents.
In addition, RCMak, through the initiative of past district governor Tony Quila, secured permission from the Rotary Foundation to realign the unused portion of a global anti-tuberculosis grant to COVID-19 related activities. This has added $41,000 to the RCMak Cares fund and will enable the Club to carry on with its COVID-19 assistance.
Another TRF global grant, called "Giving Hope, Saving Lives," will be used to provide 50 air ionizers and purifiers to the Quirino Memorial Medical Center and the Ospital ng Muntinlupa, and other hospitals that might need them. This is the result of the coming together of three groups — RCMak, the Rotary International District 3830, and the Rotary Club of Wu Kung-Taiwan — for a total grant amount of $155,806 or about P7.8 million.
All in all, a rather exhaustive effort that is laudable on all fronts. Trust RCMak and its RCMak Cares initiative to lead the way.
I am proud to be a Rotarian and extremely proud to be a member of RCMak, the Rotary Club of Makati. Mabuhay!