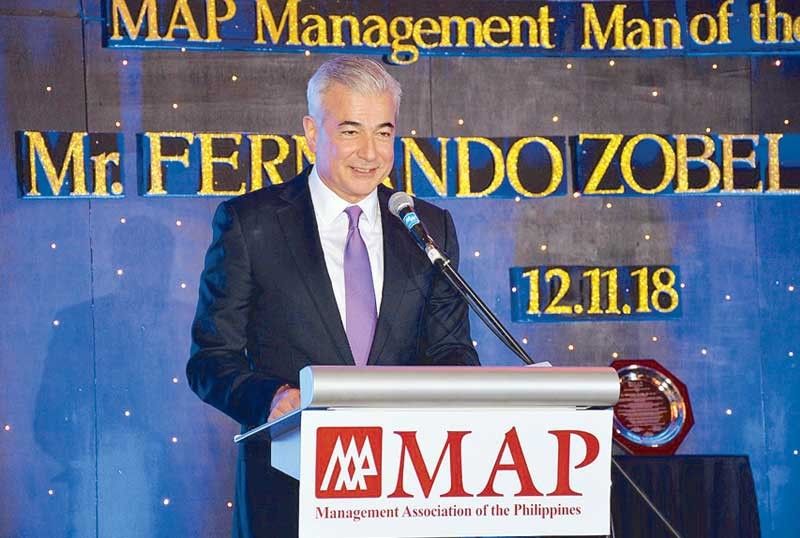 Management Association of the Philippines' (MAP's) 2018 Management Man of the Year Fernando Zobel de Ayala.
'Management Man of the Year'
The Management Man of the Year award, bestowed by the Management Association of the Philippines (MAP), is arguably the most prestigious award given for managerial excellence.
Indeed, a cursory perusal of the list of awardees would show that for the past 51 years, the award has only been bestowed 42 times.
And for those 42 times, I have had the distinct honor of hosting the awarding ceremony for a record 12 consecutive times.
The award is given by the MAP to recognize outstanding achievements of any individual, whether he or she be a MAP member or not, who has exceptionally distinguished himself or herself in the practice of management. It was first given out in 1967 to an icon of Philippine business, the late great Washington SyCip.
The awards were again given out in 1977, and the list of distinguished awardees reads like a who's who list in Philippine business and government: Washington SyCip, Geronimo Velasco, Henry Brimo, Jose Soriano, Cesar Virata, Jaime Ongpin, Vicente Paterno, Dante Santos, Cesar Buenaventura, Roberto Villanueva, Jaime Zobel de Ayala, Ramon del Rosario Sr., Jose Fernandez Jr., Raul Concepcion, Oscar Hilado, Alfonso Yuchengco, Juan Santos, David Consunji, Rizalino Navarro, Gabriel Singson, Delfin Lazaro, Henry Sy Sr., Oscar Lopez, Tony Tan Caktiong, Jesus Tambunting, Rafael Buenaventura, Manuel V. Pangilinan (MVP), George S.K. Ty, Jaime Augusto Zobel de Ayala II, Jose Cuisia Jr., Antonio Aquino, Jesus Estanislao, Lilia de Lima, Ramon del Rosario Jr., Erramon Aboitiz, Aurelio Montinola III, Edgar Chua, Albert del Rosario, Amando Tetangco Jr., Tessie Sy-Coson and John Gokongwei Jr.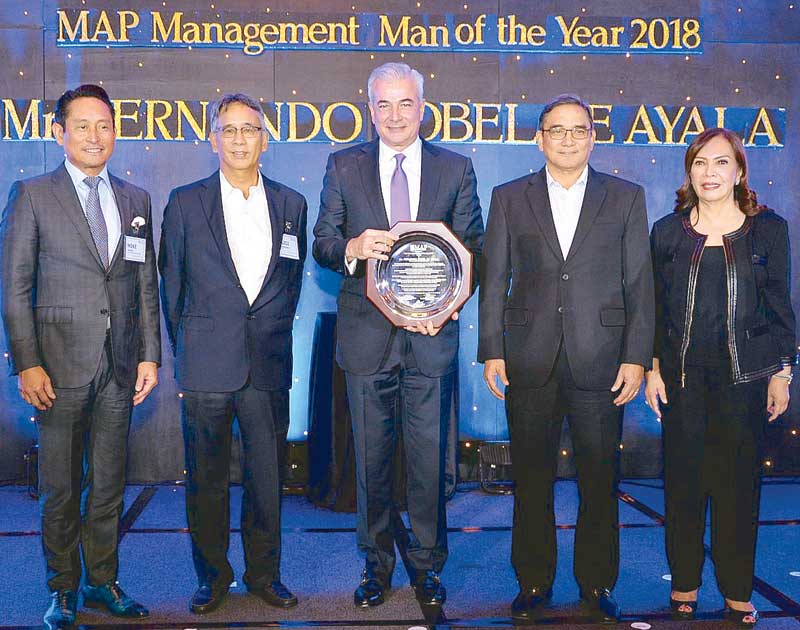 With (from left) former BPI president and MAP Management Man of the Year judging committee chairman Aurelio Montinola III, Fernando, Maynilad president and CEO and MAP president Ramoncito Fernandez and Convergys Philippines chairperson and former MAP president Marife Zamora.
Among the awardees, it is worthy to note that there are father-and-child tandems, namely: Henry Sy Sr. (1999) and Tessie Sy-Coson (2016); Ramon del Rosario Sr. (1988) and Ramon del Rosario Jr. (2010); and Jaime Zobel de Ayala (1987) and Jaime Augusto Zobel de Ayala (2006).
The last tandem is most distinct because it is now a trio as Fernando Zobel de Ayala, president and COO of Ayala Corp., and Jaime Zobel de Ayala's second son, is the 2018 MAP Management Man of the Year.
The conferment of this award further stamps the Ayala name and heritage, not just as a corporation but also as a brand of corporate excellence.
The award was given to Fernando Zobel de Ayala for, among others, "helping steer the Ayala Group to being consistently ranked by the global investor community as among the best in the Philippines for management excellence, corporate governance, sustainability and people management."
Throughout history, Ayala has always been known to foster what is called the "entrepreneurial spirit."
The corporation has its roots in 1834 when partners Domingo Roxas and Antonio de Ayala established Casa Roxas and set up a distillery, which is considered as the country's first industry.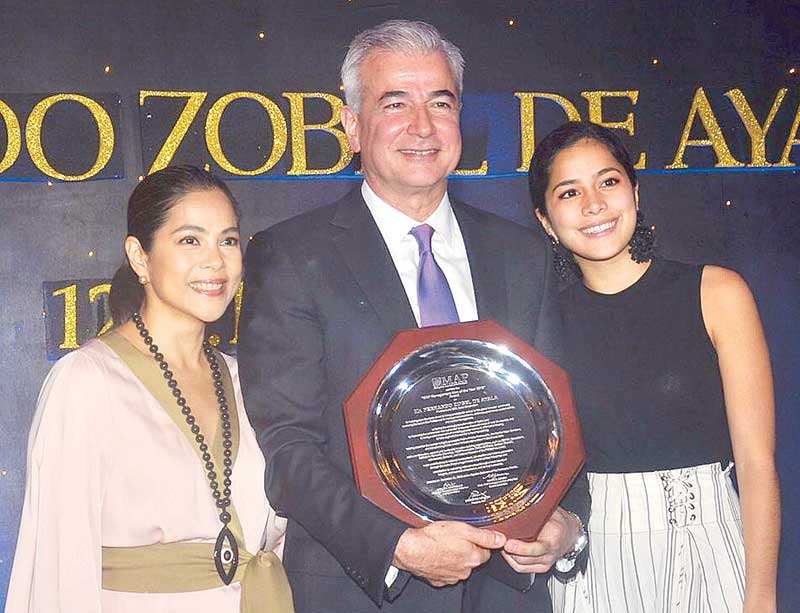 Fernando with wife Kit (left) and daughter Sylvia.
The years that followed saw them establishing El Banco Español Filipino de Isabel II (1851, precursor of the Bank of the Philippine Islands), Tramcars, country's first public mass transportation system (1888), then investing in Insular Life (1910) and establishing its own insurance companies.
In 1948, after World War II, Joseph McMicking, husband to Mercedes Zobel de Ayala, creates the Ayala Master Plan, which gave birth to today's Makati, taking charge of Ayala y Cia and transforming the Hacienda San Pedro de Macati, which his wife inherited together with her brothers Jacobo and Alfonso, into the top commercial and residential district that it is today.
In 1968, Ayala Corp. was incorporated.
The MVP Group of Companies and the Ayala Group have been partners in several ventures, from infrastructure to transportation to Disaster Risk Reduction and Management.
MVP, who was also MAP Management Man of the Year in 2005, and Jaime Augusto Zobel de Ayala co-chair the Philippine Disaster Resilience Foundation, the Philippines' major private sector vehicle and coordinator for disaster management, which launched its National Emergency Operations Center (EOC) in Clark Field last May, the world's first private sector-led national EOC.
Both conglomerates continue to explore ways to work together on ventures that would bring about economic progress and national development acknowledging the vital role big business or the private sector plays in inclusive growth and nation-building.
In his speech during the awarding ceremonies, Fernando posited that the challenge we all now face as a business community is "to determine where we want our country to be in the next 10, 20 and 30 years." He also said that "there are many areas where the private sector is focusing its efforts" and that from their point of view in Ayala, they have decided that four areas hold tremendous potential to make a lasting and meaningful impact to build a "future-ready Philippines."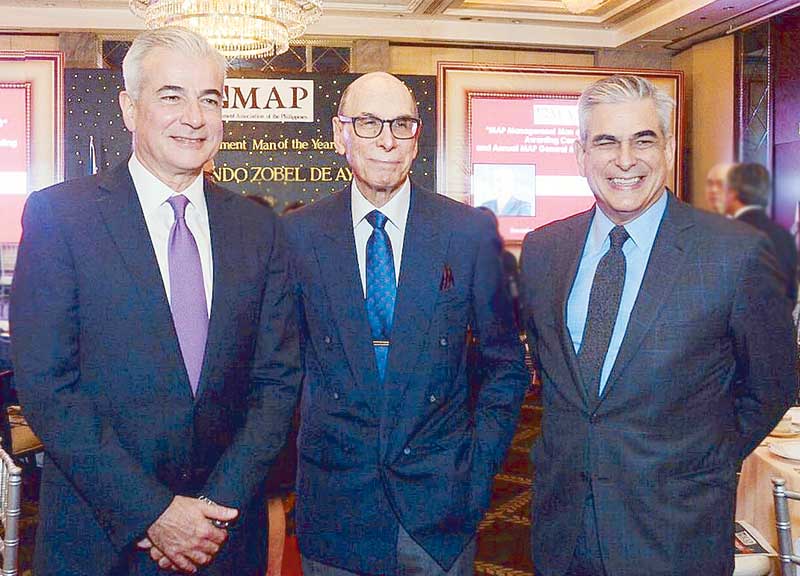 Management Man of the Year awardees Fernando (2018), Don Jaime (1987) and Jaime Augusto Zobel de Ayala II (2006).
These four sectors he mentioned are inclusive finance, education, healthcare and sustainable tourism.
Like many of us, Fernando said, he is a great believer in the critical role that the business community plays in nation-building. Today's disrupted times, he said, while alarming on many instances, gives us access to several resources: capital is accessible for new ventures; new technologies and business models are available to be harnessed; and there is a wealth of talent among our people waiting to be unleashed.
Fernando concluded that "through MAP and the other business organizations in the country, the private sector can accelerate efforts to build a progressive, inclusive, dynamic and future-ready Philippines that we can all be proud of."
"With a unified public and private sector, an appropriate plan designed for the medium and long term, and a consistent vision that will keep us on track through political cycles, we can certainly direct our country on an irreversible path towards equitable and sustainable progress."
Words of wisdom that are both inspirational and attainable. The MAP could not have chosen a better person to be Management Man of the Year 2018.
My heartfelt congratulations to Fernando and to the Zobel de Ayala family as this is truly another feather in their cap of family heritage and corporate excellence.
We look forward to 2019 and what opportunities as well as challenges that it has in store for us in this VUCA (volatile, uncertain, complex and ambiguous) world.
Happy New Year to all!