Summertime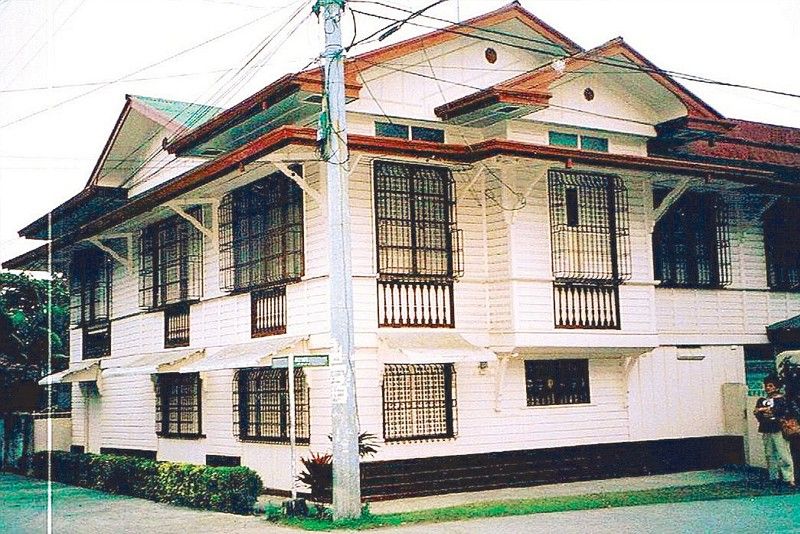 If I had IG or FB in my childhood and teenage years at this time of the year, it would be flooded with photos of Bongabon, Oriental Mindoro, a seaside town that was the childhood home of my mother, the former Sonia Reyes.
Every summer, my parents Frank and Sonia would send us to spend the school break in Bongabon, where my grandparents Igmedio Sr. and Jovita continued to live in a colonial home whose shiplap walls were after Fixer Upper's Joanna Gaines' own heart. Bongabon, which at the time had no electricity during the day, and sometimes, even during the night, was not easy to reach. It was accessible via a two-hour bus ride from Manila to the Batangas pier, from where we would race for a teheras in a rickety ferryboat that would be packed like sardines. The ferryboat would then sail for about three hours over seas that I would later learn would have the richest marine ecosystem this side of the world, past Isla Verde (this would surely have been one of my first posts, #islaverde, for even from afar, it looked like it was covered by broccoli), before docking at pier of the provincial capital Calapan. The pier had towering limestone cliffs and the clearest blue green waters, and little boys would dive in it to catch coins from passersby. I probably would have posted this sea diving diversion as #intotheblue.
From Calapan, we would board another rickety mode of transportation, a bus that had an opening only at the end of every row, row after row. It would pass through lush rice fields, then dusty, winding roads that would take us past Lake Naujan, then eventually, after three hours and innumerable stops that filled the air with clouds of dust (#dustingpowder), we were in Bongabon. #home
Till this day, and even if I have not visited Bongabon in over 20 years, it is still like home to me. The only home I've known since childhood that remains unchanged.
My mother and her six siblings were born in that house, built in the 1930s and still standing today. Today, it is still home to precious memories of a simple, uncomplicated time in our lives; it is still a bastion of memories of grandparents that stood for strength, stability and unconditional love. Every member of the clan, back then, was as securely linked to each other as the house's joists.
Back in the '70s and '80s, the house overlooked a pristine river and a coconut tree-carpeted island called "Kabilang Ibayo," which I heard the locals now refer to as KI. At low tide, we could wade to Kabilang Ibayo. At high tide, we would take a minute's banca ride and have the island all to ourselves. (Today, it is filled with Mediterranean-style beach houses.)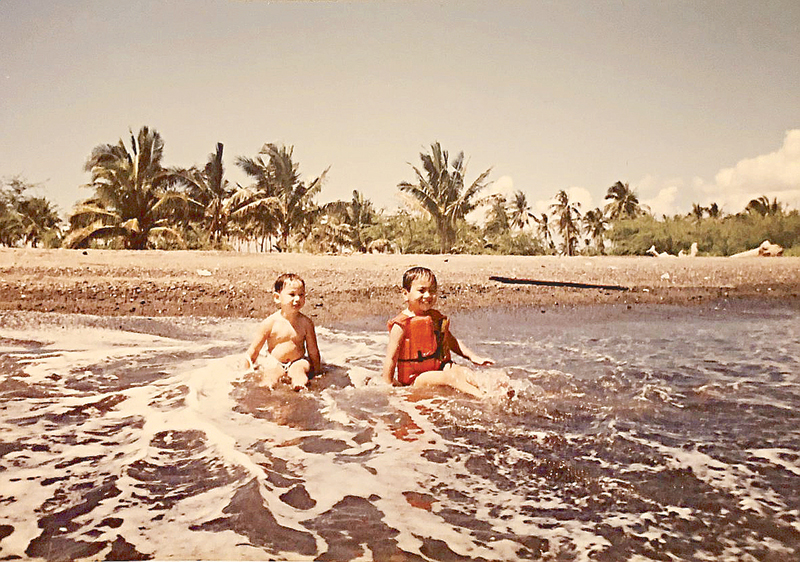 Chino Ramirez and David Nye in
Bongabon

in 1990.
The house is also a stone's throw away from a beach, known as Aplaya, where our grandfather whom we called "Tatay" would take us after he perused the day's newspaper (which arrived around 3 p.m., one of the highlights of his day and mine.)
"Every afternoon, Tatay would take us to Aplaya and he would carry our slippers and string them together so we won't lose them while wading in the water," my sister Val recalls of the late afternoon dips my cousins and I (mostly girls) took in Aplaya. We would collect shells, build sandcastles on the sand. #lifesabeach
We would go home for an early dinner, before it got too dark. Then on cue, the househelp would light the gaseras (kerosene lamps). The signal for us to go to the second floor family room, whose capiz sliding windows would be wide open. The ventanillas, the peek-a-boo windows over balusters below the capiz windows, would also be opened wide.
This was #family bonding time.
"Every night, after the sun went down and our source of light was only a gasera, Tatay would tell us stories about Ivanhoe, Cromwell and MacArthur," Val recalls.
Sometimes, the older cousins from neighboring houses would pick us up for a ghost ride to the campo santo (cemetery) about 10 minutes away. We remember our cousin Eric turning off the van's engine right in front of the cemetery's gates before he would hide from us, all shrieking in fear. #takot
Most of the time we would be in bed by 8 or 9 p.m. We slept in sulihiya beds with a mattress and a mosquito net, moonlight kissing us good night. The old grandfather's clock in the family room would strike the number of hours every hour, and so even as we were tucked in bed with no cellphones or a luminous watch, we knew what time it was.
***
We had bright mornings and rambunctious breakfasts because sea air whetted the appetite and our Nanay made sure no one left the table disappointed.
"I loved the breakfasts we had in Bongabon," agrees my first cousin Gillian. "Nothing fancy. Tatay's flattened pandesal, charcoal-toasted on the old tiled stove with a makeshift grill in the dirty kitchen. The canned Queensland butter that was always creamy and soft and so easy to spread on the pandesal. Tatay's scrambled eggs with tomatoes (he would remove the seeds). Sometimes champorado and my dad (former Vice Gov. Pedrito Reyes) would write the first initial of our names with canned milk on top of the champorado."
Val also fondly remembers accompanying Nanay in picking freshly laid eggs in the poultry in her backyard, "directly from the nest!"
"The hens would poke our hands with their beaks as they were still sitting on the eggs when we would get them! Literally organic farm-to-table fare!" remembers Val. "Nanay would put them in her basket made of chicken wire, which I don't see in markets anymore."
At mid-morning, Tatay would take us to hulo, which was how he referred to his farm. We would cross rice paddies to get from point A to B, which was always a challenge for clumsy and overweight me. Sometimes, we would hike up mountains and hills. #climbeverymountain #thehillsarealive
***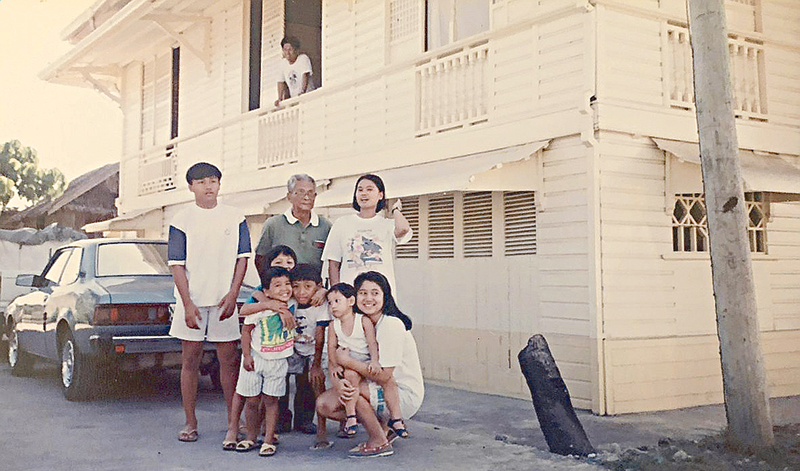 Tatay

with his grandchildren and great grandchildren.
But not all days had an itinerary as exciting and "Instagrammable."
After the Holy Week break, the highlight of which was the Moriones festival and the Flores de Mayo the month after, days in Bongabon were quiet and lazy. Time moved at a glacial pace in the summer heat. But it was because of those long, boring post-festival days that I got to appreciate empty spaces. I recently read about horror vacui, fear of empty spaces, because of one's desire to always be busy — either busy working or having fun. We fear stillness, but it is oftentimes in stillness when our mind is most active.
It was during these lazy summer days, with no television, no landlines, no movies that I devoured books and the classics. Tatay was a wide reader. He kept his trove of comic books in a steel cabinet, I guess the way Antwerp's gem merchants would store their diamonds. I remember I first read The Count of Monte Cristo in Bongabon, as well as The Black Tulip, The Corsican Brothers and Ivanhoe. I also devoured Dennis the Menace and Superman there.
My grandmother used to own a general store and she still kept some leftover pad paper and other school supplies from it. I would get these pads of lined paper and write stories about people, the way they did in Reader's Digest and in Women's magazine, which my grandmother liked to read. I think my very first column was born in Bongabon, on yellowed and lined paper, as I gazed at the blue sea off my grandparents' backyard. My imagination stretched as far as the horizon, and I would write about people I had made up in my mind. Not unlike what I would do now, except that today, I write about real people. But that blue sea, I can see it as vividly as if it were right outside my office now. #hugot
My sisters and I would return to Manila shortly before classes would resume. We would come back darker, heavier, relaxed but raring to watch Popeye or Dynasty on TV again in Manila.
But what a lifetime of memories those lazy summers in Bongabon gave us, like a lingering breeze that caresses, as it caresses the heart.