Happy New Year! May 2016 be a year full of love, hope and blessings for you dear friends and loyal readers!
The who's who from the metro's elite circles gathered for the private exhibit of Hoseki, one of the Philippines' premier jewelry salons, at the chic Vu's Sky Bar and Lounge of five-star hotel Marco Polo Ortigas Manila.
Featured in the exhibit were gorgeous, handcrafted pieces made from the finest materials and lovely gems that showcase the superb artistry and exquisite craftsmanship the company is known for.
Graciously welcoming guests to the said affair were the brilliant Hoseki team led by founder Faico, corporate affairs director Zabeth Co and chief creative officer Knoi Esmane. Meanwhile, the highly-efficient Marco Polo Ortigas, Manila team led by general manager Frank Reichenbach and F&B director Mirko de Giorgi made sure everything went smoothly during the affair.
The fabulous event doubled as a spectacular party for Faico, who celebrated his birthday and, as such, guests were treated to special discounts on all jewelery on exhibit.
Congratulations to the entire Hoseki team for another successful event! Many happy returns to you, Faico!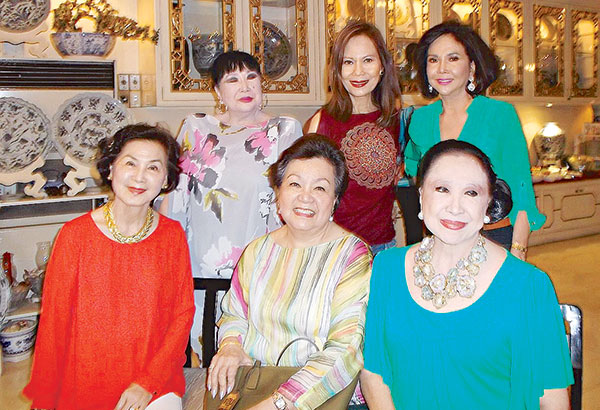 (Seated) Juanita Yap, Nellie Valdez and Minerva Tanseco; (standing) Beng Fores, Roi Phillips and Monaco Consul General Fortune Ledesma.
A Christmas get-together
A closely-knit group of friends recently gathered for the special annual Christmas party of the ever generous Minerva Tanseco. Apart from bonding with dear friends over a specially prepared Christmas meal, guests were delighted to participate in several games prepared by the enthusiastic hostess. Guests were given a festive goodie bag to take home but there were only a lucky few who won the raffle of "Beng's Bags" by Beng Fores.
Another wonderful gathering and a job well done, dear Minerva!