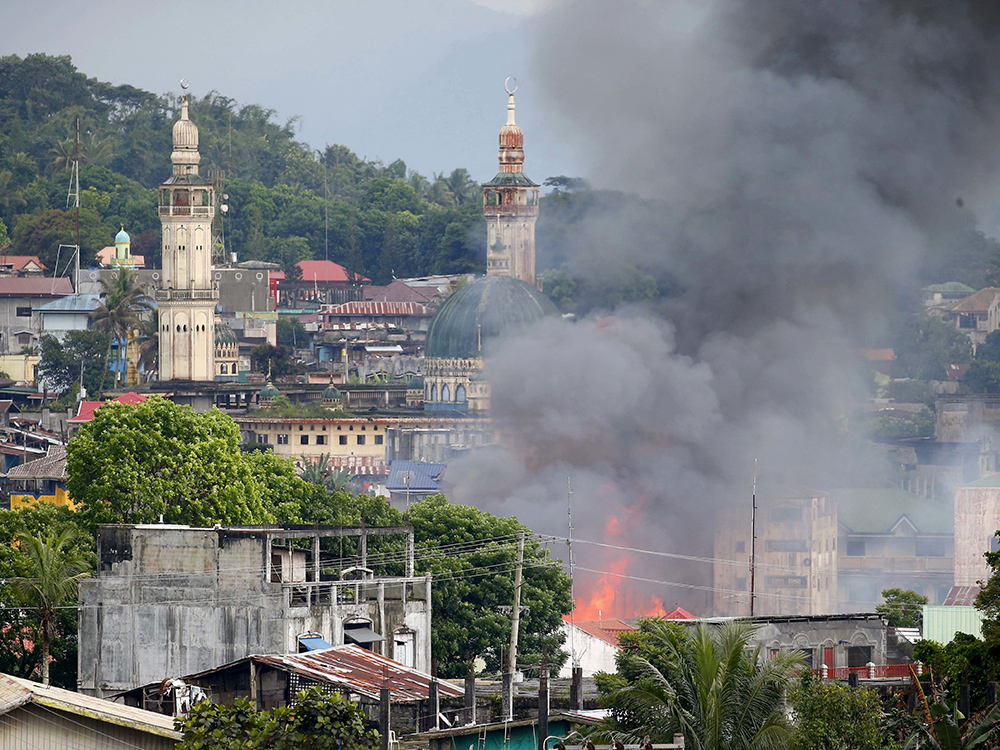 A fire rages at houses following airstrikes by Philippine Air Force in Marawi, southern Philippines, Saturday, May 27, 2017. Philippine military jets fired rockets at militant positions Saturday as soldiers fought to wrest control of the southern city from gunmen linked to the Islamic State group. AP/Bullit Marquez
Commentary: The challenge of rebuilding Marawi
True to form, President Rodrigo Duterte's SONA gave pride of place to matters related to peace and order. In addition to the war on drugs, the security situation in Mindanao was an important concern and for very good reason. According to reports, hundreds of fighters have been killed or arrested, nearly a thousand troops have been wounded, hundreds of thousands have been evacuated, and armed groups still threaten the welfare of our people. As weeks pass and the updates pour in, it grows ever clearer that the turmoil that boiled over in the battle of Marawi will not meet its end anytime soon.
The challenges ahead are manifold. The armed forces are not only clearing fighters from Marawi, they are going after the remaining terrorist leadership, its support networks, and its foreign and local recruits—making for deadly cat-and-mouse games all over Mindanao. When Marawi is clear, the challenge of urban warfare may soon be matched by urban reconstruction. What it has taken two short months to destroy will take far longer to restore.
Decapitating leadership
From the president's letter to Congress, we know that the fighters in Marawi are part of a coalition called Da'watul Islamiyah Waliyatul Masriq (DIWM), which is made up of the Maute Group and fighters from the Abu Sayyaf Group, Ansarul Khilafah Philippines and the Bangsamoro Islamic Freedom Fighters. The letter tells us that the military was targeting operational and support structures by going after leaders and other key figures, or taking a "decapitation" approach.
This is a common approach in counterterror operations, although a few studies have questioned its effectiveness worldwide. In our case, however, the AFP had moved to nab Isnilon Hapilon, the ISIS emir in Southeast Asia. Hapilon is a notorious figure who managed to raise the ASG's profile beyond a simple bandit group to one that is more internationally connected and pledged to ISIS in the Middle East. According to the government, Hapilon has ordered more attacks and IEDs in many parts of Mindanao. Today, Hapilon's whereabouts are not publicly known.
Further illustrating the cat-and-mouse challenge, the government acknowledged last week that DIWM's leadership "largely remains intact" and "support structures have been continuously sustained." With leadership still in place, the threat is most clearly not contained to Marawi but to all areas where sympathetic groups are scattered and may recruit more adherents. Nevertheless, the military has been able to say that major figures, like three Mautes, have been killed or detained.
Continuing military operations
Military operations in Marawi are occurring in phases defined in Operational Directive 02-2017. As of this week, operations are in Phase II, or "clearing of Marawi City from local terrorist groups." Soldiers are said to be going house-to-house with sledgehammers to clear the barangays that are not yet in government control. These barangays are a minority of the 96 barangays in Marawi, but they are also in the most built-up parts. With around 400 fighters neutralized, that should leave around 200 men of the estimated 600-strong DIWM left in the city.
Just on Wednesday, Defense Secretary Lorenzana said that they believed that clearing operations would conclude sometime in the next month. There is no precluding the possibility that operations will take longer, as the remaining fighters refuse to surrender. In addition to the trapped fighters, there is always the possibility of diversionary attacks launched from outside the AFP's perimeter.
Beginning reconstruction
Phase III of the operational directive is made up of "support to the infrastructure development and governance of Marawi City." When this phase begins, Task Force Bangon Marawi, established by the president in Administrative Order 3 at the end of June, will likely take a more visible role. The task force is chaired by Lorenzana and includes AFP Chief of Staff Ano, but it is mostly made up of the secretaries of non-defense agencies: public works, education, budget and management, energy, health, ICT, interior, and Science and Technology.
Lorenzana said that he believes that even 18 months will not be long enough to complete the reconstruction. Reconstruction might be measured in years and not months. It is a devastating truth that what takes two months thoroughly destroy will need many more times that length to rebuild. One thing to think about: If many doors and windows have been rigged with bombs, how much more challenging will it be even just to clear the rubble?
Whole of government approach?
Finally, the SONA would have been a great opportunity for Duterte to talk about a whole-of-government approach that will be in place, not just in Marawi but in fragile parts of Mindanao. Rehabilitation can be discussed beyond a pledged amount of cash, no matter how large it might be. For the thousands who have had their lives uprooted, having fair expectations for when they might return home and how they will be assisted can go some way in taming emerging frustrations. I'm sure this is not lost on our leadership, which must be eager to remember lessons from Yolanda and other disasters.
Angelica Mangahas is deputy executive director of the Stratbase Albert Del Rosario Institute (ADRi) and a lecturer with the International Studies department of De La Salle University in Manila. She completed her master's degree in Security Studies at Georgetown University. Her writing and advocacy experience spans multiple international humanitarian and diplomatic organizations. Her current research focuses on Philippine and regional security concerns.