IMMAP Academy, Certified Digital Marketer to gather 1,000+ graduating university students in free masterclass
August 11, 2023 | 11:00am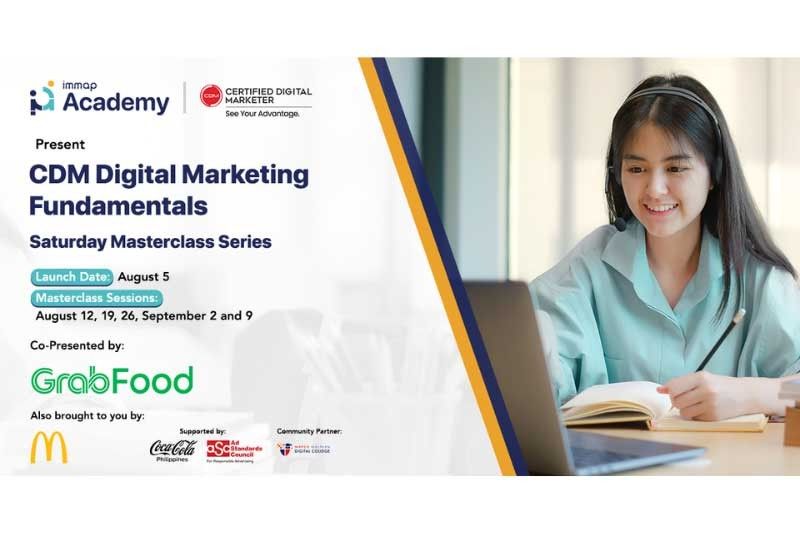 Last call to join free masterclass sessions from August 12 to September 9
MANILA, Philippines — To sharpen the knowledge and skills of university students on digital marketing, social media marketing, e-commerce fundamentals, content marketing and digital media and creative execution, Internet and Mobile Marketing Association of the Philippines (IMMAP) and Certified Digital Marketer (CDM) are holding free masterclass sessions starting this week.
The five-week intensive digital marketing program will gather over 1,000 graduating students from more than 50 universities nationwide.
After completing the classes, they will undergo a certification exam, mentorship program, virtual internship meetup and get matched with an internship program in February 2024.
With this initiative, the partnership aims to help bridge opportunities for young fresh graduates to break into the media and creative industries that are increasingly more and more becoming digital.
"We are thrilled to launch IMMAP Academy this year, an initiative aimed at equipping the youth who are aspiring digital and tech experts with the skills and knowledge they need to thrive in today's competitive workforce. With an enhanced learning curriculum and an exciting opportunity to connect graduating students to potential internship employers, we are proud to be at the forefront of shaping the future of digital and technology related education," Kit Ramos Disini, client partner of Spotify Philippines and co-chair of IMMAP Academy, says.
"In collaboration with CDM, the entire IMMAP Education committee has worked tirelessly to develop a comprehensive program that encompasses all aspects of digital and tech. From social media management and content creation to search engine optimization and data analytics, our curriculum this year is designed to provide students with a well-rounded education that prepares them for success in this ever-evolving landscape," Disini adds.
"What sets IMMAP Academy apart is our commitment to not only imparting knowledge but also providing real-world experience through internships. We believe that hands-on training is crucial for students' growth and development, which is why we are tapping into our strong pool of IMMAP organization members who are mostly leading and sought after employers in the industry. This unique opportunity allows our certified learners to apply their newfound skills in a professional setting, gaining invaluable practical experience while also building their networks."
Co-presenting this youth initiative is Grab. The event is also made possible by McDonald's Philippines, together with community partners Ad Standards Council, Mapua Malayan Digital College and Coca-Cola Philippines.
The students can expect to learn from the best in the industry as the masterclass features experts like Shayne Madamba (Chief Digital Officer, Havas Media Ortega), Jeano Cruz (Head of Social, GIGIL), Jason Cruz (Head of Global, Content Strategy, Shell Eco-marathon), Kara Gengania (E-Commerce Lead – PH, Coca-Cola Far East Ltd. Philippines) and Manny Gonzales (Head of Consulting and Strategy Director, Ogilvy Philippines)
"We are very excited about this partnership with IMMAP Academy as we bring industry-vetted CDM Programs and its network of experts to our next generation of talents as they prepare to embark on their careers. We hope that with these classes, mentorship and internship programs, we have provided venues to sharpen their digital know-how to support the industry in need of skilled talents," Katz Lobregat Enriquez, chief marketing officer and managing partner of CDM, says.
"This 2023, we have introduced new topics across digital marketing disciplines to support different career tracks in content marketing, social media, analytics, among others."
With the rapidly increasing demand for digital skills amongst local talents, the partnership continues to elevate its offering to enable digital transformation excellence.
To learn more about IMMAP, visit www.immap.com.ph.
To learn more about CDM's Digital Marketing Fundamentals Program and its instructional designed custom programs, visit www.cdm.ph.