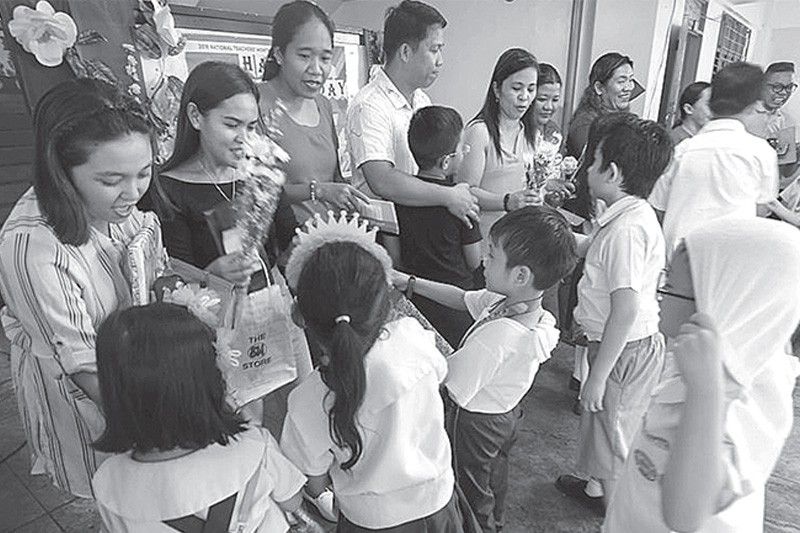 My teacher, my hero: Students give flowers to their teachers during the celebration of Teachers' Day at the Rafael Palma Elementary School in Manila yesterday.
KJ Rosales
Teachers need salary hike, not discounts, group says
MANILA, Philippines – While public school teachers welcome the discounts made available to them during the country's celebration of National Teachers' Month from Sept. 5 to Oct. 5, a teachers' organization has underscored that giving them a decent, livable salary is much better.
The Teachers' Dignity Coalition (TDC), the federation of public school teachers' associations, said the discounts on the purchase of goods and services being trumpeted by the Department of Education (DepEd) during the month are not enough to give the teachers a meaningful show of respect.
"In fact, according to experts on financial literacy, these discounts are not helping teachers save, but even pushes them to make purchases of non-necessities," the TDC said in a statement.
The group also noted that the discounts are mostly available in establishments only in and around Metro Manila and other urban centers in provinces, so they are not accessible to majority of the country's educators.
"What we need is a fair system of compensation that is not tied to the Salary Standardization Law (SSL). What we need is the P10,000 across-the-board increase for teachers and non-teaching personnel of the DepEd," the group said.
"What we need is an increase in our overtime pay, special hardship allowance, free medical service and hospitalization, paid study leave and other benefits provided by the Magna Carta for Public School Teachers or Republic Act 4670," it added.