EDITORIAL - Enforcement challenge
January 11, 2022 | 12:00am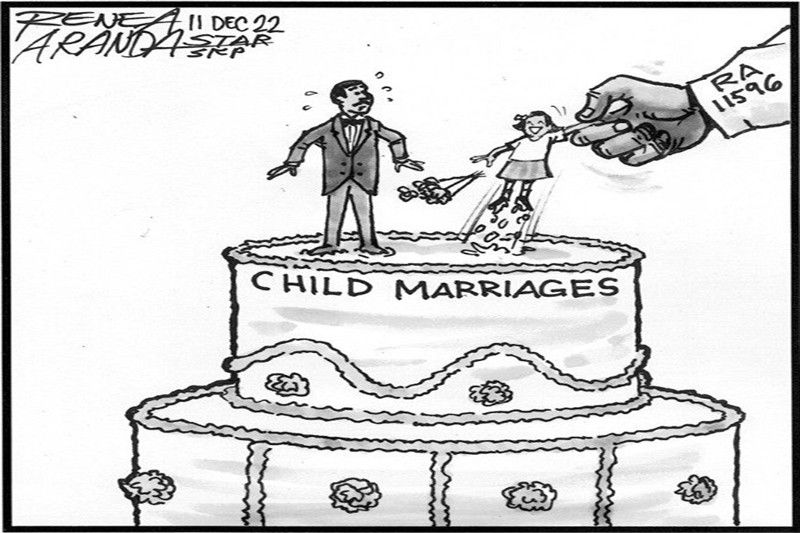 Considering the tortuous path to its passage, the enactment of the law imposing a total ban on child marriage has been widely hailed. As in other contentious pieces of legislation, the next challenge is its effective implementation.
Republic Act 11596, An Act Prohibiting the Practice of Child Marriage, was signed by President Duterte on Dec. 10, according to a copy of the law released by Malacañang on Jan. 6. RA 11596 punishes violators with imprisonment of up to 10 years and fines of up to P50,000, or both penalties. If the offender is a government official or employee, dismissal from the service can be imposed as well as perpetual disqualification from public office.
Among the offenses specified in the law, apart from cohabitation of an adult with a child outside wedlock, are the facilitation and solemnization of child marriage. The offenses are public crimes so a complaint can be initiated by anyone. Any such marriage will be deemed void from the beginning. RA 11596 repeals or modifies decrees and other measures inconsistent with the new law, including Presidential Decree 1083 or the Code of Muslim Personal Laws, which allowed child marriage for members of that faith.
The National Commission on Muslim Filipinos is among the agencies tasked to implement and raise public awareness about RA 11596, together with other government offices, civil society groups and representatives of indigenous peoples, Muslim Filipinos, women and children.
Eradicating the practice can be a challenge, considering that the Philippines ranks 10th in the world with the highest absolute number of girls who were married or in a union before reaching age 18, at 808,000, according to data from the international NGO Girls Not Brides. The prevalence rate of child marriage in the country, according to the organization, is 15 percent by age 18 and two percent by age 15. The highest prevalence has been recorded in Soccsksargen, Eastern Visayas and Mimaropa.
The Commission on Population and Development had warned that child marriages also meant unwanted teen pregnancies, whose prevalence had raised alarm bells among economists and child welfare advocates even before the pandemic. Now that there is a law imposing a total ban on child marriage, it must be effectively enforced to the fullest extent.