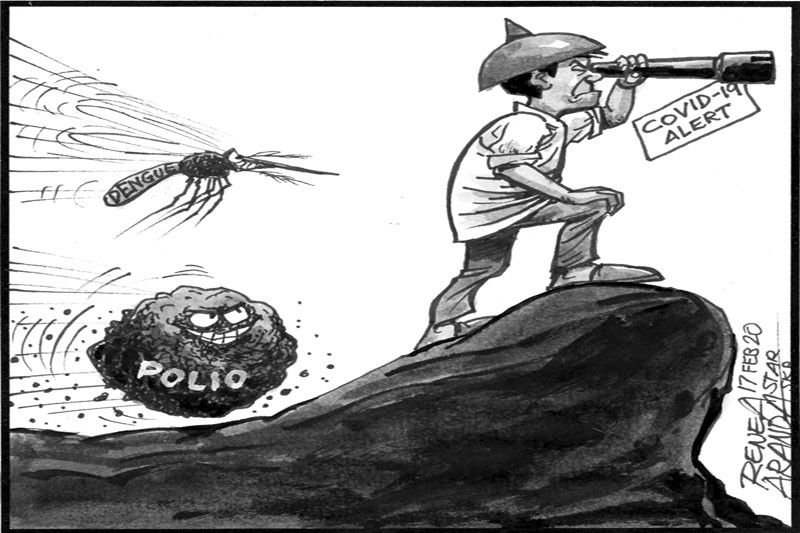 EDITORIAL - 17 and counting
(The Philippine Star) - February 17, 2020 - 12:00am
While the government moves to contain the spread of the 2019 coronavirus disease or COVID-19, the threat posed by another virus is increasing. Over the weekend, the Department of Health announced that environmental samples taken from Butuanon River in Mandaue City, Cebu have tested positive for poliovirus.
The confirmation by the Research Institute for Tropical Medicine in Muntinlupa was announced by Health Secretary Francisco Duque III as he also reported the 17th polio case in the country: a one-year-old boy from Cabanatuan City in Nueva Ecija. There is evidence, Duque added, that the poliovirus continues to spread.
Contaminated river water can facilitate the spread, as it did in the case of African swine fever in Luzon. Because the World Health Organization had declared the Philippines to be polio-free 19 years ago, the re-emergence of a vaccine-derived strain of the debilitating disease in September last year was considered an epidemic. The three-year-old girl from Lanao del Sur had received only one dose of oral polio vaccine and was unable to walk after being stricken by the virus. For protection, children one year old and below must receive at least three doses of polio drops and one polio shot, which the government provides for free as part of the immunization program.
A public scare fueled by controversy over the anti-dengue vaccine Dengvaxia ended after a measles outbreak last year. Parents began taking their children to immunization centers again. Still, by mid-December 2019, 44,000 measles cases had been reported nationwide, with up to 576 deaths related to measles recorded.
This time it should be easier to persuade parents to have their children get the complete vaccination protocol against polio. The DOH is undertaking the Sabayang Patak Kontra Polio while at the same time coordinating with the WHO on appropriate responses to what appears to be a growing contagion.
One problem is that parents might dismiss early symptoms of the infection and bring their children to health centers only when acute paralysis characteristic to polio has set in. A bigger problem is that many of those infected are asymptomatic.
While not all polio cases can lead to paralysis and milder forms can dissipate on their own, other cases can lead to permanent disability and even death. There is also a post-polio syndrome, with children who recover from the initial infection suffering from weakness or paralysis 15 to 40 years later.
Poliovirus is highly contagious and spreads through contact with contaminated feces as well as cough and sneeze droplets. Even as everyone is busy confronting the COVID-19 threat, the country can't let down its guard against polio.