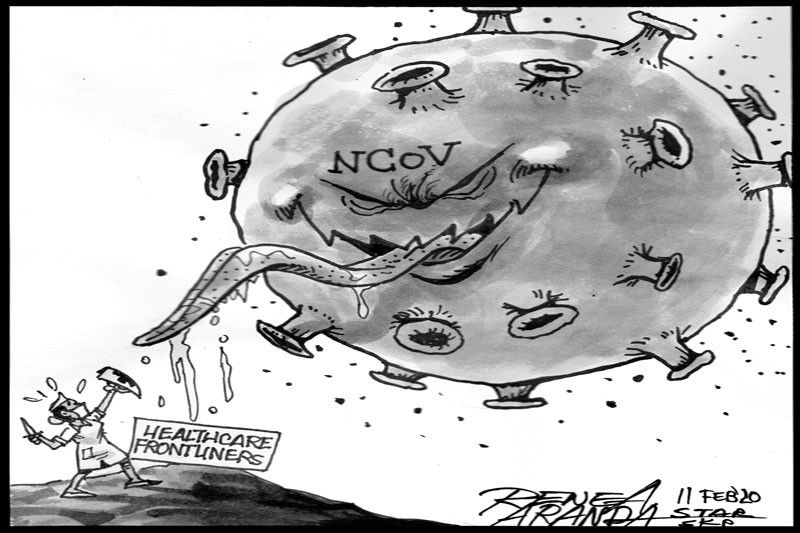 EDITORIAL - On the frontlines
(The Philippine Star) - February 11, 2020 - 12:00am
Reports from China say workers in hospital intensive care units are bearing the brunt of the novel coronavirus contagion. Those on the frontlines of the public health battle naturally take the greatest risks. The 34-year-old ophthalmologist from Wuhan who blew the whistle on the nCoV but was shushed by his government, Li Wenliang, died of the disease after contracting the virus from an infected patient he had treated for glaucoma.
The higher risk makes it even more laudable to see health professionals – in China and in all the other countries where nCoV has been reported – forging ahead with their mission of saving lives even at the risk of losing their own.
It behooves governments and the civilian populace to ensure that the frontline workers in this challenging battle get sufficient protection from contagion and possible death. Developments in China indicate that nCoV is more virulent than the pathogen that causes SARS or Severe Acute Respiratory Syndrome.
As the novel coronavirus continues to spread, frontline health workers lack not only hazmat or hazardous materials suits but also – as pointed out by health officials – basic protective equipment starting with N95 masks. Civilians should heed appeals from health officials to stop hoarding N95 masks so that the limited supply can be used by those who need the items most – not only health workers, but also those whose work puts them in contact with people and goods arriving from nCoV-affected countries.
The Bureau of Immigration reported yesterday that 19 of its personnel are now on home quarantine. The 19 were the ones who had boarded the cruise ships from the Chinese mainland, Hong Kong and Macau, which were allowed to dock in the Port of Manila shortly before the government imposed a travel ban.
Ordinary tasks have become risky in the time of nCoV. Those on the frontlines are sticking their necks out for the public, and must get all the protection they need from a killer virus.