EDITORIAL - Get full immunization
September 29, 2019 | 12:00am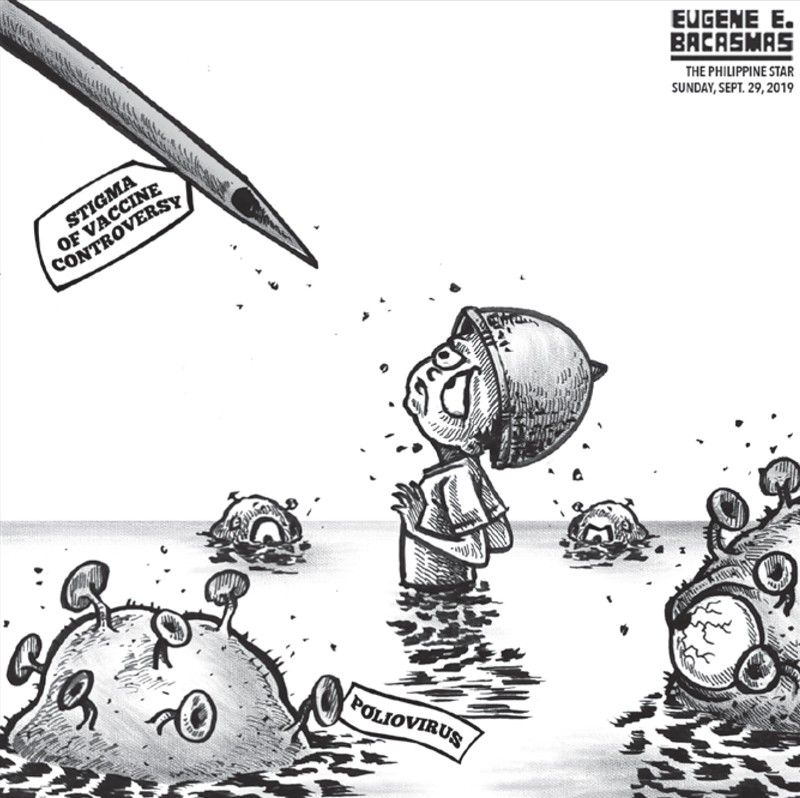 The Philippines was officially declared polio-free in 2000, seven years after the last case was recorded. Viruses, however, can be unpredictable and may mutate. As with the flu and dengue, there can be several virus strains that may require different vaccines, or several vaccine doses.
In the case of the Philippines, health experts say the two recent confirmed cases of polio were vaccine-derived. This means the virus was excreted by the antibodies of polio-vaccinated individuals and picked up by the patients, possibly through unhygienic practices. Those with weakened immune systems or living in environments with poor sanitation are the most vulnerable to infection.
The country representative of the World Health Organization has also warned that up to 60 percent of Filipino children immunized against polio did not complete the vaccination regimen and therefore could be vulnerable to the type 2 virus that is supposed to have been eradicated globally, but which has now re-emerged in the Philippines.
Filipino children have been immunized mainly against polio virus types 1 and 3 and failed to complete the regimen of three oral doses plus one injectable for protection against type 2, according to the WHO's Rabindra Abeyasinghe. He said it is the injectable vaccine that provides protection against all three virus types.
Thanks to disinformation and wrong information disseminated mostly in cyberspace, vaccination is in fact down worldwide, reversing decades of successes in fighting debilitating and deadly diseases. Complacency over the declared eradication of certain diseases may also be making people believe there is no longer a need for vaccinations. Abeyasinghe estimates that about 95 percent of children in the Philippines need complete immunization from polio.
Unlike the vaccine against dengue, there is no controversy surrounding the polio vaccine, so it should be easier for the Department of Health to persuade parents to have their children immunized. Local governments and education officials must cooperate in the renewed campaign to prevent the resurgence of a killer disease.