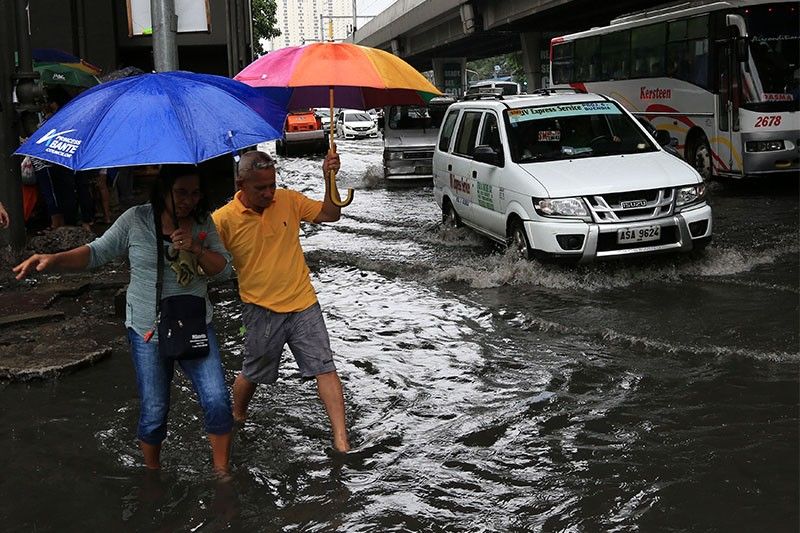 The Metro Manila subway is to be built along an earthquake fault line. It will traverse several flood-prone areas. Running beneath residential zones, its heat and smoke ventilations, noise and vibrations can be environment hazards.
Edd Gumban
Metro Manila subway along flood, fault lines
GOTCHA
-
Jarius Bondoc
(The Philippine Star) - September 11, 2019 - 12:00am
There's nothing wrong with imposing product standards on flat glass. It's only right for the Dept. of Trade and Industry to inspect and certify such building material. Public safety is at stake. Flat glass is not just for windows and doors. New uses are as roofs and entire interior and exterior walls in malls, hotels, high-rises, churches, and stadiums. Shattering due to inferiority can kill or maim.
Yet certain flat glass importers are resisting regulation. They have wangled not one but two court injunctions, in Makati and Pasay, against the DTI's reissue of old 2015 compliance procedures. Similar rules apply to cement, steel, electrical and other building supplies – all for consumer and overall welfare and protection.
Clear and present danger exists in substandard glass. Investigating imports in 2013-2017, DTI noted alarming increases in low-class clear and tinted glass items. Flat glass at first was covered by product standards, but delisted in 2015 on claims that it was mere raw material for glass fabricators. DTI learned, however, that it is being sold directly to end-users. Thus, the need for safety testing, maker certification, and shipment clearance.
With such procedures, not only consumers but also importers will be shielded against unscrupulous overseas traders and aggregators. If importers are sure of their foreign manufacturers and agents, they would have no fear of coming under DTI's Bureau of Product Standards. Yet some sought the two court blockades. Allegedly DTI's rules violated due process and fair competition. DTI counters that it in fact levels the playing field. This, by aligning standards for heat-strengthened and fully laminated flat glass, safety glass and bent glass with other building applications. That cannot be done through self-regulation that some importers wish. Most governments scoff at self-regulation as self-serving.
Prior to the court injunctions, DTI effectively was enforcing the glass product standards. From Apr. to Aug. it received and processed 17 foreign and 11 local license applications – proof that regulation was not burdensome.
* * *
The Metro Manila subway is to be built along an earthquake fault line. It will traverse several flood-prone areas. Running beneath residential zones, its heat and smoke ventilations, noise and vibrations can be environment hazards. Those are among many items why planners deemed the subway's route least acceptable, a compilation of official studies show.
Based on design, the Metro Manila subway will cross and straddle the Valley Fault. From occasional mild tremors, the megalopolis is bracing for "The Big One" within the half-century. One hundred forty-six km long, the quake line lies north along the boundary of Marikina and Quezon City to south in Pasig and Taguig. The subway's major stations will be in Katipunan, Quezon City near Marikina; Ortigas, Pasig; and Bonifacio Global City and Food Terminal Inc., Taguig.
Over two km of rails will pass underneath residential and light commercial areas. About 1,500 persons would be displaced, and 320 structures disturbed. Surveyors had noted two major flood areas along the subway route, and more nearby.
All these will require intensive engineering mitigations. A major Valley Fault temblor can be at least Magnitude 7.2. The subway tunnel must be able to withstand up to Magnitude 8.
Solutions must be found for smoke, heat, noise, and vibrations of eight-coach trains passing at 80 kph. Subway vents emit noxious fumes. Noise can pose health hazards. Vibrations can weaken surface roads and buildings.
Due to underground waterways and surface deluge, tunnels must have anti-flood hatches and concrete vaults. Stations sites, entrances and exits need special planning.
All these increase costs. When unveiled last Feb., the 36-km subway was to cost P227 billion.
The five-year construction is the government's most expensive infrastructure. One-fourth of the cost will come from a Japan loan; the rest from government outlays. It is to serve 1.7 million daily commuters.
Fifteen stations are slated: Quirino Avenue-Novaliches, Tandang Sora, North Avenue, Quezon Avenue, East Avenue, Anonas, and Katipunan in Quezon City;
Ortigas North and Ortigas South in Pasig City; Kalayaan Avenue in Makati;
Bonifacio Global City, Lawton East, Lawton West, and Food Terminal Inc.-Bicutan, in Taguig; and Ninoy Aquino International Airport Terminal-3 in Pasay (as afterthought).
That route was initially the least acceptable to planners in terms of public good. In 2013-2014 when a subway was first studied by Japanese experts and Filipino technocrats, it was not even on table.
At the time three other routes were being studied: EDSA (E. delos Santos Avenue); Greenhills, San Juan; and Mandaluyong. In that order they were deemed most practical. The EDSA option was to start in Quirino Highway-Tandang Sora-North Avenue and end at NAIA.
Criteria for rating the subway alignments included: geological conditions, disaster prevention, social and environmental impact, population growth, urban and transport development potential, station territory (for common use), railway network connection, traffic volume, and construction cost.
None of the initial three options crossed or straddled the Valley Fault. The EDSA plan had no flood issues, and would have affected only a hundred persons and less than two-dozen structures, and cost least: P208 billion. It would have been extendable north to San Jose del Monte, Bulacan, and south to Dasmariñas, Cavite.
Only in Jan. 2017, four years after studies were underway, was the present route, or "Katipunan option", suddenly approved. From minutes of meetings, no justifications or detailed plans were submitted to the steering committee.
That committee consisted of high officials of the Dept. of Transportation, Dept. of Public Works and Highways, Metro Manila Development Authority, and Bases Conversion and Development Authority.
DOTr presently is seeking from Congress emergency powers to contract projects and borrow funds at minimum audit to solve the megalopolis' traffic mess.
* * *
Catch Sapol radio show, Saturdays, 8-10 a.m., DWIZ (882-AM).
Gotcha archives: www.philstar.com/columns/134276/gotcha