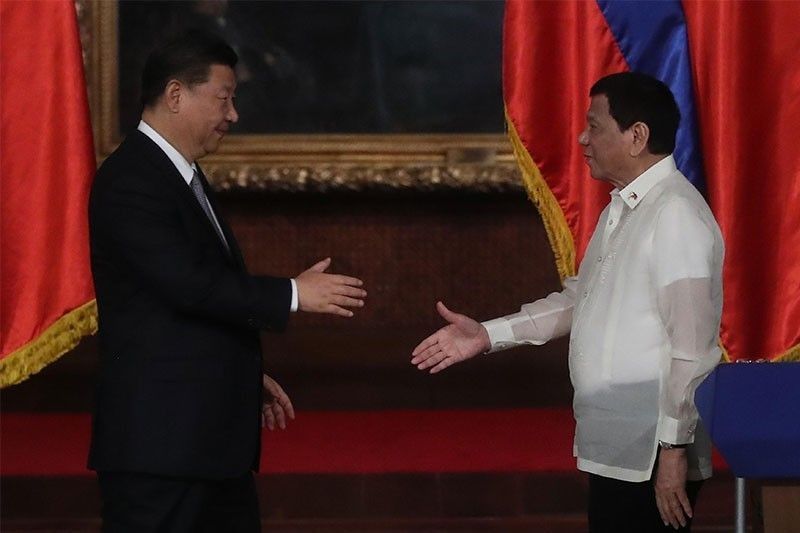 In this Nov. 20, 2018 photo, President Rodrigo Duterte and Chinese President Xi Jinping shake hands during the joint press statement in Malacañan Palace.
Pool photo, File
We must assert our maritime rights
INTROSPECTIVE
-
Tony Katigbak
(The Philippine Star) - August 27, 2019 - 12:00am
President Duterte leaves once again for China with a small delegation this week. This will be his fifth trip to Beijing since his presidency began four years ago. And while he claims that relations between China and the Philippines are stronger than ever, it doesn't really seem to be a mutually beneficial relationship with the balance of power skewed decidedly in China's favor.
In the wake of strengthening relations between our two countries the only difference we have really seen is that China's presence in the Philippines is only getting stronger. Businesses are opening here, and Chinese nationals are arriving by the plane-full. They are working here, living here, and not all of them are friendly with Filipinos. In fact, many of them treat Pinoys as second-class citizens in our own country. I don't want to generalize too much and I know that It's too early to tell, but it really seems like we are the only ones giving.
This feeling was confirmed in the prior dispute about the Chinese sinking our ship. We were indignant, but nothing happened afterwards. We just had to swallow that it was an "accident" even though we all know the truth. We demanded for justice for the fishermen left for dead in the middle of the ocean and got none, and then – as always – we just moved on.
This seems to be a repeating cycle for the Philippines. Something happens with China, we are upset or even outraged by it – and then the government sides with China (albeit sometimes it's quite subtle) – and then we are left with no choice but to just get over it and move on until the next time that it happens again.
I really hope that President Duterte finally brings back some of the balance in our relationship. It is about time that he brings up long-standing issues we've had with China so there can be some resolution. Hopefully in his meeting with President Xi Jinping he can finally assert the Hague ruling recognizing the Philippines' sovereignty in the West Philippines Sea. Chinese warships have been patrolling the waters without a care in the world despite the fact that those territories belong to the Philippines.
I guess we'll have to wait and see if the president makes good on his word this time. At this point, critics and allies alike are already criticizing him for his soft stance on this issue and finally he mentioned that the time was ripe to address it once and for all. This is a good sign, but until it's actually been put out in the open and discussed I wouldn't get my hopes up. Until then, all of that was just words. These words only matter when said to the right person – Chinese president Xi Jinping.
We wait with bated breath President Duterte. Please stand up for your country and resolve this issue in our favor. The Philippines more than deserves it.
* * *
Ironically Israel is cracking down on Filipinos in Israel. Last week, Filipino migrant worker Rosemarie Perez and her 13-year-old son (born in Israel) were deported and flown out of Israel. And if we are to believe the news then roughly hundreds more Filipinos are expected to follow. All of this in the name of, what some say, is the fear of maintaining Jewish majority.
If that's true it hardly seems fair considering the help that the Philippines has extended to the Jewish community in the past. Thanks to the bold and decisive moves of former Philippine President Manuel Quezon, over 1,200 Jews were welcomed into the Philippines during the Holocaust despite America's protestations. Quezon could have lost his entire political career and more, but he stood up for what was right. And now Filipino workers are being deported out of Israel because they are afraid the Jewish majority is threatened?
Granted some overseas workers have stayed illegally past their working visa stipulations and that's a whole other separate topic. While these people are staying illegally and should go through the proper channels to remain in the country, it seems cruel to deport their children too despite having been born in Israel.
The Senate has been discussing how best to reply to this situation. Should we recall our ambassador and embassy staff already? Or should we wait and see if things can be resolved wholly and to the benefit of the most people. Senator Panfilo Lacson mentioned that President Quezon's legacy should be invoked for the benefit of the Filipino children and Filipino workers who were born in Israel. It seems cruel to force them out of the only home they have known and transfer them to a country they have never seen with people speaking a language they don't know.
I know there are black and white issues here and probably several shades of gray. Such is the case when dealing with international relations. Israel may simple say that Filipinos must follow a stringent procedure to all them to stay, but we all know that President Quezon didn't let these types of procedures get in the way of doing what was right. Here's hoping that we can all be the same way.