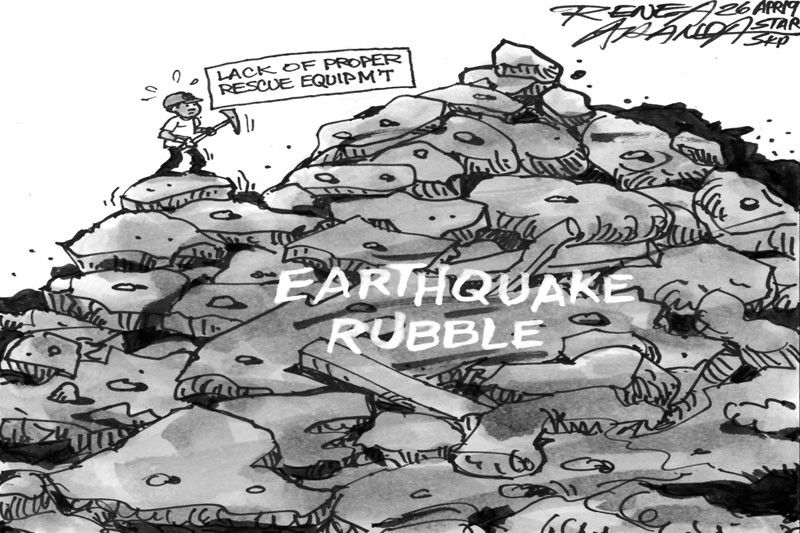 EDITORIAL - Investing in timely response
(The Philippine Star) - April 26, 2019 - 12:00am
Hundreds of aftershocks and a magnitude 6.5 earthquake that shook Eastern Visayas forced the suspension of rescue operations at the Chuzon Supermarket in Porac, Pampanga. The four-story structure collapsed when a magnitude 6.1 quake shook Central Luzon, Metro Manila and neighboring areas last Monday.
With several more persons still missing, most of them supermarket employees, the search has since resumed, but the teams are now focusing on the retrieval of fatalities. Even retrieval, however, must proceed slowly, not just to prevent bodies from being mangled, but also with the hope, however dim, of finding more survivors.
Digging through the rubble of collapsed structures is always complicated. The work becomes more difficult without the necessary equipment. The country saw this in the collapse of the six-story building of the Christian College of the Philippines in Cabanatuan City, Nueva Ecija, when a magnitude 7.8 earthquake struck Luzon in July 1990. Several of the victims died not from being crushed by debris but from dehydration because they could not be pulled out of the collapsed school building on time. There were similar stories at the Hyatt Terraces Hotel in Baguio City, where around 80 employees and guests were buried in the rubble.
Despite those tragedies, the lack of equipment for such emergencies persisted, and became evident once again when Super Typhoon Yolanda flattened Tacloban City and large tracts of Eastern Visayas in November 2013. Emergency rescue operations had to wait a few days for the arrival of Ospreys and other special aircraft deployed by the United States. Many fatalities were never recovered from the rubble of collapsed structures.
With seismologists warning of more earthquakes and possibly the Big One measuring more than magnitude 8 in Metro Manila and neighboring areas, the government must invest in more equipment for rescuing people from collapsed concrete structures. A study has warned that about 34,000 people could be crushed or trapped to death in collapsed buildings alone in case the Big One strikes.
While the country can count on the international community for help if disaster strikes, timely response is crucial for saving lives. For this, rescue equipment must be on hand for immediate deployment.
Related video: